BEST. DAY. EVER.
There are pike. There are trophy pike. Then there are the monsters swimming in northern Saskatchewan's Cree River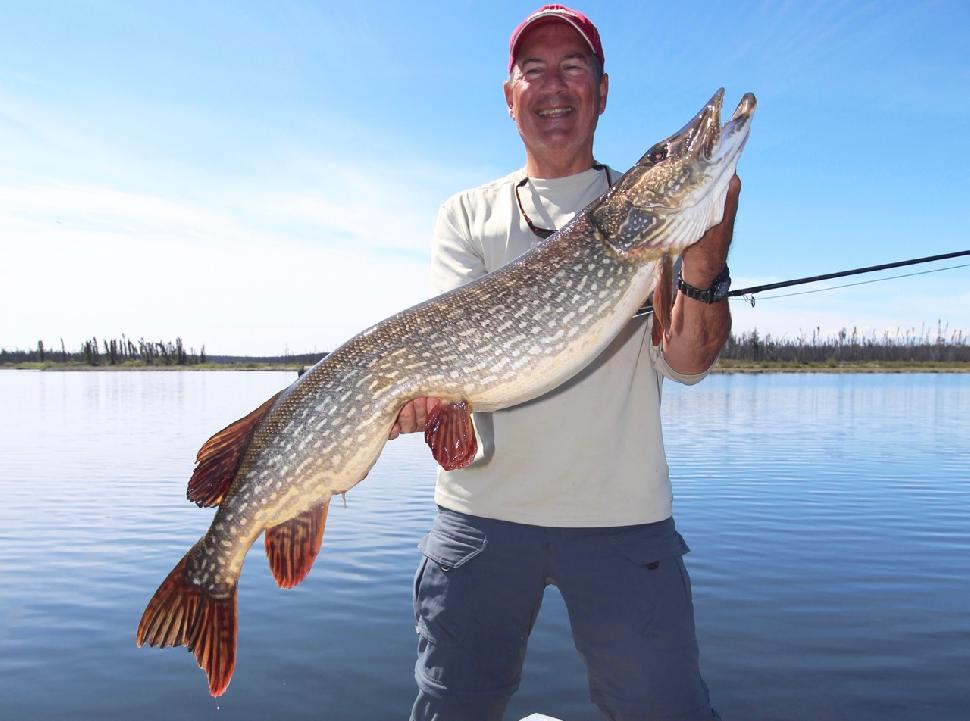 1:32 P.M.
Along the boggy shore of Dunes Lake, Pat sneaks toward a massive pike. Dan, on the casting deck, takes his shot with an 8-weight rod and one of my freshly tied, five-inch-long articulated Seaducer flies. Dan claims he's not very adept with a fly rod, but he executes a fine cast and, when the fish strikes, a solid strip set. Despite having only 24 hours of experience fishing for large pike, Dan perfectly manages the fight to land his second fat 42-incher in two days (above).
1:42 P.M.
Now my friend Jacob Sotak is on the deck. An entrepreneur, freelance writer and U.S. Army combat veteran from New York City, Jake has never been anywhere this remote (well, except Afghanistan), and he's already falling hard for this wild place. Jake has also never fly fished for creatures of these proportions, but he arrived well stocked with a box of Enrico Puglisi-style saltwater flies, which, it turns out, are simply lethal on pike. Everything comes together when he spots and sticks a giant fish. But it unexpectedly runs toward the boat, forcing Jake to frantically crank in line. Then the fish blazes right past us and starts pulling line back out. In the heat of the moment, Jake applies a little too much pressure and his leader breaks. It's heartbreaking, particularly when Pat observes that it was at least a 45-inch pike—the biggest we've seen yet.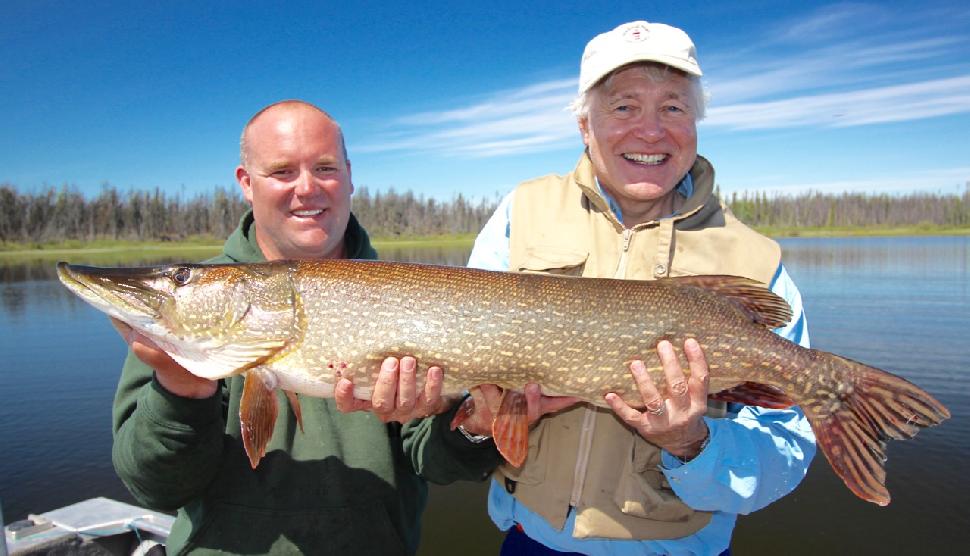 1:55 P.M.
How many huge predators lurk in this little lake? A lot, apparently, since my pal Lynn Henning has now hooked a beast on a #4 Mepps spinner. Lynn is a veteran of many trips to northern Canada, but this pike, at 44½ inches (above), is his biggest ever. Pushing 25 pounds, it's built like a railroad tie with fins and a snout. After less than five hours on the water, half of us have already landed the fish of a lifetime, and the sun is still high in the sky.