Songwriter and Mandolinist for Cowboy Celtic is Longtime Fly Angler
For our 2016 Fishing Special issue, Outdoor Canada recruited a supergroup of acclaimed Canadian recording artists, who also happen to be hard-core anglers. And these fishin' musicians agreed to sing about their favourite Canadian fishing holes—74 in all. For the full list, see The Fishin' Musicians.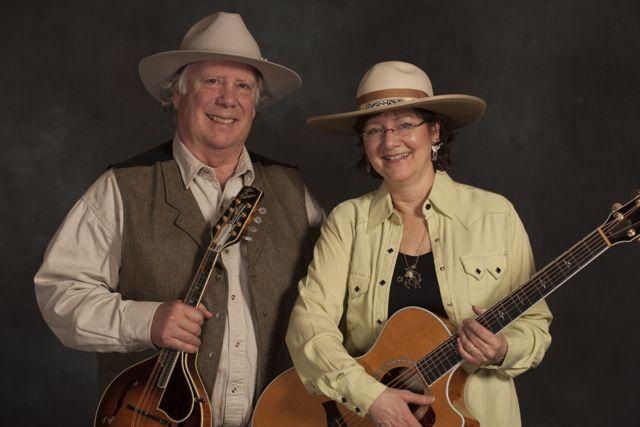 For more than a decade, songwriter and celebrated mandolinist David Wilkie and his band, Cowboy Celtic, have seamlessly blended traditional Western music with the sounds of Scotland and Ireland. Performing both time-honoured tunes and Wilkie's originals, the band sings stories of love, loneliness, hard times and better days. Today, Wilkie (above with wife, bandmate and fellow angler Denise Withnell) lives on Vancouver Island, but for 30 years he hung his hat in Alberta, where he fell in love with fly fishing for trout. "There is nothing like drifting down the Bow with [fellow musicians] Amos Garrett or Jim McLennan at the oars," he says. Sounds good to us, too. Learn more: www.westernjubilee.com
Favourite Fish: Brown trout
Favourite Type of Fishing: Fly fishing with streamers
Favourite Fishing Song: "Tempting the Salmon to Come to the Fly" by Cowboy Celtic
Bow River (East of Calgary), Alberta
GPS: 50.805179, -113.693667
Fish: Brown trout
Why: My long-time favourite river, and where I learned to fly fish
Best Time: Summer through fall
Best Fly: Clouser Deep Minnow
Michel Creek, B.C.
GPS: 49.730, -114.857
Fish: Cutthroat trout
Why: Beautiful little wadeable creek, full of trout
Best Time: Midsummer
Best Fly: Western Green Drake
Oldman River, Alberta
GPS: 49.798, -114.150
Fish: Cutthroat trout
Why: I love native cutthroat and there are lots of 'em
Best Time: Midsummer
Best Flies: Western Green Drake, Pale Morning Dun
Palmer Springs Ranch, Alberta
GPS: 49.483751, -113.951857
Fish: Rainbow trout
Why: Beautiful spring creek, fishing for large, finicky rainbows
Best Time: Spring ice-out and early summer
Best Flies: Assorted chironomids, Zebra Midge
Sandy Lake, N.W.T.
GPS: 64.0541, -111.151
Fish: Arctic grayling
Why: Isolated fishing, with 24-hour daylight
Best Time: Summer
Best Fly: Elk Hair Caddis