The Ultimate Combination Spread
Try this decoy set-up to bag Canadas, snows and specklebellies
Outdoor Canada's 2014 Goose Week also features tips on decoying snow geese and the ultimate combination spread, plus recipes for Goose Stew and Gord's Gorgeous Goose.
During the peak of the fall migration, it's not unusual for white and dark geese to feed together in the same field. With this strategic set-up, you can decoy multiple species into shotgun range for the ultimate mixed bag. Just remember that snow geese always want to be ahead of other feeding birds, while safety-conscious Canadas and specklebellies prefer to land downwind of the main group.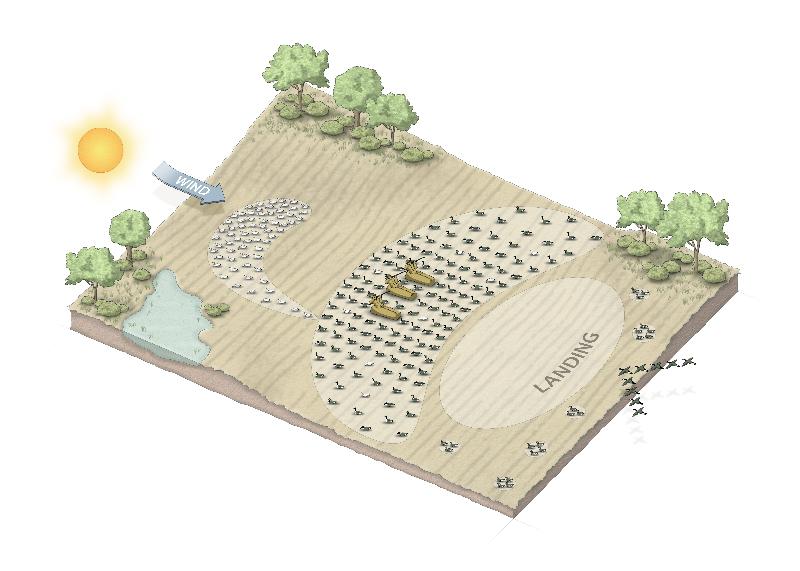 Build spreads around your blind, segregating the different species and keeping the spreads well spaced.
Place the Canada goose decoys around your blinds. Tip the ends of the spread downwind, but don't string them out.
The Canada decoys should cover 70 to 80 metres (about 35 to 40 metres from each end of the blinds), so the overall spread looks of a large mass of birds.
Just downwind of the Canada decoys, place specklebelly decoys in groups of four to eight. Leave 10 to 15 metres between the groups.
String out the snow goose decoys in a line from the edge of your Canada spread, to form a loose group about 10 metres upwind of your blinds.
Leave a large hole directly downwind of the blinds. This creates a secure landing area for dark geese, and a natural flyway for white geese.
Scatter a half-dozen snow goose decoys among the dark decoys, since some of the whites will always join the mob on the ground.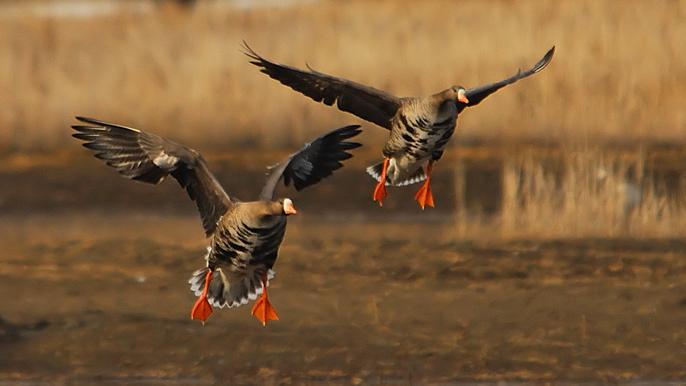 Bonus Tip: Geese are always going to land into the wind, so arrange your decoys accordingly to direct the birds to your preferred landing spot. Keep the wind at your back so that you are facing the geese as they approach. And whenever possible, position your blinds so that the sun is also at your back and the geese are facing it when they come in.