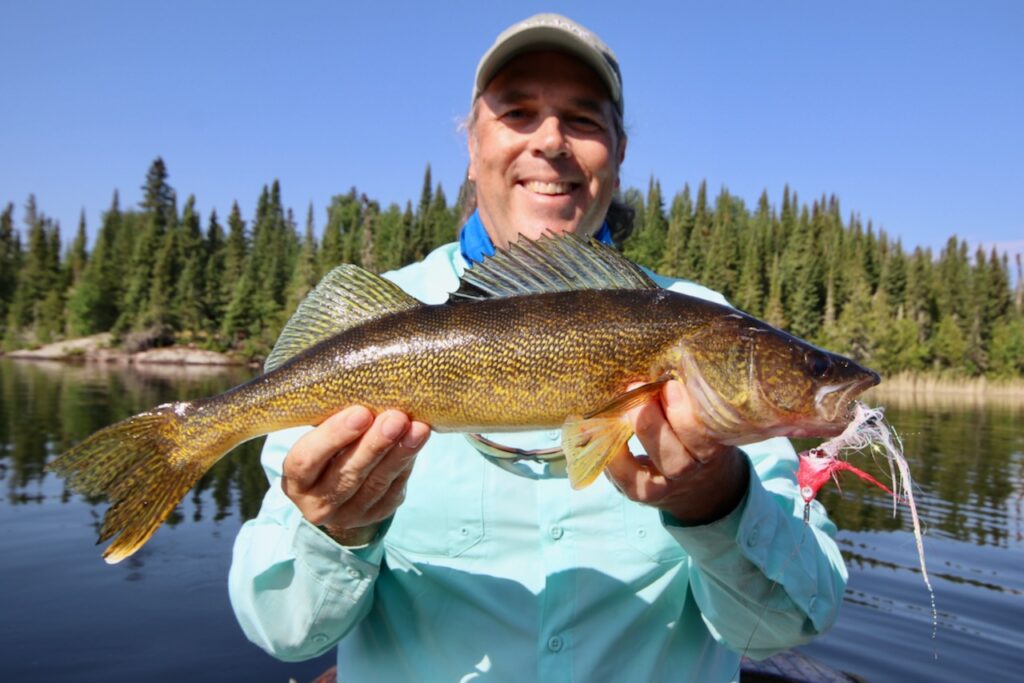 Shorelunch is, of course, one of our country's great angling traditions. But this day held the promise of something different: a shorebrunch. In anticipation of sweltering midday temperatures, the lodge moved its festive Canada Day lunch up to 10 A.M. So, after recovering from the pike incident, it was time to hit a walleye spot and land a few eaters. While navigating a narrow channel between islands, the ever-watchful Ethan suddenly killed the motor and hissed, "Grab your rods! We just went by a huge pike."
We caught glimpses of the monster, but it disappeared into deeper water before we got off a cast. Then we spotted about a dozen good-sized walleye moving through same the crystal-clear, knee-deep channel. With a smallish jig already rigged on his light rod, walleye whisperer Cameron targeted and caught several fish in the most impressive display of shallow-water walleye sight-casting I'd ever seen. Well, it was also the only such display I'd ever seen, but it was still pretty cool.
Eager to get in on the fleeting action, I cast the only thing I had handy—the giant pike fly on my 9-weight. And darned if it wasn't snapped up by my largest walleye of the whole trip (above). In fact, all of the walleye we landed during the flurry were longer than 24 inches, and too big to keep. So, a few minutes later, we had to show up at shorebrunch empty-handed, trusting in the generosity of the other anglers for our morning protein. However, it also allowed us to smugly use the conservation-minded angler's ultimate humble-brag: "Gee guys, we really wanted to bring some fish, but we just couldn't catch anything small enough to eat."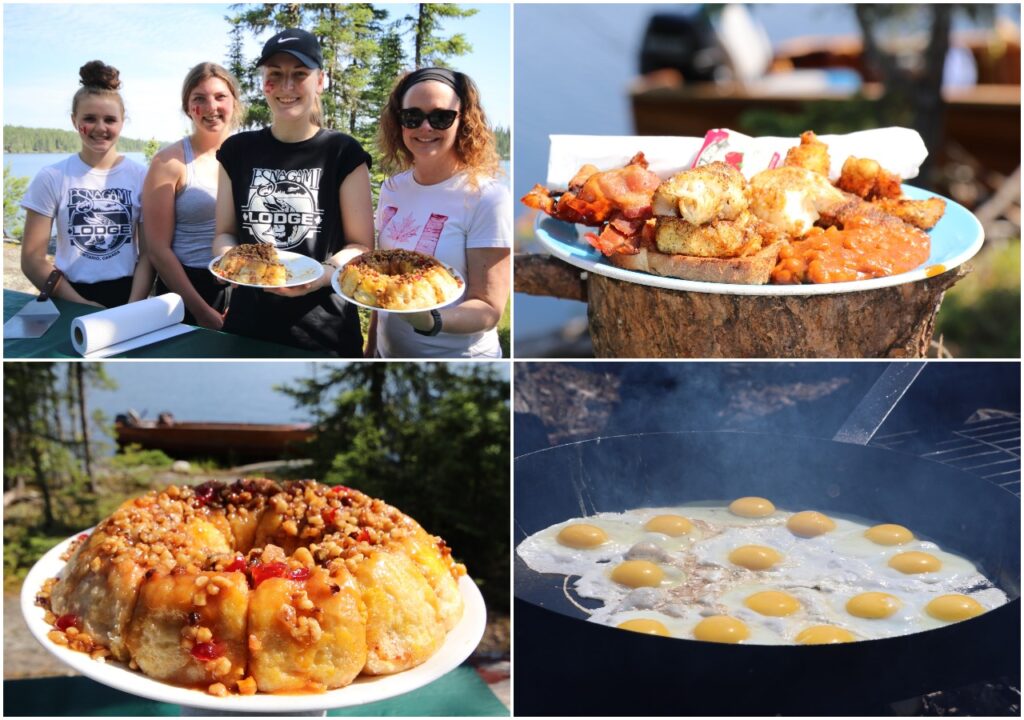 The shorebrunch, by the way, consisted of fresh-baked pastries, hot and cold coffee, baked beans, toast, eggs (scrambled or fried) and two fresh walleye dishes: traditional crispy, shallow-fried fillets, and smaller fish pieces tossed in a Buffalo-style wing sauce. It all got an enthusiastic five stars from both me and chef Cameron. While some diners understandably lingered, we were eager to get back on the water. There was just one matter to take care of. While I kept a lookout, Ethan stealthily swapped cradles with another boat—but only after checking it for holes. Judge if you will, but given what happened later, I stand by our situational ethics.
By early afternoon, the mercury had risen to the mid-30s. Cameron and I were a little woozy from the heat and, more importantly, the action had slowed to almost nil. At that, we knocked off for a siesta, with plans to head out again in the evening. At 6:30 P.M., it was still hot, but manageable, so we took a long, cooling ride to the far end of the lake. There, we fished a promising stretch of shoreline known as the Aquarium, so-named for its water clarity and stillness. The fishing was decent, with enough mid-sized walleye and pike to keep us busy. And it was very pleasant to be on the water as the evening air cooled and the wind began to freshen.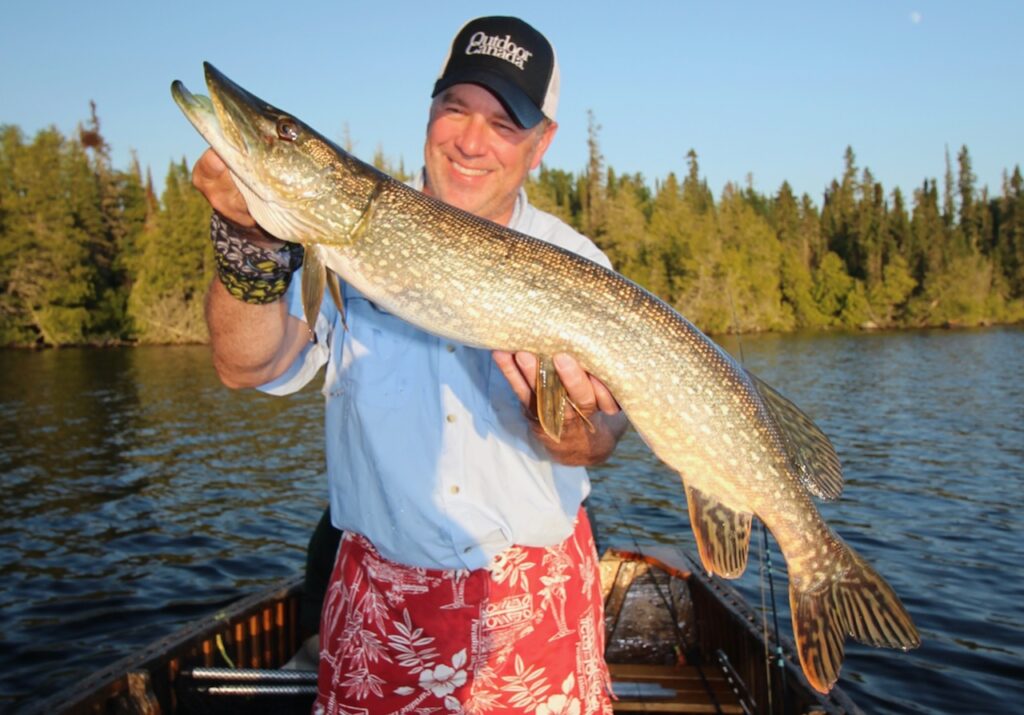 The light lingers a long time during northern summer nights, but eventually the shadows lengthened, leaving us just enough time to try one final spot—a little inside turn of shoreline near Louella Island. Absent of any structure other than a stump in the middle, it didn't look especially promising to me. But I soon hooked one small pike, then a second one.
"Do you need a hand landing it?" Ethan asked. Definitely not, I answered, shaking my barbless hook free.
"But I might," said Cameron, flashing a big grin our way. His rod was doubled over with a big toothy critter that had gently slurped up his oversized jig-and-grub combo. And in true pike fashion, it headed for the only obstacle on the whole shoreline—that stupid stump. But Cameron got it turned around and heading back toward Ethan, who was waiting with our illicit-but-intact landing cradle. A quick swoop and the fish was in the boat. Then, in the beautiful evening light, with the moon hanging low in the sky behind him, Cameron hoisted his 36-inch pike for a stunning photo. It was 9 P.M., just 12 hours after I'd done the same with my own trophy fish, perfectly bookending the best Canada Day ever.
Scott Gardner is Outdoor Canada's associate editor and fly-fishing columnist.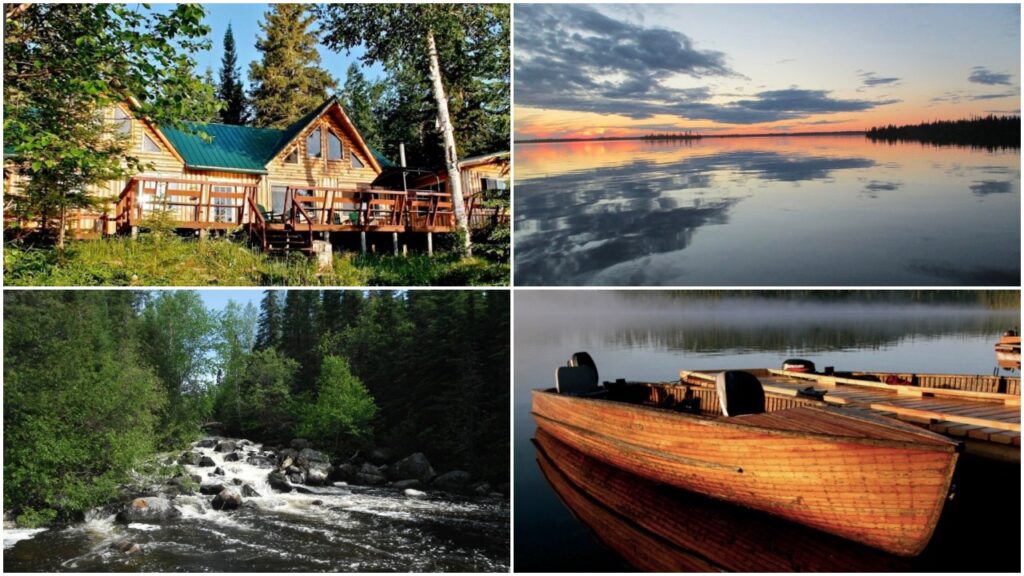 ESNAGAMI ESCAPE
Fly-in only Esnagami Wilderness Lodge welcomes both spin and fly anglers for American plan, housekeeping and remote outpost visits. The jumping-off point is Nakina, Ontario, about a 3½-hour drive from the Thunder Bay International Airport, or 11 hours by road from Winnipeg and 13 hours from both Toronto and Ottawa. Find out more at www.esnagami.com.