Outdoor Canada readers will remember last season's September edition of the magazine in which I wrote about using a unique lead spoon, called the Fergie Spoon, to catch walleyes.
At the time, my buddy, Jeff Matity had been hounding me to come out to Last Mountain Lake in Saskatchewan and fish with him.  More importantly, he wanted to show me the "Fergie program" and how, by vertically jigging the lure with the unique wire and metal clacker noise maker, it selected for the biggest walleyes in any lake, river or reservoir.
So, westward ho, I went.
I spent a couple of days fishing with Jeff and his brother Jason, learned the technique, was mightily impressed with it (not the least reason being because we landed walleyes up to 13-pounds) and wrote about in the September edition of Outdoor Canada.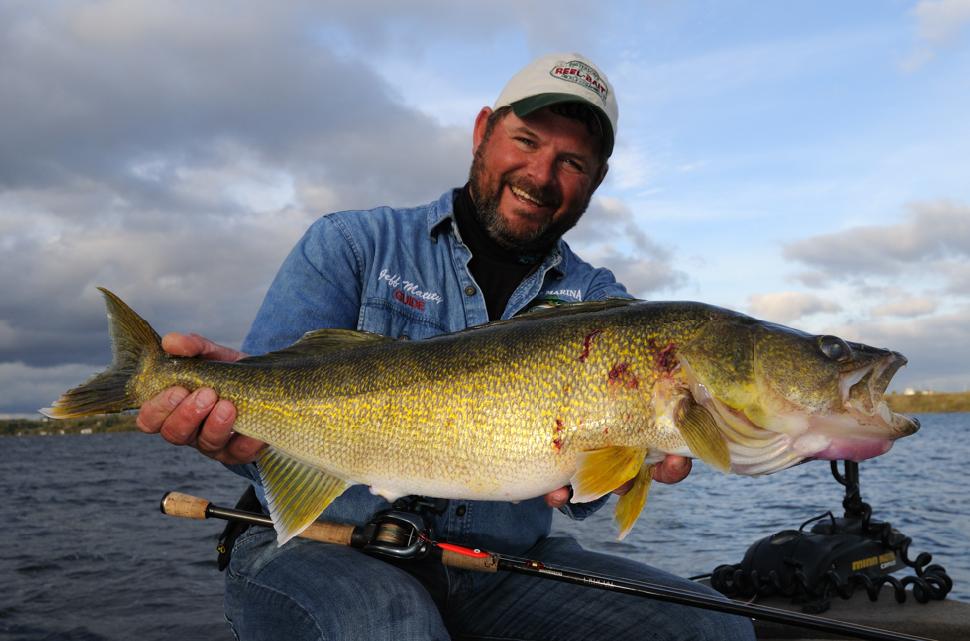 Well, now, fast forward to the recent ICAST Show in July in Las Vegas, where I headed to sleuth out the hot new fishing products for the special ICAST feature I write each year in the Outdoor Canada Magazine, Fishing Edition.
In researching the piece who calls me but, Al Reed, the owner of Reel Bait, who makes the Fergie Spoon and who is unquestionably (and not surprisingly), one of the best walleye spoon fishermen on the planet.
To say that Al was animated, giddy and energized would be an understatement.  So, what had him all cranked up?
"Can you keep a secret," he asked me?
"Not likely," I chuckled, "but let's pretend I can."
That is when Al told me about the new prototype Fergie spoons he had been working on all winter with special UV and photo-finishes that, I kid you not, look amazingly like living baitfish.
In a word they look real.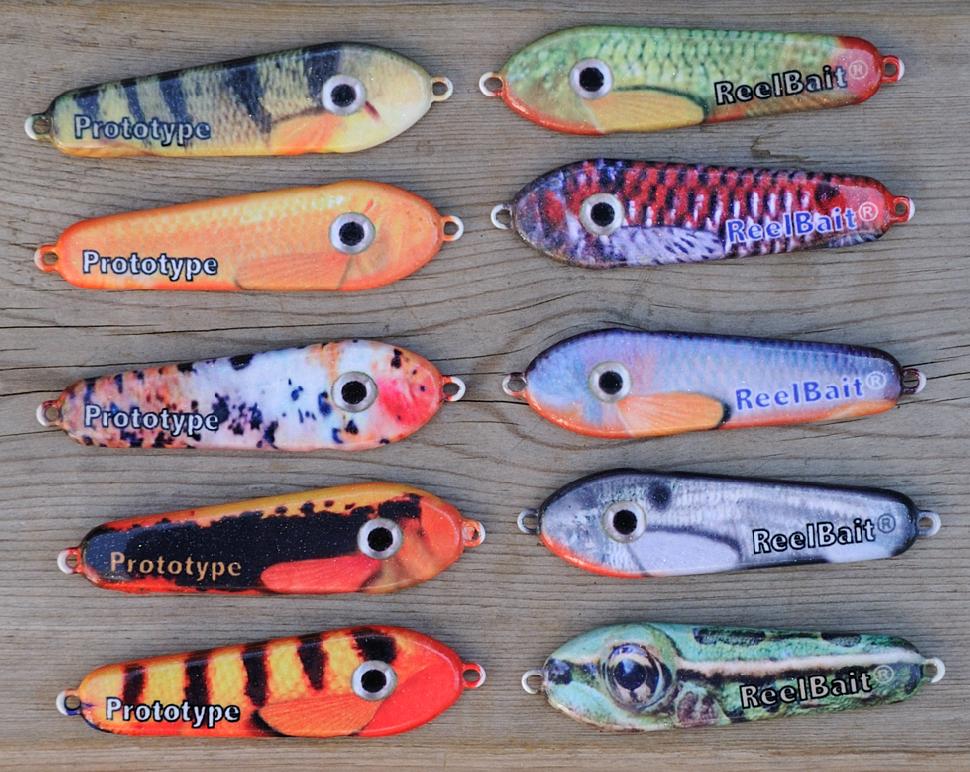 "I am heading up to Saskatchewan shortly," Al told me, "to field test the prototypes and do head-to-head comparisons with them."
"Well, keep me posted" I told him.
Which brings us to today's blog post.  For the past two weeks or so, I've been inundated daily by e-mails from Al and Jeff Matity.  Let's just say they have been whacking walleyes like there is no tomorrow.
"I spent a day fishing with Al and his friend, Charlie Rine on Round Lake," Jeff said. "And to test the baits, we set up a protocol where I would fish with the new prototype Fergie spoons, but once I caught a walleye, I had to switched over to another colour.  Al and Charlie, on the other hand, could fish with any of the traditional Fergie colours for as long as they wanted.
"Well, in 3 hours, I fished my way through all ten of the 1 oz. spoons, all ten of the 3/4 oz spoons and six of the 1/2 oz spoons catching a total of 26 walleyes.  Al and Charlie, on the other hand, combined for 20 fish.  That's right, I out fished two of the best spoon men on Planet Earth combined.  And they were allowed to fish their favourite colours for as long as they wanted.
"Well, I know and you know," Jeff continued, chuckling, "that I'm not that good of a fisherman.  So, Jason (Jeff's brother) went out with Al and Charlie the next day and had the same result!
"Let me tell you, the new, photo-finish patterns along with the UV finishes are "for real" and they're suddenly making our little adventure with the Fergie spoon a whole lot more interesting!"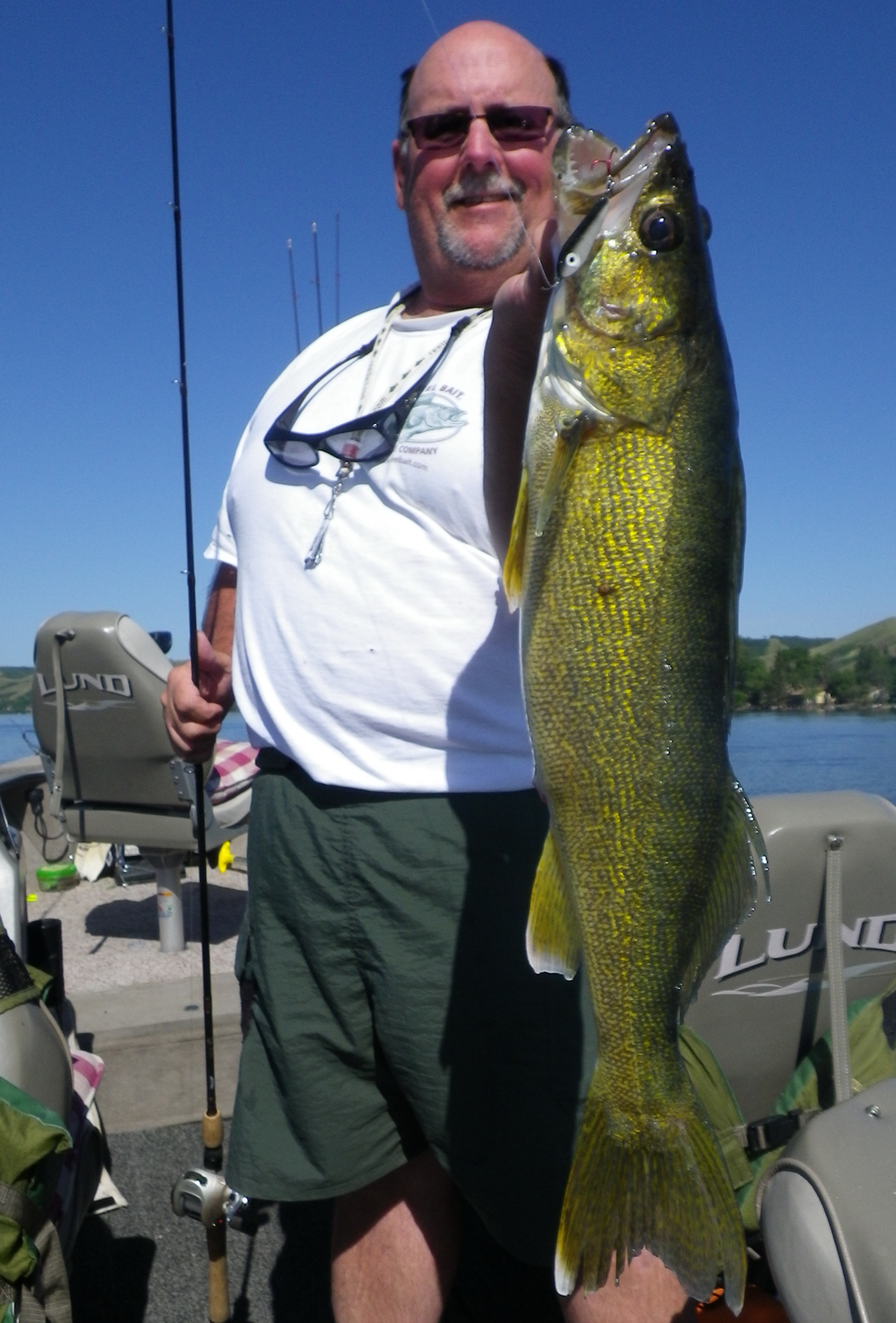 Now, if that is not enough, how this for a clincher.  On their last day field testing the new Fergie spoons, Al and Charlie crossed paths with the new Saskatchewan record book channel catfish.  That is right, Charlie caught and released the biggest channel catfish ever caught in Saskatchewan on a lure that none of us can yet get our hands on!
Al has promised to keep me posted on when the new Fergie Spoons will be available to the general angling public, which he tells me isn't far off.  I'll keep everyone similarly apprised, or you can check the Reel Bait website at www.reelbait.com for the most recent up-to-date information.