The Question
Dear Gord Pyzer,
I am a 74-year-old angler. I've seen the growing popularity of fishing kayaks and I'm wondering how easily I could handle one. I'm in good shape, and I have fished with my canoe for years, but a kayak looks great for weight and durability. Do you have any suggestions?
Thanks,
Norm Nelson
Gord's Answer
Like you, I've spent a lot of time in canoes.  Many years ago, I did my Masters thesis in Algonquin Park, where I lived and worked in the park interior for six months, traveling solely by canoe. While I haven't spent much time fishing from a kayak, I suspect they are every bit as good as a canoe and, in many ways, better. But on this topic, I will defer to Scott Gardner, Outdoor Canada's associate editor. Scott is an experienced kayak angler, who presented seminars on the topic at this year's Outdoor Canada Show.  Here's what Scott has to say…
When it comes to a self-propelled boat for solo fishing, I'm convinced you can't beat a kayak. Since they sit low in the water and are generally shorter than a canoe, I find them vastly easier to maneuver—especially in wind or waves. I also find kayaks go further and faster with less effort. And if you have a relatively lightweight boat, it's also easier to carry and transport.
Additionally, modern kayaks are really stable, especially the sit-on-top style (which is probably the best choice for you, but more on that in a minute). That's why, as far as your age, I don't see any problem, as long as you take sensible precautions like watching the weather and water conditions, and carrying the appropriate, legally required safety gear (PFD, bailer, signaling device, etc.).
So what kind of kayak is right for you?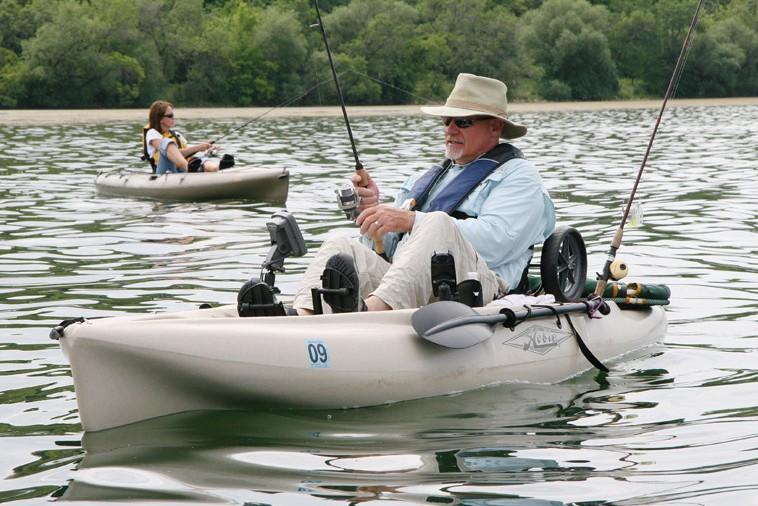 For both stability and its merits as a fishing platform, you're probably best with a sit-on-top (SOT) yak (above), rather than a traditional sit-inside. SOTs are almost like a surfboard, but with a molded seat, cockpit and storage wells. To get into (or onto) one, you just wade out into shin-deep water and sit down. (If your knees aren't what they once were, this is easier than folding yourself into a canoe.) And unlike sit-inside kayaks, if a SOT capsizes, you can't get trapped inside it.
There are an increasing number of decent SOT yaks out there, ranging from $250 to $1,000+. Almost any boat from a reputable company should be stable, durable and smooth riding, but here are a few buying tips:
Length — 12 feet is plenty for medium-sized lakes, and keeps the weight down
Weight — Potentially important, depending how you transport it, and how far you need to carry it to water; 40 pounds is a light boat, 75 is heavy
Seat — Should be comfy and adjustable, but if it's not, you can add after-market pads and supports
Storage — You absolutely need a well (or two) to hold tackle, safety gear, etc. A waterproof locker can also be handy
Accessories — Special "Angler" models come equipped with handy gear like rod holders and fish finder mounts, but may include stuff you don't need or have gear mounted in spots you don't like. If you're a do-it-yourself type, you might prefer to get an unadorned boat, and then add a few accessories yourself. Probably the most useful is a rod holder for trolling and storing rods while you paddle.
If possible, visit a paddlesport dealer, see all the different models and chat with some knowledgeable sales staff. In spring, some dealers have on-the-water events where you can actually try a boat, which is ideal. And if you have any more questions, please ask—I'm always encouraging folks to give kayak fishing a try, because once they do (pardon the pun), they are usually hooked.