Tuesday, September 18, 2012
This morning started out fairly calm here on northern Saskatchewan's Lake Athabasca, albeit with a light drizzle. No worries: that's why rainsuits were invented. Our guide for the day here at Lakers Unlimited, Bob Cottrell, motored John Cleveland and I out to Harmon Island to get things started. In short order, we were fast into the fish, catching and releasing laker after laker—even though we weren't necessarily after numbers of fish so much as big fish.
Not that we didn't catch big fish, too. For example, I brought in a nice 37-incher, nabbing the (as-of-yet unofficial) Freshwater Fishing Hall of Fame catch-and-release record for lake trout in the 15-pound tippet class. Cool: two records-in-waiting for me on this trip so far.
Then around 11:30 a.m., the wind shifted and started blowing in cold air from the north and pushing up giant waves; this we didn't know at first, as we were fishing on the lee side of Harmon. Luckily, however, Bob had the foresight to motor us around the island to have a peek at the main lake. It was not good, unless you like whitecaps, five-foot swells, driving wind and the potential for things to get much worse (complete with an overnight stay on one of the windswept mid-lake islands).
At that, we booked it across the mess of thrashing open water to the south side of Grouse Island, that much closer to camp, but in relatively calm water to wait out the wind and get in some more fishing. The switch in venues paid off—I upped the ante on the 15-pound tippet record with a 38-incher. There were also a few more 20-pound-plus lakers for both John and me.
By the time it was time to head back to camp, the wind had died off enough to make the trek across the remaining open water much less treacherous. In the end, John and I recorded 17 double-headers over the course of the day, besting our previous record of 13. On top of that, three of those double-headers ended up as triple-headers, with a third fish caught before both of the first two were released. How can it get any better?
I guess we'll find out tomorrow.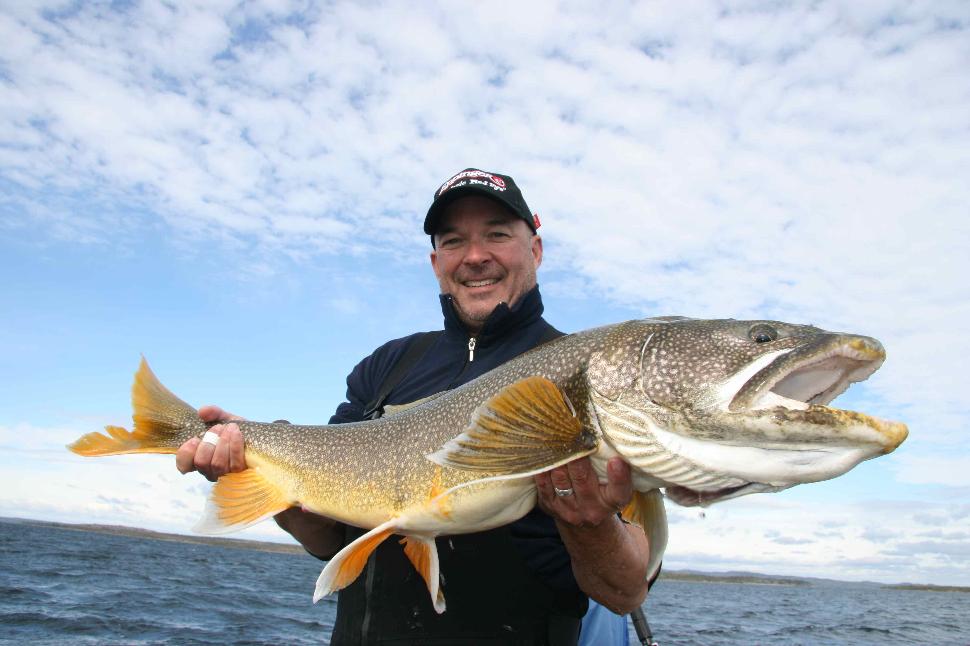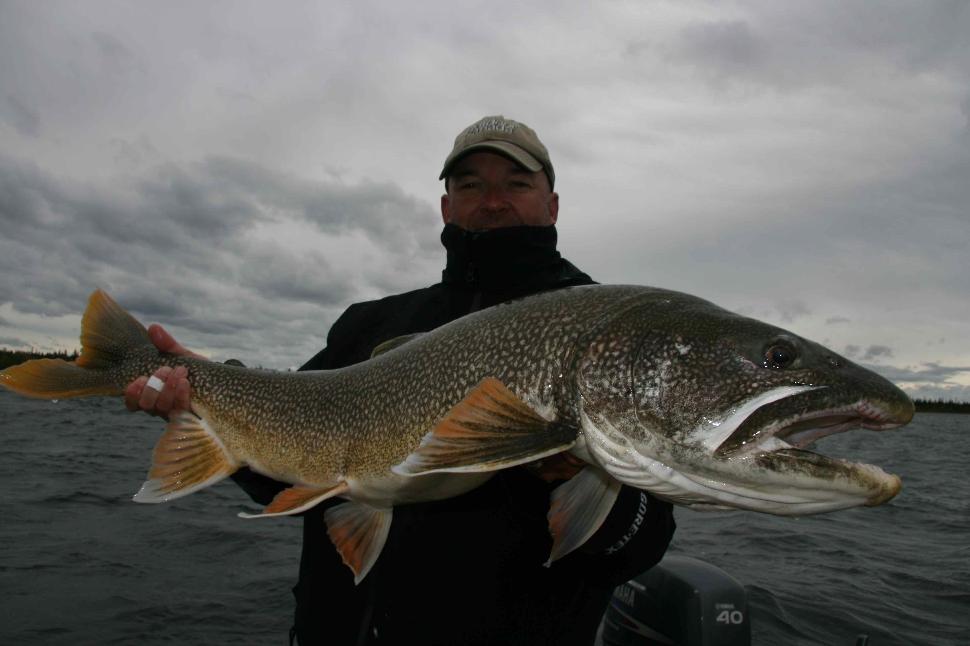 Wednesday, September 19, 2012
Crap. I broke my 9-wt Sage today. Crap, crap, crap. On the upside, at least I broke it on a fish—on the hookset, no less—rather than because of some stupid accident. Funny, though, it wasn't a big laker. But it was a fish, not a fumble. I guess I can't blame the poor ol' pole for giving up the ghost: Lake Athabasca alone has certainly put it through its paces, first on dozens and dozens of northern pike at Lakers Unlimited's Spring Bay Lodge back in 2010, and now no end of lakers on this current trout-on-the-fly extravaganza here at Johnston Island Lodge.
Speaking of extravaganza, today's highlights included a couple more unofficial Freshwater Fishing Hall of Fame catch-and-release fly-fishing records. First up: I reset the bar on the 15-pound tippet class for lakers with a 39-incher (building on yesterday's 38-incher). Meanwhile, my fishing buddy for the week, Eppinger's John Cleveland, concentrated on the 8-pound tippet record, starting out with a 35-incher (smashing the existing 30-inch record), then taking it up yet again to 36 inches.
Many thanks to our guide for the day, Nevin Checkley from the thriving metropolis of Pilot Mound, Manitoba, for putting on us on the fish. Good man.
And John and I aren't the only folks here catching piles of big lake trout. Sitting here in the camp dining room, with the guests slowly trickling in, I can tell by the growing chatter that everyone has been fast into the fish, with plenty of 20-pound-plus lakers brought to the boat, along with a few 30-plus hens. And so it's been all week.
Today, the American father-and-son duo of Chris (dad) and Tristan Mundwiler decided to forgo the hardware and give their fly rods a chance. The result? Says Chris: "I now have three nice baitcasting rods up for sale." In short, they are now laker-on-the-fly converts, having caught some 60 trout, along with one 14-pound pike, all on the fly.
Tomorrow is our seventh and last day on the water. I really don't have any expectations or goals for the day, other than to continue to enjoy this amazing fishery. That said, I'm pretty sure I can up the ante on the 15-pound tippet record. Now, to find another fly rod to use tomorrow…