Sensational specks
To catch shallow brook trout in the spring, go nymphing with blackfly lookalikes
As soon as Liam and I pushed the Frog boats away from shore, I dropped the Fish Hawk TD thermometer over the side of the boat, let it descend to the bottom and then rest there for a couple of seconds. When I pulled it back up and read the results, I felt my heart pop into my throat. From the surface all the way down to the bottom, in seven or eight feet of water, it was in the high 50°F range. In other words, perfect for brook trout. We needed that little bit of encouragement, too, because the blackflies were so ugly I thought they were going to carry us away. 
Still, bugs are the price you have to pay in the spring in order to catch what I consider to be the species most synonymous with Canada—the brook, or speckled, trout. When I was a kid, fishing in the area just to the south of Algonquin Park, smacking black flies and netting speckled trout were spring traditions.  
Subsequently, when I did my Masters thesis in Algonquin, while working for the then Department of Lands and Forests, scratching bug bites seemed perversely associated with netting brook trout.  So, today, all these many years later, I simply regard it as a fair trade off.  The price you have to pay for the privilege.
And how is this for a twist of irony: I am now tricking the fish by straight-line nymphing blackfly lookalikes. 
It is a deadly simple setup employing a 9 1/2 to 10-foot-long fly rod, floating line and 12-foot leader comprised of straight eight-pound-test Maxima fluorocarbon line. In Ontario, we're allowed to use up to four flies—check your local regulations—but I typically stick with two or three depending on the strength of the wind and the depth I am fishing. The other day, for example, because I was fishing so shallow, I had a #10 black and red buzzer (chironomid pupae) on the point and two (sometimes only one) #10 Diawl Bachs on the droppers.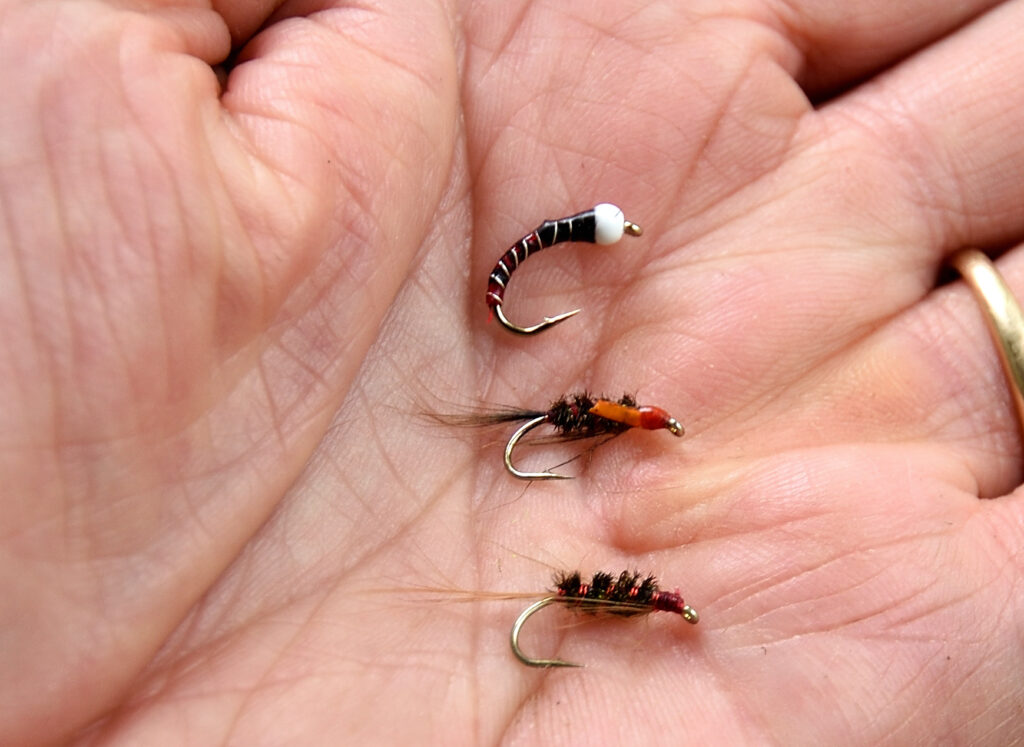 It is worth mentioning, too, that with the perfectly light breeze that was blowing, many anglers would have rightly opted for drifting their flies under an indicator. It's a proven set-up—no question about it—but as Outdoor Canada magazine's fly-fishing columnist, Scott Gardner, and I have long concluded, it is about as exciting as watching paint dry. So, I settle on the straight line tactic as a way to keep my fingers busy and my mind occupied. 
You don't need to make a long cast, either.  I anchored the Frog boat 30 or 40 feet away from shore, cast into the shallows, let the flies slowly descend and then employed an ultra-slow figure-of-eight hand retrieve.  I find the hand twist better than slowly stripping in line as it is tardier, even if it looks like you're doing more.  
The only other thing you need to remember is to keep your floating line straight. You'll still end up with slight squiggles on the surface because you're retrieving so slowly, and that is ideal, as the S-curves function like an indicator or bobber. So, when you see them tighten up—even minimally—you know that a trout has taken your fly.
It is an uncomplicated keep-it-simple-stupid method that even frees up your hand so you can swat away the flies—and net the trout.