Predatory Edge
Browning's X-Bolt Varmint Stalker offers consistent accuracy
With predator numbers reportedly on the rise in some parts of the country, I decided it was time to take a look at a varmint rifle. But what does it take for a rifle to make the grade as a dedicated predator rifle? For starters, accuracy is paramount, and by that I mean it should consistently shoot three-shot 100-yard groups under one inch. Even better, if it can shoot half-inch or less 100-yard groups, the rifle has entered the realm of what I would consider a keeper. A predator rifle should also be of a calibre that can utilize bullets of a sufficient grain weight to provide clean kills out to ranges of at least 300 yards, and preferably well beyond that.
I often find that the trigger is one of the most critical components in a rifle's actual performance, so I'll start there. The X-Bolt Varmint Stalker's three-lever Feather Trigger system offers a clean, crisp pull with no take-up or creep, and minimal over-travel. It's fully adjustable from three to five pounds, and is factory set at 3½ to four pounds. When checked, with an average pull weight of three pounds 14.1 ounces, it was well within the factory setting claim.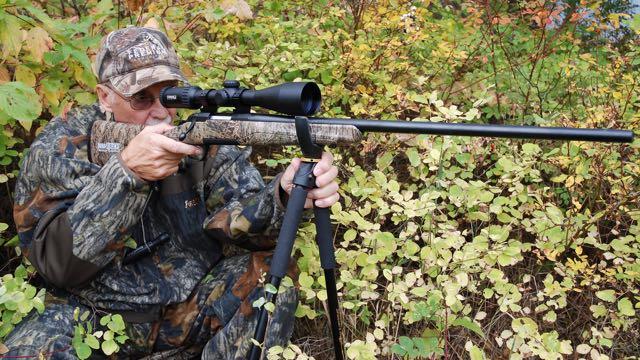 Next is the barrel and bedding. The X-Bolt's barrel is individually bedded for a true free-floated barrel. Additionally, the action is bedded at both the front and rear. The barrel is also triple-checked for interior finish and straightness, and it's air-gauged for uniformity. As a finishing touch, the chamber is hand-reamed for precision accuracy and the crown is recessed to protect the lands.
Other non-critical but quality design features include the X-Lock scope-mounting system, with four screws per base to more securely attach optics; a bolt unlock button, which allows the bolt to be opened with the safety in the safe position; a fast-cycling 60-degree bolt lift; tang safety; detachable rotary flush-mounted magazine; composite stock with Dura-Touch Armor Coating; palm swell; Mossy Oak Brush camo finish; Inflex recoil pad; matte blued-metal finish; and a heavy sporter contoured barrel, which contributes to the fine balance. All in all, it's an eye-catching, well-designed rifle that fits and balances well.
Test Results
Before detailing my test results, I must mention the installation of a Steiner GS 3 4-20x50mm scope on the test rifle. Using Browning's X-Lock integrated scope-mounting system, it made for one of the quickest and most secure scope mountings I've yet to undertake. The system incorporates both the ring and base into one rigid unit that uses four screws per unit, rather than the traditional two.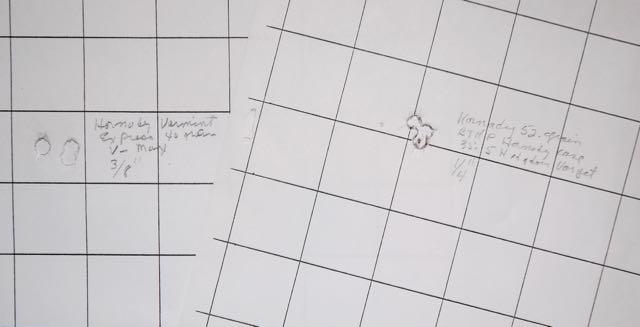 For my test (above), I fired 11 types of factory ammunition and four different handloads. Out of 52 shots, not one shot exceeded a two-inch group, and 32 collectively grouped into one inch. More specifically, not a single group exceeded one inch, with an overall average group size of 0.406 inch for the handloads, 0.598 inch for the factory ammunition and 0.502 inch for all ammunition tested. That's varmint rifle accuracy at its finest.
For varmint hunting with handloads, you'd be hard pressed not to consider the combination of Hornady 52-grain BTHP bullets, Hornady cases and Hodgdon Varget powder, which offered quarter-inch accuracy. As for factory loads, depending on your quarry, I recommend either Hornady's Varmint Express 40-grain V-Max ammo, with its stratospheric velocity of 4,150 fps, or Winchester's Varmint X 55-grain Polymer Tip Rapid Expansion rounds, which push 3,700 fps. Both rounds grouped into 3/8 of an inch.
All in all, the X-Bolt Varmint Stalker, Steiner GS 3 riflescope and ammo listed here certainly delivered the predatory edge.
B.C.'s Mark Hoffman is Outdoor Canada's hunting firearms reviewer.
The Specs

Calibre: .22-250 Rem.
Barrel Length: 26″
Overall Length: 45½"
Length of Pull: 13 5/8″
Drop at Comb: 11/16″
Drop at Heel: ½"
Weight: 7 lb 2 oz
Rate of Twist: 1″ to 14″
Magazine Capacity: 4