Super Smokepole
This muzzleloader claims to shoot 300 yards. Does it live up to its billing?
Muzzleloaders have been around for more than half a millennium, and during that time, they've undergone an array of evolutionary developments. With the advent of the centrefire rifle, however, interest in muzzleloaders for hunting had all but vanished—until the arrival of the innovative in-line muzzleloader in 1985, that is. Its development generated such a giant leap forward in interest, in fact, that muzzleloading rifles have changed more in the last three decades than bolt-action rifles have in the past 10.
Despite these advances, however, the muzzleloader's inability to shoot at extended ranges has remained an issue. Last year, Remington attacked this dilemma head on by introducing its Model 700 Ultimate Muzzleloader. Boasts the U.S. gunmaker: "The muzzleloader season is now 300 yards long." But is it really, and if so, how did Remington do it?
While the new Model 700 Ultimate Muzzleloader may look somewhat similar to the previous Model 700 ML, it's not the same. Much of the departure revolves around the new ignition system. Referred to as a UML Ignition System (the "UML" standing for Ultimate Muzzleloader), it uses cut-down .308 cases primed with Remington 9½ magnum primers. When combined with the Ultimate's new breech technology, the system can handle up to 200 grains of powder (four 50-grain pellets) for velocities said to approach 2,400 fps. That's one heavy-duty load! Of note, these cut-down cases are about the size of a .45 pistol case.
The Ultimate has a 26-inch stainless steel fluted barrel with a 1:26-inch twist, a floor plate that pops open to reveal storage for extra primed cases, and a Model 700 receiver machined from solid steel barstock. As well, the trigger is externally adjustable from 3½ to five pounds. And owing to the bolt-action design, the Ultimate has a much faster lock time than other muzzleloaders with a hammer plunger-type action. In fact, Remington claims the gun will match the accuracy of a centrefire rifle. Lastly, it comes with a hard case, 24 pieces of primed brass and 24 Remington 250-grain Premier AccuTip sabots.
Test Results
My first thought, beyond assembling all the bits and pieces to test this muzzleloader, centred on my choice in bullets/sabots and powder (pellets). While my intentions were to include the supplied 250-grain Premier AccuTip sabots, I was eager to test Federal's new Trophy Copper 270-grain muzzleloader bullet with its Bullet Obturating Ramp (BOR) Lock MZ system. It's so revolutionary that it provides outstanding accuracy in a non-sabot design that's extremely easy to load, requiring less than half the force of a typical sabot. Plus, it scrubs fouling from the breech and ensures consistent bullet seating.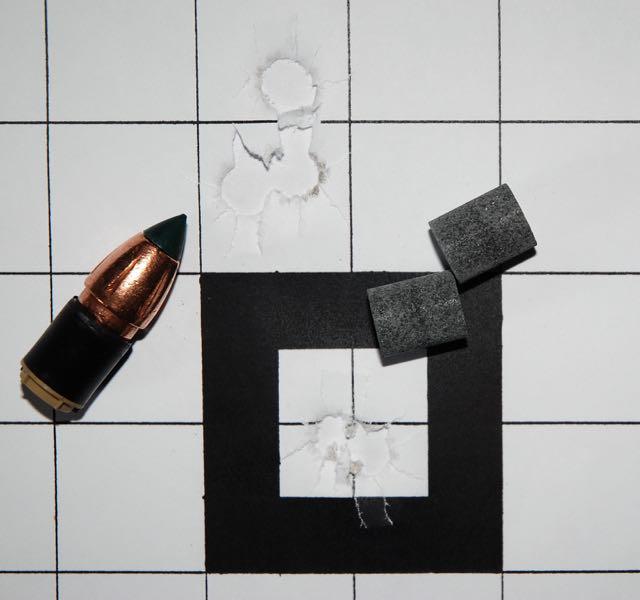 On the range, the BOR bullets lived up to their billing. Not only were they very easy to load—the easiest I've yet encountered—but determining seating pressure was also a breeze. With Triple Seven pellets they also shot lights out, with a ¾-inch 100-yard group and a 1½-inch 200-yard group. In fact, that ¾-inch group was my first, so to take advantage of Bushnell's DOA 250 reticle, I decided to immediately zero it at 100 yards. My next two shots were overlapping and all but dead centre of the bull's eye (above).
Remington's supplied AccuTip sabots with IMR White Hots were not far behind, with a 1½-inch 100-yard group and a 2 7/8-inch 200-yard group. Such performance makes for a very viable long-range muzzleloader. I say this with the proviso that the increase in recoil with 200 grains of powder was notable, and not for the faint of heart.
For hunting, I would most likely shoot 150 grains of Triple Seven with Federal's BOR Locks because of their outstanding ease of loading and accuracy. This is especially the case if they're to be combined with Bushnell's DOA 250 reticle—all I'll have to do for that previously unattainable 250-yard buck is hold dead on with the scope's 250-yard aim point and squeeze the trigger. Long-range bucks and bulls beware.
B.C.'s Mark Hoffman is Outdoor Canada's new hunting firearms reviewer.
The Specs
Calibre: .50
Overall Length: 47″
Barrel Length: 26″
Length of Pull: 13 3/8″
Drop at Comb: 1 3/8″
Drop at Heel: 1 3/8″
Weight: 8 lb 5 oz