DO-IT-ALL .22
This new Savage rimfire is ideal for both the range and the woods
The venerable .22 rimfire rife has been with us for more than a century. Most every hunter or shooter has one, or has shot one. The rounds are inexpensive, making the rifle a great training aid, and ideal for keeping your shooting skills alive. It's also a super small-game rifle. Worldwide, millions of rounds are sold each year.
My interest in this diminutive cartridge began well over a half century ago. Throughout that cavalcade of years, I've shot thousands of rounds with an array of rifles, from my first—a Cooey single shot—to various high-end Anschutz target rifles. At first, most of those rifles had wooden stocks, but then I began to observe the trend toward low-end synthetic stocks replacing wood on value-priced rifles.
Those lightweight synthetic stocks are cost effective to produce, but they do not replicate the feel of most centrefire hunting rifles, as do rimfire rifles with wooden stocks of a similar weight. It's precisely that feel that makes such non-synthetic rimfires great for frequent target practice, considering the high price of centrefire ammo, while also serving as ideal grouse, varmint and rabbit rifles. That's primarily why the timber hardwood laminate stock on Savage's new B22 BNS-SR model caught my eye.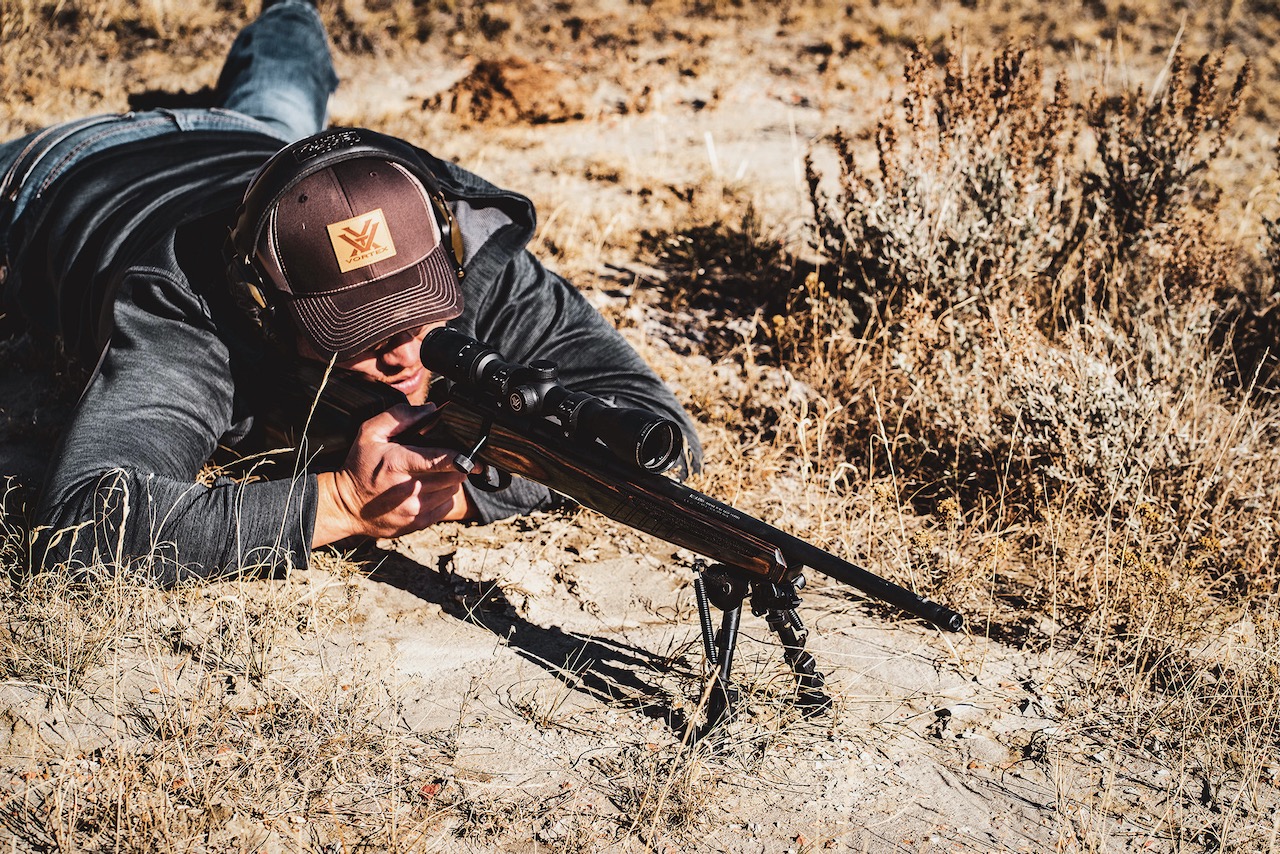 Here it's first worth noting the advantages of laminate stocks over either traditional one-piece wood stocks or synthetic stocks. For starters, a laminate stock has the feel of wood because it is wood, but it's stronger than a one-piece stock and it won't warp. And when it comes to feel and balance, a laminate stock will leave a synthetic stock—particularly a low-end product—in the dust. In other words, wood laminate affords all the advantages of wood, but with the all-weather performance of synthetic.
As for the B22 BNS-SR, in particular, its laminate wood stock also features a modernized ergonomic design. That includes a higher comb and a vertical pistol grip allowing the shooter to hold the rifle in a more natural position to lessen stress on the wrist.
Moving on to the mechanics, this Savage bolt-action includes a button-rifled matte carbon-steel barrel, an adjustable AccuTrigger (1.5 to five pounds), a 10-round rotary magazine, two-piece Weaver style bases and, for optimum accuracy, thread-in zero-tolerance headspacing that's similar to Savage's centrefire rifles. The barrel is also threaded ½-28 with a cap.
TEST RESULTS
Equipped with a Vortex Crossfire II 4-12×50 scope, my test rifle tipped the scale at seven pounds 12 ounces, which was surprisingly within an ounce or two of the weight I was seeking. The trigger was also a pleasant surprise, considering this is a modestly priced rifle. It broke consistently between two pounds seven ounces and two pounds eight ounces, with absolutely no creep—and no need for adjustment.

Of the 20 types of ammo tested, 16 bettered an inchAnother feature I liked was the 10-round rotary magazine. It is flush-mounted, so there's no protruding clip to take away from the clean lines of the rifle. As for ammunition for my test, I included as broad a range as possible, from inexpensive plinking ammo to moderately priced practice rounds to high-velocity small-game cartridges. For my range work, I waited for a calm day with a moderate temperature to ensure that neither wind, cold nor heat played a factor in the results.
Winchester Wildcat HP delivered the best five-shot group out of the 20 types of ammo I tested, and by a considerable margin—the 0.258-inch group bettered the next closest group by 0.190 inches. For inexpensive ammo, that was impressive. Federal Gold Medal Match, Remington Eley Target and CCI Velocitor also bettered a half-inch, making them great choices for plinking, target shooting and small-game hunting, as well.
In fact, 16 of the 20 types of ammo I tested bettered an inch, so there are plenty of ammo options to choose from. There's no question this new Savage offering will meet the demands of any hunter looking for a do-it-all .22 rifle.

THE SPECS
Calibre: .22 LR
Barrel length: 18"
Overall length: 36"
Weight: 6.6 lb
Rate of twist: 1:16
Length of pull: 13.6"