I just finished my regular Saturday morning, "Fish Talk With The Doc" segment on the Outdoor Journal Radio Show with good friend and host Angelo Viola and I am still hyper.
Why so jittery?
It has been a week since I was fishing for Bluefin tuna in Prince Edward Island with Captain Carl Gallant and first mate, Rob Doiron of Bearded Skipper's Deep Sea Fishing in Prince Edward Island and I am still on "Cloud Nine".  Ready for this: buddy Mark Stiffel and I tag teamed up to land three Bluefins over the course of two days and they weighed 850-, 900- and 950-pounds.  And we missed several others.
To call it the fishing trip of a lifetime is an understatement and not only for the mammoth size of the fish, but also because it was such an amazing learning experience.
You'd think that after doing this for as long as I've been doing it, there wouldn't be much more to discover, but let me tell you, it was all a little mind boggling.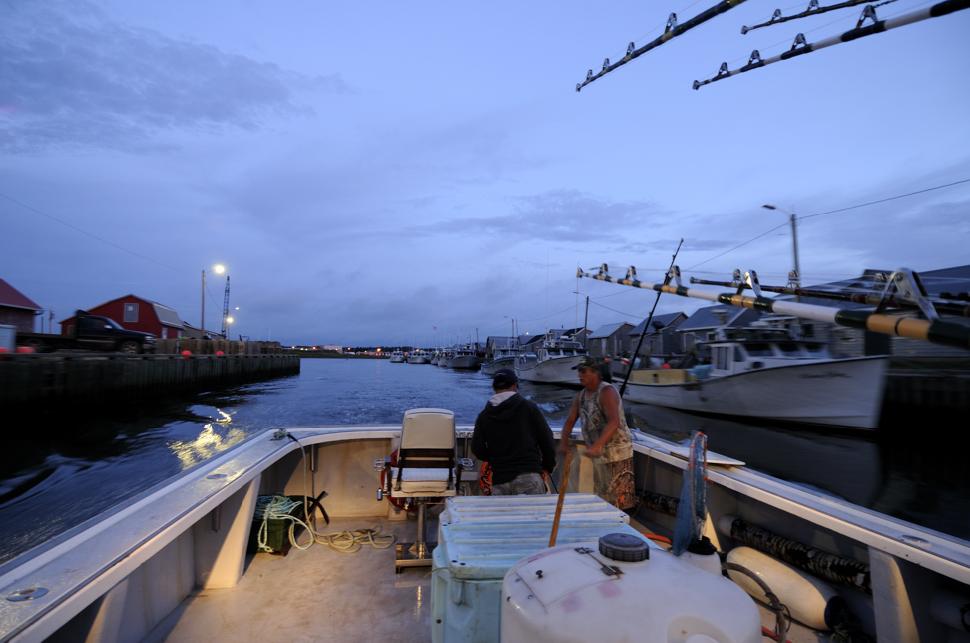 As I mentioned to Ang when we were talking about it on the show, when you watch so many of the "reality" tuna shows on television, you see the anglers often boating for hours on end to reach the fishing grounds in rough seas and stormy conditions in the mid-Atlantic.  And then they catch fish in the 200 and 300 pound category.
So, when Mark and I arrived at Carl's boat, Just Crackin 07 that was docked in the harbour, I was decked out in jeans, a long sleeve shirt, a hoodie and carrying my Cabela's Guide Wear rain bibs and jacket.  Truth be told, I had even debated in the morning whether or not I should wear the lightweight pair of "Long Johns" that I'd packed.  It was a good job I didn't because when I handed my gear to first mate Rob to stow onboard the boat, I noticed that all he was wearing were a pair of shorts and a light t-shirt.
Key point: the weather is normally so glorious in the protected Gulf of St. Lawrence that unlike all the other places along the eastern seaboard, you rarely travel more than a few miles off shore to get to the good fishing.  So, instead of spending most of your day boating in rough seas you spend it fishing on calm waters.
In fact, less than 15 or 20 minutes out from port, and within site of our motel room, Carl slowed down the boat and we dug out the mackerel rods tipped with four and five hook Sabiki rigs.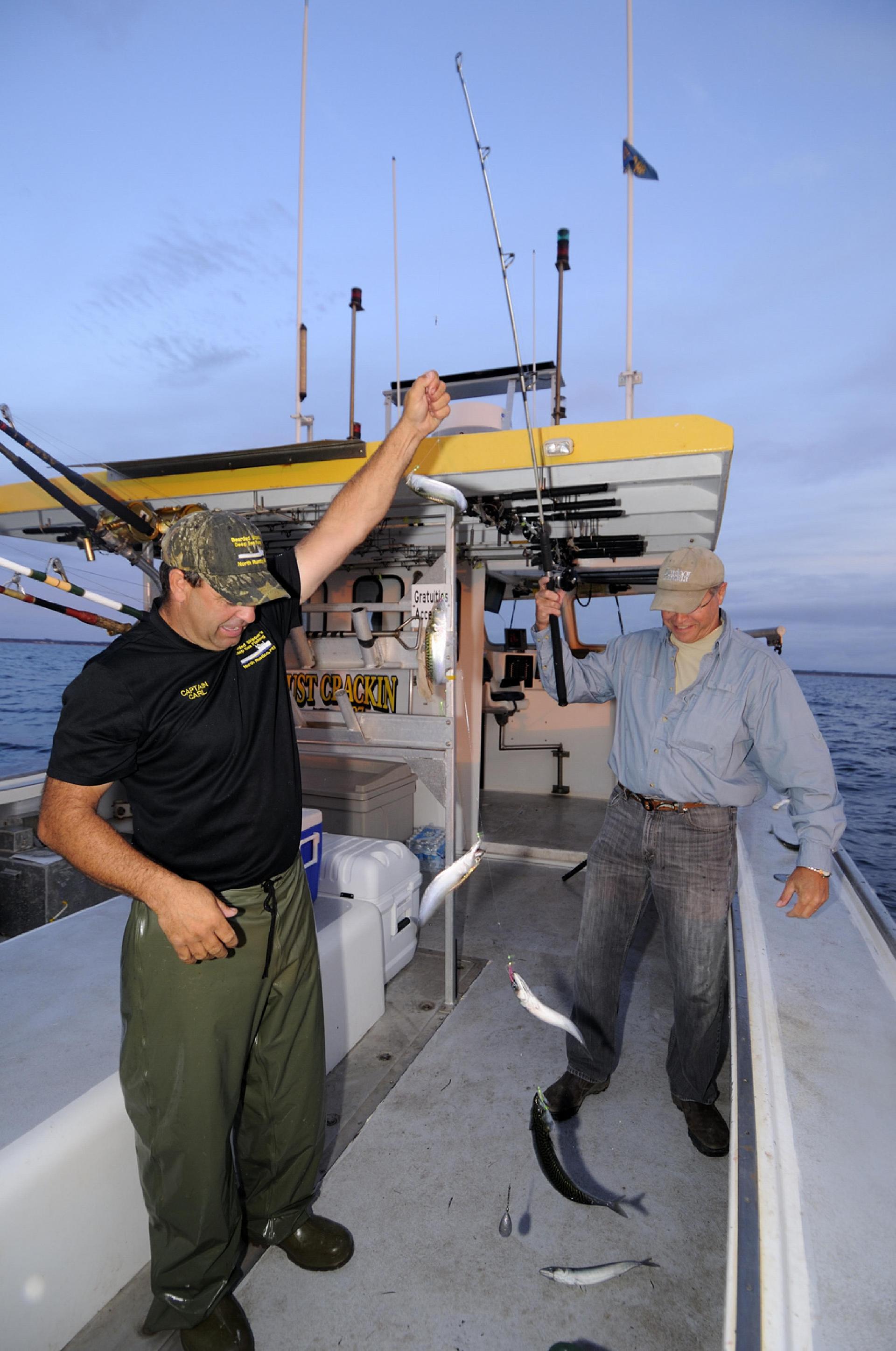 As soon as we lowered them down, we felt fish immediately smacking our baits and many times reeled up a foot long mackerel on every hook.
Damn – even catching the bait is fun!
The liveliest mackerel were quickly placed inside a huge aerated livewell while any bleeding or injured ones were put in a separate box to be ground up or cut up and used as chum.  Carl even has a mechanical "chummer" that ladles out cut up pieces of bait and a "grinder" that minces up the mackerel and herring to entice the tuna to follow below the boat.
And that is perhaps the most amazing thing about tuna fishing in Prince Edward Island.  It is more hunting than fishing.
Indeed, within a few minutes of Rob ladling out bait, Carl yelled to tell us there were a trio of tuna below the boat.  That is when I ran forward and saw the biggest arc I've ever seen on a sonar screen.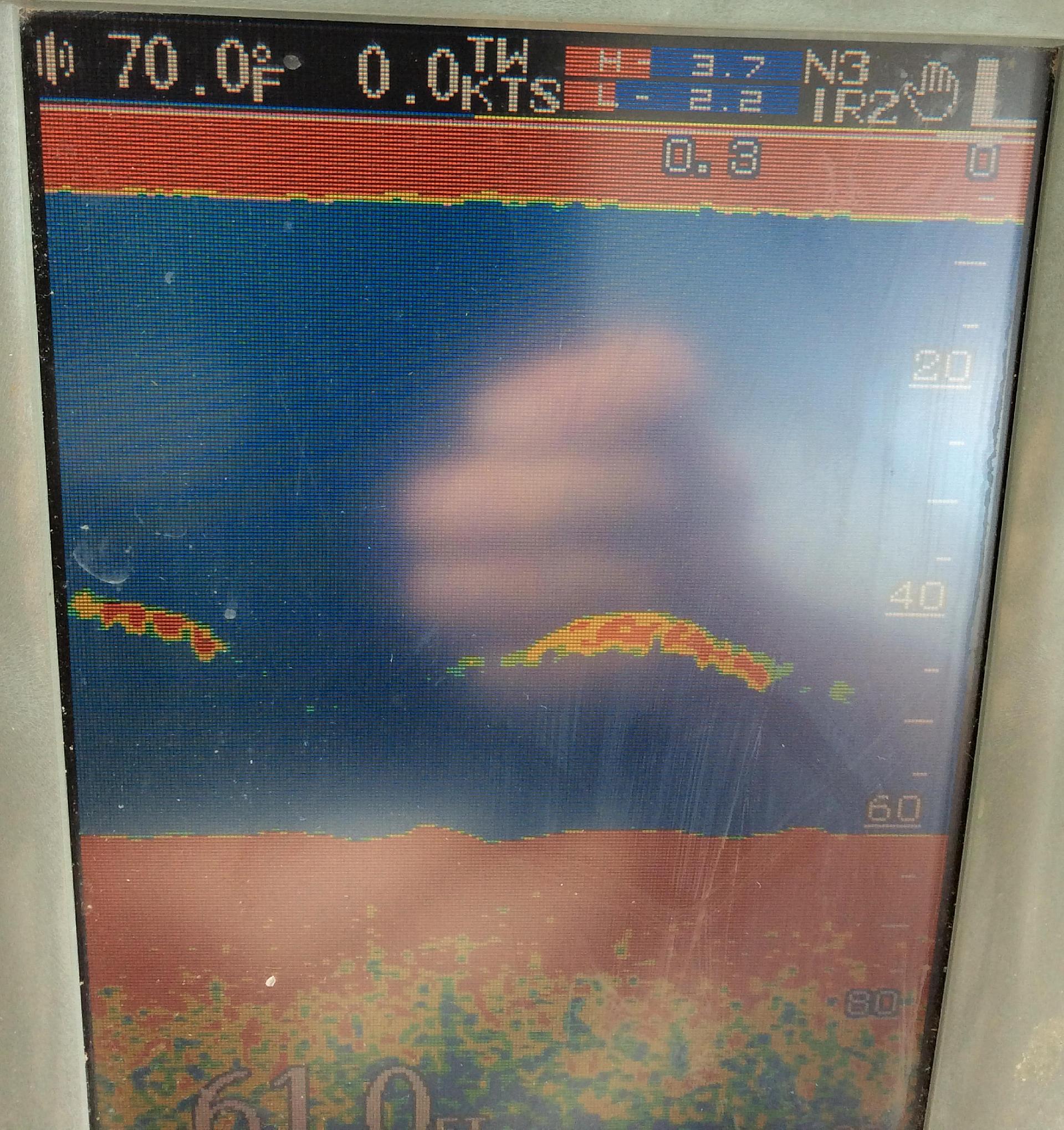 "Rob, dig out the kite," Carl quickly suggested.
The kite, I wondered?  What's he talking about?
"Bluefins have such huge eyes," Rob said, "that they can spot anything unnatural in the water.  Even your 150-pound fluorocarbon leader looks like rope to them."
Flying a kite off the side of the boat, however, lets the captain attach a release clip to the kite line.  He, then, attaches the line from one of the huge Penn fishing rods to the clip so that as the kite flies ever further away from the boat and ever higher up into the sky, the live mackerel dances on the end of the line flickering and flashing inches below the surface.  Without any line in the water, it looks like a struggling baitfish on its deathbed.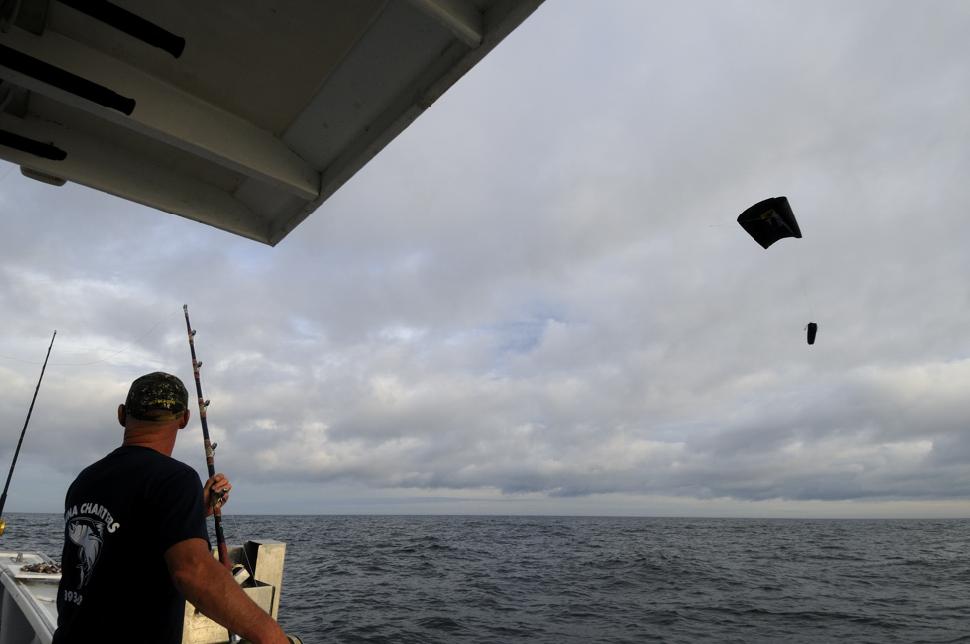 For a landlubber this was interesting enough, but imagine a few minutes later, after we'd enticed the tuna up several times to inspect our baits without any hits, hearing Carl tell Rob to pull all the lines from the water.
"We're going to starve 'em," Rob told me when I quizzed him about the tactic.
"Starve then?" I questioned.
"Yep," Rob said, "when you pull all your rods and stop chumming the tuna wonder where the food went.  It is like they're following a floating restaurant that stops suddenly stops serving food."
And the strategy worked like a charm.
As soon as we restarted chumming, the tuna immediately reappeared on the sonar screen, positioned right below the boat.
"Here's one coming up quick," Captain Carl shouted to Rob and no sooner did the words come out his mouth when one of the rods buckled over like we had snagged the fender on Volkswagen rolling downhill.  Then all hell broke loose.  Captain Carl slammed the boat into gear, Rob grabbed the rod like his life depended on it and then he handed it to me.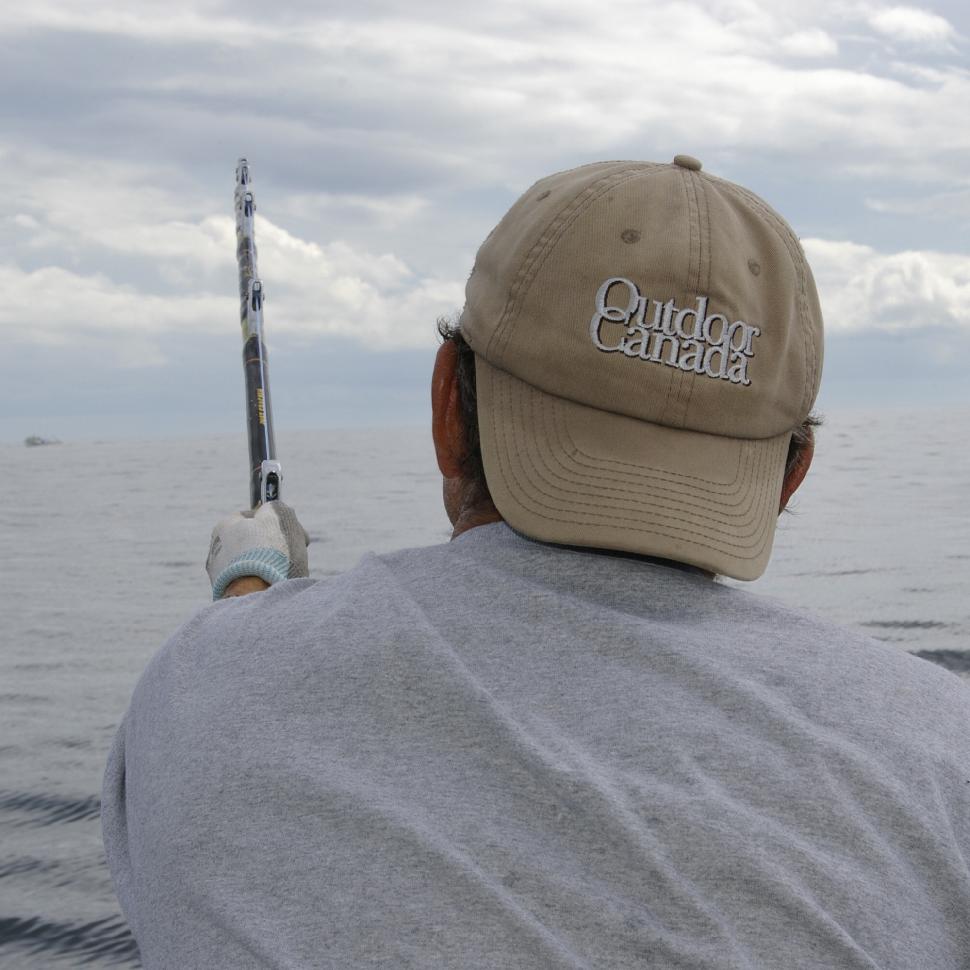 Oh, my gawd!
I have caught 300 and 400 pound marlin on the Great Barrier Reef in Australia and similar size blue sharks in the shipping lanes off Halifax, but I've never ever experience such brute force.  It was absolutely amazing and horribly humbling.
Indeed, for the next hour, Mark and I tag teamed back and forth with one of us fighting the fish while the other filmed the action.
And we did it three times over two glorious days – missing at least four or five other tuna that dropped the baited circle hook before we could slam it home.
One of the tuna even took a live mackerel on the end of the line that Rob was holding in his hand, after it had swooped out suddenly from right under the boat, so close that we could have touched its back.
We tagged and released all the fish – the PEI charter captains are working with the Federal Department of Fisheries to track the tuna to determine where they travel on their way back to the Gulf of Mexico and the Mediterranean Sea and establish how many more times they are caught.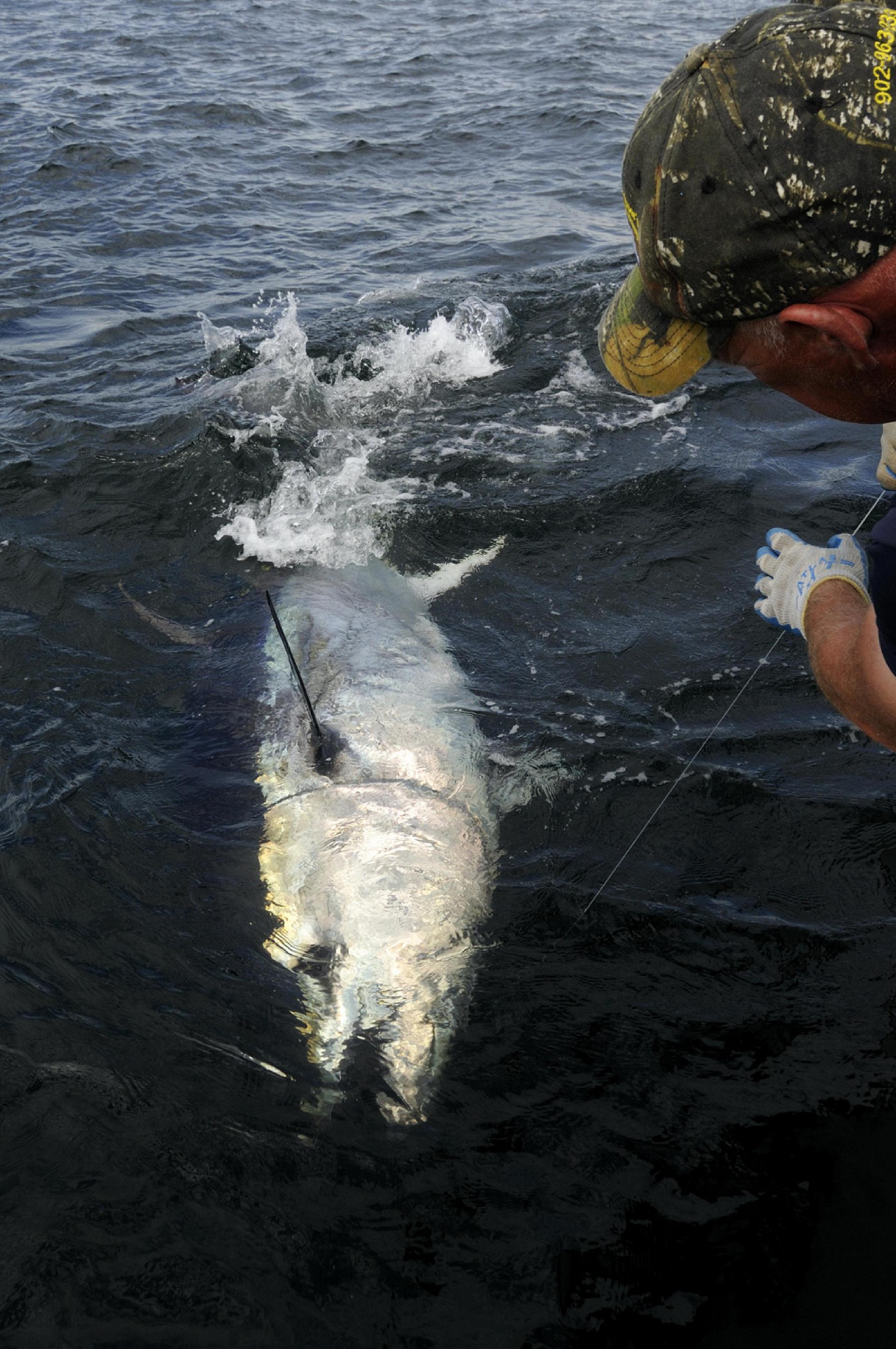 It is the trip of a lifetime and at only $1250 a day to charter the meticulously clean and seaworthy boat – that is $300 a day if four fishing friends go together – it is ridiculously inexpensive.
And you wonder why I am still hyper and jittery?