Winning ways
Bass expert Chris Johnston on why anglers need research, scouting and versatility
In just his first full year competing in the Fishing League Worldwide Tour, 27-year-old Chris Johnston placed second overall in 2016, ahead of many of the planet's best anglers. As one of the keys to his success, the Peterborough, Ontario, native credits his experience on his home province's many different bass fisheries. He also credits being able to share fishing intell with his older brother, Cory, who also fished the FLW tour last year. While the two compete against each other on the tour, they often fish as teammates in tournaments back home. We caught up with the younger Johnston to learn more about his meteoric rise to the top of the bass-fishing world.
Research
Johnston stresses the importance of doing your homework. "Get a feel for the lake before you go," he says. "Look at previous tournaments from the same time of year and try to find out what strategies worked for people. That will give you an idea of what the fish are doing."
Scouting
According to Johnston, scouting is the biggest key to successful tournament fishing. That's why he's up at sunrise and on the water until dark during a tournament's allotted three-day pre-fish. "You have to be very efficient," he says, noting that eliminating unproductive water is just as good as finding fish. To quickly eliminate water, he uses jerkbaits, spinnerbaits and crankbaits as search baits. "If I don't get a bite, I usually keep going. But if I get one or two bites, I slow down."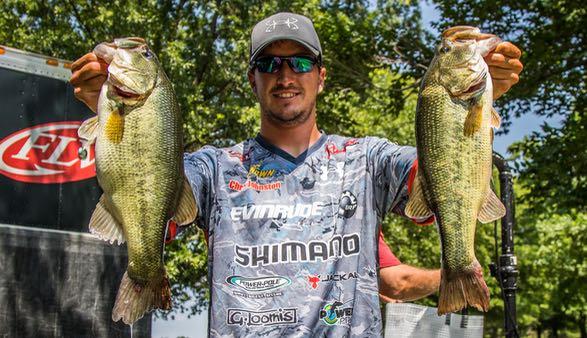 A common mistake many anglers make during the pre-fish is to sting too many fish, which can give the fish lockjaw during the tournament. Johnston's solution? "If I get a bite and it's a decent fish, I cut the hooks off my bait," he says. "Then I'll try to get a couple more bites in the area, but I won't actually hook them."
Versatility
While growing up in Peterborough, Johnston says he got to fish a lot of diverse waters across southern Ontario. "We have so many different fisheries, and you can fish them in so many different ways." That experience made him a more versatile angler, allowing him to apply the different ways of catching fish in Ontario to the southern lakes on the FLW tour. "I didn't feel out of place on any of those lakes," he says. "I could fish my strengths anywhere. For example, Lake Okeechobee [in Florida] is all flipping and punching heavy reeds. That's what I grew up doing on the lower end of Pigeon Lake."
Learn more about the FLW tour at www.flwfishing.com.