Shock and paw
OC's hunting editor tests modern corrective devices on a hunt—and himself
On a recent hunt in Saskatchewan, I watched with admiration as guide Tony Vandemore guided his black Lab on a 350-metre blind retrieve. Amid the chaos of shots and falling birds, the dog hadn't seen a wounded mallard sail off toward a distant treeline before tumbling from the sky. But after pointing in the approximate direction in which the bird fell, Tony sent the eager Lab on his way with the command "Back!" Whenever the dog would slow down or veer off course in the rolling terrain, Tony would give a short blast of his whistle and the dog would turn toward us and sit, waiting for direction.
Using a combination of whistle, hand and voice commands, Tony quickly steered his Lab into the vicinity of the downed mallard, where the dog's sense of smell took over. It wasn't long before he was racing back to us with the drake firmly in his mouth. It was a spectacular retrieve, and I congratulated Tony. Naturally humble, he shrugged off the compliment, saying, "I had to correct him a couple of times."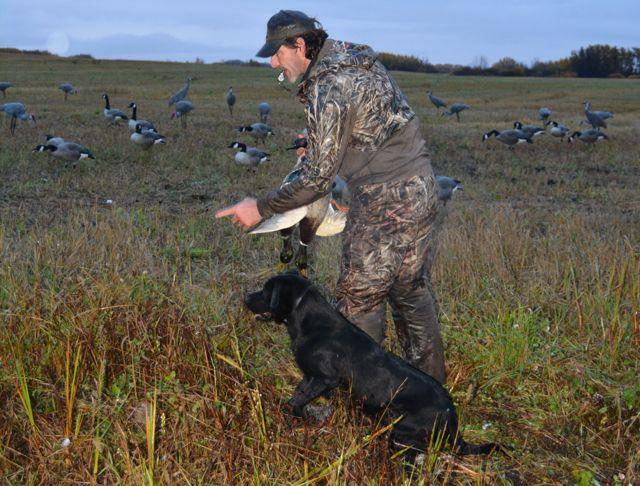 Correction vs. punishment
"Correction" is the term used to describe the use of an electronic training collar to nudge a dog in the right direction. Some folks recoil at the thought of using an electrical pulse to correct a dog, but when used properly, e-collars are no more than an invisible leash, enabling handlers to guide their dogs at a distance. I would never have guessed Tony corrected his dog on that magnificent retrieve—the Lab simply didn't display any signs of discomfort or lack of enthusiasm for the task at hand. Today's e-collars and training methods have certainly come a long way from their early days.
Once referred to as "shock collars," the original versions typically had a simple on/off switch and a single level of electric stimulation designed to be unpleasant for the dog. Darrell Douglas is the category manager with SportDog Brand, one of the premier manufacturers of e-collars. He says today's collars have myriad options that make training with them much more effective and pleasant for both the dog and the handler.
Plus, Douglas says the mindset behind using the collars has changed. "To begin with, it's absolutely critical that owners understand they're not going to teach a dog anything with an e-collar," he says. "Instead, you're only adding pressure to a skill that your dog already knows and can routinely perform."
According to Douglas, handlers can't allow themselves to become frustrated and use the e-collar as punishment—otherwise, the dog's attitude can be negatively affected. "The goal is to have your dog remain under control while receiving correction and, most importantly, understand why the correction occurred," he says.
Stimulation vs. shock
Modern e-collars have tremendous flexibility in the amount of staticstimulation they offer. SportDOG's collars, for example, offer up to 99 different levels, allowing handlers to fine-tune correction to meet the sensitivity of each individual dog. Like humans, every dog will react differently to a given stimulus—you want to avoid anything that will hurt, confuse or dissuade the dog. Many collars offer the choice of a vibration or audible tone as a precursor to electric stimulation that, in time, will become all your dog needs to correct its behaviour.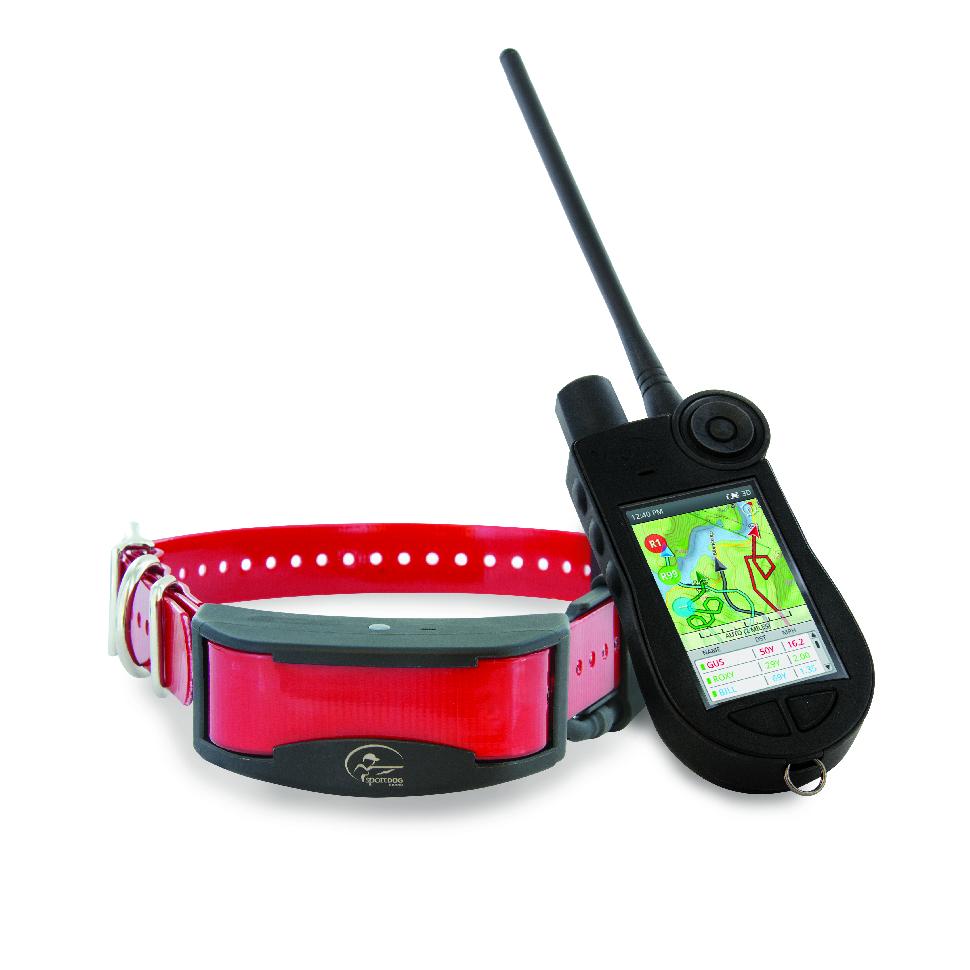 In the interests of research, I decided to stimulate myself with the new SportDOG TEK 2.0 collar (above). At the lower settings, the electronic signal was barely discernible. As I dialled it up, however, the stimulation became increasingly uncomfortable. It was apparent to me that it would be relatively easy to determine at what level an individual dog would respond, without causing it undue discomfort.
Beyond mere electronic stimulation, today's e-collars offer several other benefits when hunting with dogs. Those who hunt with hounds, for example, will certainly appreciate the GPS tracking features, ensuring they can locate dogs up to 16 kilometres away, and sometimes even farther if the terrain permits.
Modern e-collar technology also allows for touch-screen transmitters, mapping applications, multi-dog tracking and more, depending on the make and model. As with the advances in technology that have assisted big-game hunters in mapping, locating, distance-estimating and targeting—all designed to bolster safety and humane harvest—today's e-collars have also taken the tracking and training of hunting dogs to new levels. It's just a matter of using them correctly and responsibly.