Guns & ammo: your source for firearms info
The wild stories behind a pair of Winchester rifles and a Smith & Wesson .38 Special
Whether you have a question about antique guns, modern firearms, ammunition or reloading, expert Dave Anderson is here with the answer. Please send your detailed questions and applicable, high-resolution photos to editorial@outdoorcanada.ca. 

I've had this Smith & Wesson .38 Special revolver for many years and I'm interested in finding out what it's worth. It's in fairly good condition and fully operational. The serial number is #V58308.
Stan Mosek
Portage la Prairie, Manitoba
Your revolver (above) is generally referred to as a "Victory" model. It's the Smith & Wesson medium (K) frame, called the Military & Police model. When the Second World War broke out, S&W began making it for the United Kingdom and Commonwealth countries. It was chambered in .38 S&W, firing a 200-grain lead bullet, with barrel lengths of four, five or six inches.
After Pearl Harbor, S&W began supplying the same model but in .38 Special for the U.S., with barrel lengths of two or four inches. Both the Commonwealth and U.S. versions were numbered in the same serial number range. When number 1,000,000 was reached in April 1942, S&W began a new numbering series with a V (for Victory) prefix. The company turned out 15,000 to 20,000 revolvers a month at the time, so your gun was most likely produced around the summer of 1942.
Incidentally, some S&W collectors only call the .38 Special revolvers Victory models, referring to the Commonwealth ones as the .38/200. It's a convenient way to identify the two versions, though I don't consider it a serious crime to call them all Victory models. Altogether, S&W made more than 811,000 Military & Police revolvers for the armed forces between 1940 and August 1945.
Judging by the photo, your revolver appears to have a five-inch barrel, which would suggest it was originally chambered for the .38/200 cartridge. Complicating matters further, Britain began selling its revolvers as surplus after the war. To make them more appealing to buyers in North America, it was common to have the chambers reamed to accept the longer .38 Special cartridges. So, even if your revolver accepts .38 Special cartridges, it may have originally been a .38/200 version.
Victory models are collectible, but because so many were made, they're not really valuable. Your revolver appears to be in fairly good condition, and it has the lanyard loop. A reasonable estimate of its value would be around $350—less if it is a .38/200 reamed out to accept .38 Special.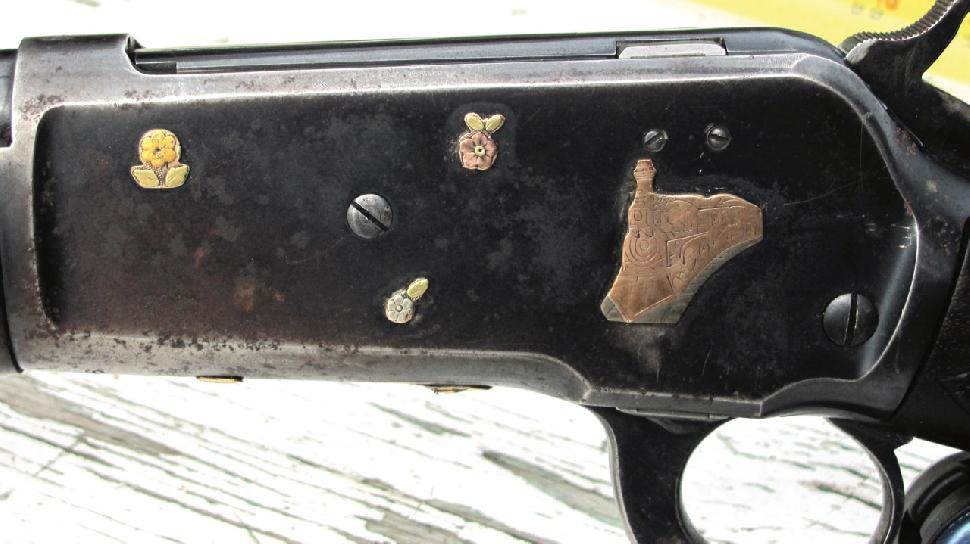 My great-grandfather owned a service station. One day, a man asked him if he would fill up his car and give him some money to get to his destination if he left behind his Winchester Model 71 (above) as collateral. My great-grandfather agreed, filled the man's car and gave him $20, which was a good sum of money at the time. For whatever reason, the man never returned to repay the debt, and the rifle has been in my family ever since.
As far as I can tell, it's the deluxe carbine version, with a 24-inch barrel. The serial number is 38806. I contacted Winchester to inquire about the gun, but they say all their records from that era were destroyed in a massive fire.
I think the gold and silver train and flower details were added later, not at the Winchester factory. And as you can see, the rifle is definitely well used. But since the rifle is fairly rare, and because of the interesting custom work, I'm curious about its history and value.
Derek Hickey
Grande Prairie, Alberta
That's a very interesting story! The Winchester Model 71 was manufactured from 1935 to 1957, with a total production of 47,254 rifles. Your particular rifle (above) was made in 1954. The Model 71 has been called an "improved" Model 1886, though mechanically the 1886 could hardly be improved upon. The 71 was made with more advanced steel and heat-treating, and it's certainly a very smooth, reliable, high-quality rifle. It was made only for the .348 Win. cartridge, which can still be found with a little searching.
You are correct that the gold and silver decorations were later additions, but I have no idea who did the work. Also, the checkering on the pistol grip and forearm was certainly not done by Winchester. I'm sorry to say that these modifications pretty much destroy any collector value in the rifle. There also appears to be quite a bit of rust and some pitting.
If the gold-coloured decorations are, in fact, gold, they would have some value for the gold content. Otherwise, the rifle would only be of value to someone who just wants a Model 71 for hunting. The rust on the outside, however, would make most potential buyers leery about the condition of the bore and the operating mechanism. I know I'd want a gunsmith's approval before firing it. If the bore is good and the rifle is safe to shoot, it might fetch $350 to $400.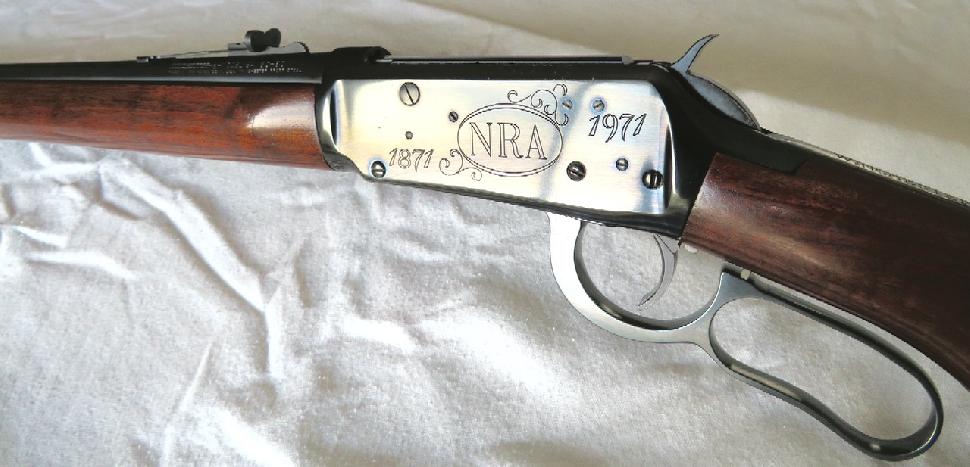 I have a Winchester Model 94 in .30-.30 Win., made in New Haven, Connecticut (above). It's a National Rifle Association Centennial Rifle, test fired only by me. There are no scratches on the wood, and the metal has very few little rust spots. What would this rifle be worth?
Daniel Perreault
Coteau-du-Lac, Quebec
The NRA Centennial was introduced in 1971. More than 47,000 of these rifles were made, so they're not rare. Collectors of Winchester commemoratives are only interested in rifles that are in perfect condition, with uncycled actions and accompanied with the original box and papers. Your rifle has been fired, it has some rust spots and I don't think the recoil pad and sling swivel stud in the stock are original. As a result, I don't believe it would be of interest to collectors, making the value about the same as a standard Model 94 of the same year and condition.
It's still a pretty nice hunting rifle, though, and with new Model 94s currently selling for $1,400 or more in Canada, there's been a bit of upward pressure on values. I feel a fair price would be in the $450 to $500 range.