School of thought
To catch aggressive fall bass and walleye, monitor, match and manipulate their forage
During three pressure-packed days at Bassmaster's 2015 Bass Pro Shops Northern Open, Canadian pro Pete Garnier whacked the bass while nearly every other angler grumbled about the dearth of bites. What separated him from the pack on New York's Oneida Lake was how he closely monitored, matched and managed the baitfish. "If more anglers learned this tactic, they would open the door to a brave new world," says Garnier. "I can think of three major wins in the last three years, on completely different bodies of water, where I managed the bait. And you don't have to be a competitive angler to do it."
Study the bait
According to Garnier, anglers would be more successful if they studied the life cycle of the food their favourite gamefish eat, rather than the fish themselves. "I use every means at my disposal to locate baitfish, including looking into the water, using my electronics and paying attention to birds like terns and gulls," he says. Specifically, Garnier looks for the semi-predictable times when shad, shiners, smelt, perch, ciscoes and alewife gather in massive schools, presenting unique feeding opportunities for predator fish.
And here he's not talking about a few balls of bait, but rather field-sized schools of minnows numbering in the hundreds of thousands, possibly millions. Once Garnier finds such a concentration, he tries to determine if the baitfish are homing in on a particular feature or associating with a specific depth. If they are, he knows he can count on the bait, and in turn the bass or walleye, to stay put.
Often, the fish themselves provide the answer. If they resemble footballs, Garnier says, you know they're locked onto a readily available food source. They'll also spit up what they've been gorging on. "This tells you the size, shape and colour of the bait," he says. "This is critical information you can use to mimic what they are feeding on."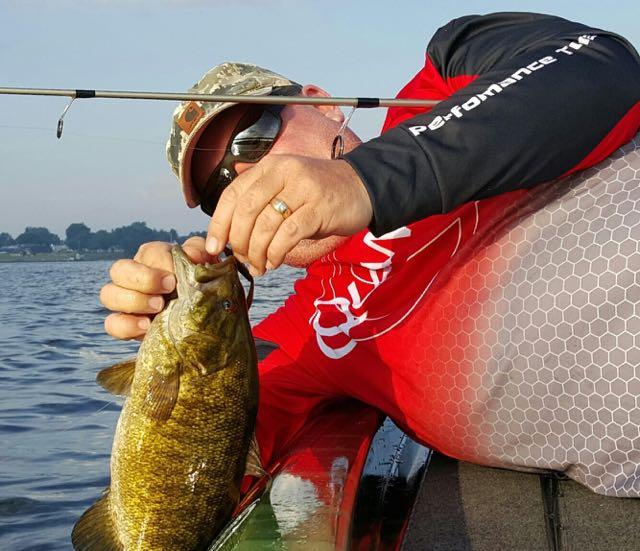 Sneak around the school
To avoid spooking the baitfish, Garnier never idles his boat over the school. And he always casts to the edge of the school, working it like a weedline. "I always find the predators outside of the school of bait, almost as if they are herding the minnows and trying not to disturb the main school."
During the Bassmaster tournament on Oneida Lake, for example, Garnier found millions of young-of-the-year yellow perch migrating out of the weeds and gathering over featureless mid-lake flats. "Rogue packs of 20 to 30 smallmouth would slip up to the edge of the school, carve out a chunk of perch and feed heavily on them," he says.
Any time the bite seemed to slow, Garnier would manoeuvre his boat to the edge of the perch school and herd some of the bait into open water. "Like clockwork, the bass sensed the opportunity and literally boiled on the surface," he says. "I experienced unbelievable topwater action by simply spooking a few thousand minnows into the waiting path of those rogue bass."
For Garnier, this tactic has resulted in incredible success in tournaments. "I've come back to the weigh-in site having completely out-fished my competitors, who complain about the day being a real grind with a super-slow bite," he says. "Meanwhile, my partner and I have been tearing them up." It may sound too good to be true, but when you learn how to manage baitfish, you'll find words like "incredible," "unique" and "unbelievable" creeping into your everyday angling vocabulary, too.
Go slow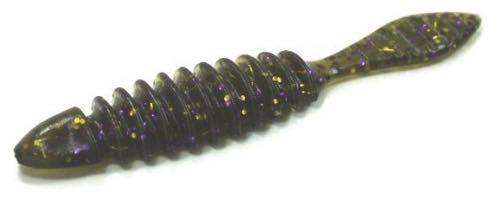 Sure, you can catch fish using fast power presentations, but Canadian bass pro Pete Garnier says slower techniques such as drop-shotting and jigging are even better. During a feeding frenzy, in fact, your bait will rarely make it to the bottom unscathed, he says. Lighter jigs are best, says Garnier, noting that he relies on 1/8- to 1/4-ounce jigs tipped with an Angler's Choice Kill Shot ribbed soft-plastic (above), even when fishing in water up to 20 feet deep. When the predators push the bait to the surface, on the other hand, his lures of choice are a Spro Hydro-Pop60 chugger in perch and bluegill colours or a Spro Dawg in shad, shiner or smelt. Both are now out of production, but Spro does have several similar chugging and walk-the-dog baits.