Going coastal
Saltwater salmon on the Central Coast: We aren't in Saskatchewan anymore
The bald eagle made a smooth turn into the wind, braked with a flap of its great wings, and landed neatly on an isolated rocky outcrop overlooking the ocean. For the eagle, it was probably another routine day. For two of us on the boat below, it was anything but. After years of fishing Saskatchewan's lakes and rivers, my wife, Simone, and I were fishing saltwater for the first time.
Out on B.C.'s Milbanke Sound everything was new and fascinating. There were porpoises leaping and splashing, sea otters bobbing gently in the water, seabirds wheeling and diving and, of course, that bald eagle. One day a whale surfaced near the boat, and another time, we saw three wolves playing on the rocks. And were there fish? Yes indeed.
Recently, I had one of those landmark birthdays when you start to consider a few things you better do while you still can. Fishing for salmon in B.C.'s tidal waters was one of them. Considering our profound ignorance of ocean fishing in general, and salmon fishing in particular, my wife and I opted for a fully guided excursion with a capable outfitter.
Based on the recommendation of more experienced friends, we settled on outfitters Dave and Lisa Cuthbert of West Sport Fishing. They recently acquired the famed floating fishing resort King Pacific Lodge and moved to its current location near Bella Bella on B.C.'s Central Coast. That's where we decided to go.
The adventure begins
We chose to fly to Vancouver the day before our adventure began, but it would have been possible to get up early in Saskatchewan and be out fishing on Milbanke Sound the same afternoon. That really had me thinking.
When we head to our favourite northern lake in Saskatchewan, it takes a day to hook up the trailer and boat, make the drive, set up the trailer and launch the boat. But in less time and with far less effort, we were on the ocean in B.C. where a big fish is a 30-pound salmon—not a six-pound northern pike. How on earth could it have taken us 40 years to figure this out? Oh, the wasted years.
So it was that Simone and I found ourselves taking a short boat ride from the lodge with guide Aaron Anderson (below left), who promptly dropped the downriggers and began trolling. It took all of two minutes before a fish was on. We'd already agreed Simone would have first chance, so she gamely took the rod (below right).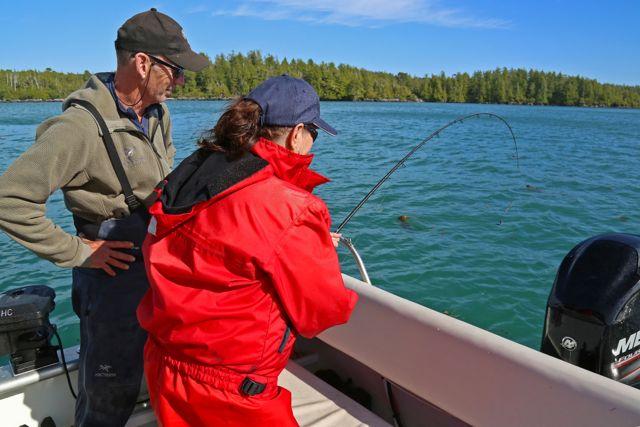 By rights, that first fish should have shaken off the hook, but Simone brought it in thanks to Aaron's coaching. "Reel faster! More tension on the line! Be ready now—when he sees the boat he's going to run. Let go of the reel and let the drag do its work. Reel fast again! Don't give him slack!" After a final run past the boat, the 14-pound chinook was in the net. It was twice as big as any fish Simone had ever caught, and she later said she was shocked by its strength.
If we were lucky in selecting our outfitter, we were doubly lucky in getting Aaron as a guide. An avid fisherman since childhood, Aaron was in the lumber business for 40 years—until he won the $110,000 first prize in a salmon fishing derby. That's when George Cuthbert asked him to put his angling skills to use as a guide. During our trip, Aaron not only found the salmon, he also showed us how to use the gear, and was patient and understanding when we lost fish through inexperience and general klutziness.
And we did lose a lot of fish—far more than we brought into the boat. Almost every time, a hooked salmon would start the action with a fast run toward the boat, giving us little chance to keep the line tight. All we could do was reel as fast as possible, and hope to catch up. The real heart-stopping thrills came when the salmon saw the boat, then took off on a speedy run.
The coho, in particular, made dramatic runs, seemingly on the water's surface and practically airborne—and all you could do was hang on and keep your fingers out of the way of the reel's spinning handles. They don't call those reels knuckle-busters for nothing.
Seduced by salmon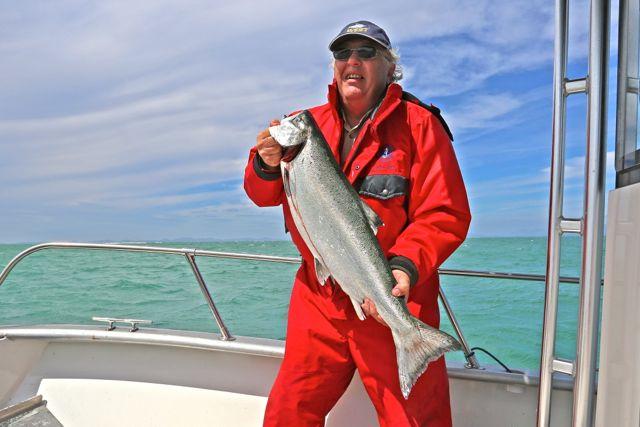 As with most anglers, we released far more fish than we kept (although not always voluntarily). But perhaps we should have been more selective. I think Aaron felt we were foolish to keep coho rather than holding out for the bigger chinooks (also called "springs"). Of course, from our Prairie perspective, a 10- to 12-pound coho looked huge. Plus, we'd been told that coho are the best-tasting salmon. Our biggest spring was a 16-pounder (above), though we lost others that were clearly larger.
On our last day at the lodge, another guest brought a 31-pound spring to the dock. Simone and I took one look at the fish and realized we probably should have listened to Aaron's advice to hold out for bigger fish. As they say in big-game hunting, you can't shoot big ones until you stop shooting little ones. Does that mean we were wrong to keep all those smaller fish?
No. It just means we have to go back.
Dave Anderson is Outdoor Canada's Guns & Ammo columnist.
The lodge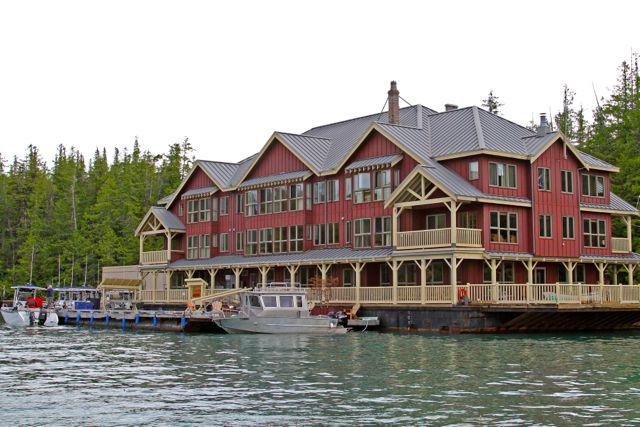 Completely renovated, King Pacific Lodge on B.C.'s West Coast is simply magnificent. Every aspect of the operation is of the highest quality—the rooms, the service, the five-star cuisine, the fully equipped boats and the meticulous planning for a successful day on the water. There was even a daily 11 a.m. radio call to check on lunch plans.
From our farm in Saskatchewan, getting to the lodge was relatively quick and painless. We booked a direct WestJet flight from Regina to Vancouver, and West Sport Fishing took it from there, putting us on a Pacific Coastal Airlines charter to Bella Bella. Then it was just a 10-minute Helijet hop to the lodge.
King Pacific Lodge's fishing packages are all-inclusive, including the charter and helicopter flights. We fished exclusively for salmon, but angling for halibut and other bottom fish is also on offer.
Learn more about King Pacific Lodge at www.kingpacificlodge.com or by calling 1-855-825-9378.