19 days solo: How to do it
Essential tips to keep you safe, dry, warm and well-fed on the solo adventure of a lifetime
Going it alone is a right of passage for any self-respecting outdoorsperson. My own solo adventure took place last summer over 10 days on the wild Kesagami River in northern Ontario's Arctic watershed. In terms of a whitewater challenge, along with great pike, walleye and brook trout fishing, my research told me this legendary river couldn't be topped.
The thing is, though, the Kesagami isn't just any whitewater river. Through the 35-kilometre whitewater section, it plunges 200 metres in a series of raging rapids, thundering waterfalls and a plethora of portages. Not that I let any of that hold me back, and nor should you. If you're ready for your own solo canoe adventure, here's a primer on some of the skills and gear you'll need before you hit the whitewater.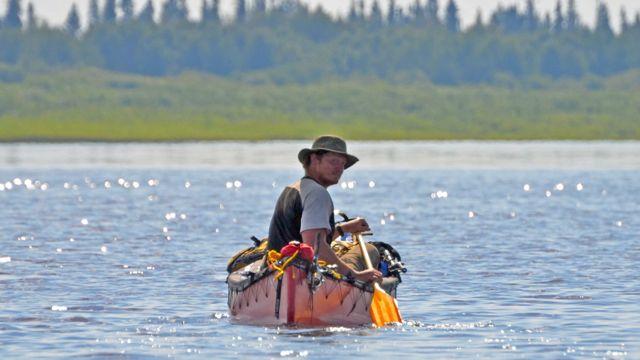 PROPER GEAR

Being properly outfitted can make or break a solo canoe trip. If you plan to only bring along the bare minimum, make sure it's the right stuff.
Tent: Think simple, dependable and waterproof. You want an easy-to-erect dome-style tent with a fly that covers the entire tent. I like the Eureka Taron 2.
Canoe: You'll need an expedition-grade canoe that can wrap around a mid-rapid boulder, then bounce back into shape. Choose an all-around hull design, such as that on the traditional prospector canoe.
Paddles: Bring a long whitewater paddle and a shorter, multi-purpose paddle. I like the Grey Owl Hammerhead for whitewater and a Carlisle Outfitter as a multi-purpose paddle.
Food barrel: This protects your food from animals, impact and moisture. Plus, it floats, even when fully loaded.
Large dry bag: This is where you keep your clothes, tent, sleeping bag and ground pad. For extended trips, you'll need one with shoulder straps that holds more than 100 litres. I like the Eureka Canoe Pack SS 115.
Small dry bag: Get a smaller, 30-litre dry bag to store things you may need to access quickly, such as your first-aid kit or camera. Note: Don't buy one of the clear ones because they puncture too easily.
Maps and compass: Use 1:50,000 scale Topo Canada maps and a modern, liquid-filled, orienteering style compass. I recommend the Brunton TruArc 20.
Lighters: Since a fire source is so crucial, I bring at least five lighters: one in my emergency kit, one in my pocket, one in my jacket pocket in a plastic bag and one in each one of my dry bags.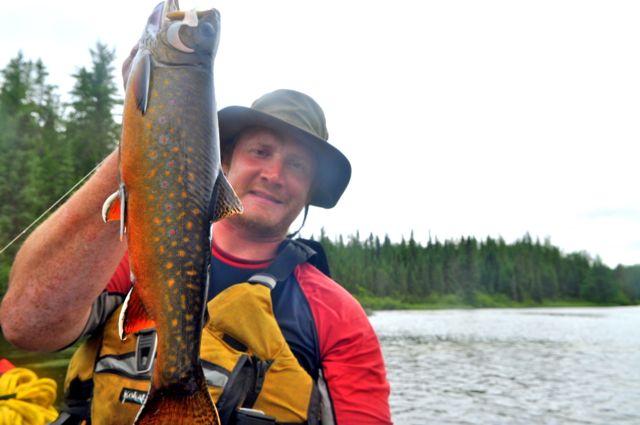 EMERGENCY KIT
Along with a first-aid kit, also bring an emergency kit in a small waterproof bag. Keep it on you at all times in a fanny pack, just in case you get separated from your canoe and gear. The kit should include:
lighter, matches, magnesium fire starter
knife, folding saw
parachute cord
fishing line and hooks, small lure, snare wire
satellite phone or messaging device like the SPOT Gen3
emergency blanket
small flashlight, extra batteries
spare compass, 1:250 topo maps
water tablet, painkillers
duct tape
four nails (for building a shelter)
whistle, signal mirror, flare and launcher
CANOE LOADING
You want to load your canoe so that it's trimmed evenly and slightly bow heavy. When it's bow-heavy, you'll be able to point straight into a headwind. Plus, it allows you to back ferry more easily. Here's how to load your canoe, in three easy steps.
Tightly pack your gear into the canoe so that it doesn't shift, which could cause the canoe to dump in rapids.
Place your heavier gear closer to the front of the boat to compensate for your weight.
Keep your day bag in an accessible location.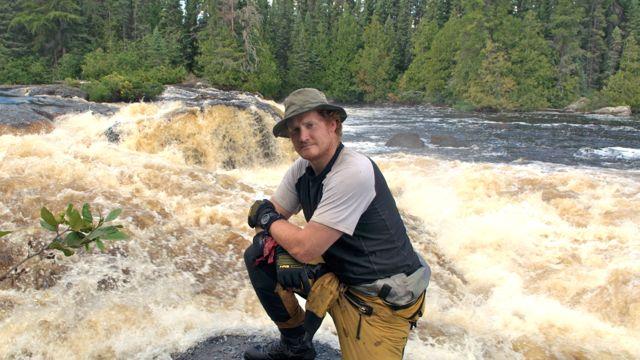 RISK MANAGEMENT
When paddling solo in the wilderness, you need to be much more prudent than you would if you were simply out for an afternoon with some friends. Manage the risks by following this advice.
If you see an obstruction or a dangerous set of rapids downriver, get to shore and portage around it.
When in doubt, scout. Get out of the canoe and walk down the bank to observe the rapids.
Decide if you should shoot, line, wade and/or portage.

Shooting means running the rapid.
Lining is walking or running down the bank while manoeuvring your canoe down river at the end of a long rope.
Wading is when you hold onto your boat and wade it along the side of a rapid.
Portaging, as it applies to a river, is carrying your outfit around an obstruction. Sometimes makes sense to portage your gear and run your empty canoe down the rapids.

If a set of rapids approaches a blind corner, it's important to see what's around it before proceeding. Often, wading and/or lining up to the corner, instead of scouting, saves time.
SELF-RESCUE
It can happen to the best of us, so here's how to be prepared in case you end up in the drink.
Be sure to keep your emergency kit (described above) on you at all times. It could save your life if you lose your canoe and gear altogether.
Keep a throw bag stuffed with 50 feet of rope under a bungee at both the bow and stern. Clip the end of the throw bag rope to your canoe's tow handle.
If you plan to paddle numerous rapids, lash inflatable airbags inside your bow and stern. They'll allow a swamped canoe to float much higher in the water after a dumping, making it easier to get to shore and less likely to wrap around a boulder.
Should you dump your canoe, grab the throw bag and quickly swim to shore. Once on shore, immediately wrap the rope around a tree or boulder.
If you run out of rope before you make it to shore, swim hard toward an eddy and pull your canoe into it.
Contributor Jim Baird is a hardcore backcountry adventurer.
These wilderness solo canoeing tips were brought to you by Globalstar, makers of SPOT Gen3, SPOT Trace and SPOT Global Phone.
When you're off the cellular grid, a satellite messaging device like SPOT, which has global coverage and connects directly to emergency services, can be a literal life-saver. It's also a great way to let those at home know you're safe. Right now you can save 50% off a SPOT GEN 3 with activation.