Horns of Hawaii
A chance to pursue the Big Island's legendary black sheep makes a great break from the beach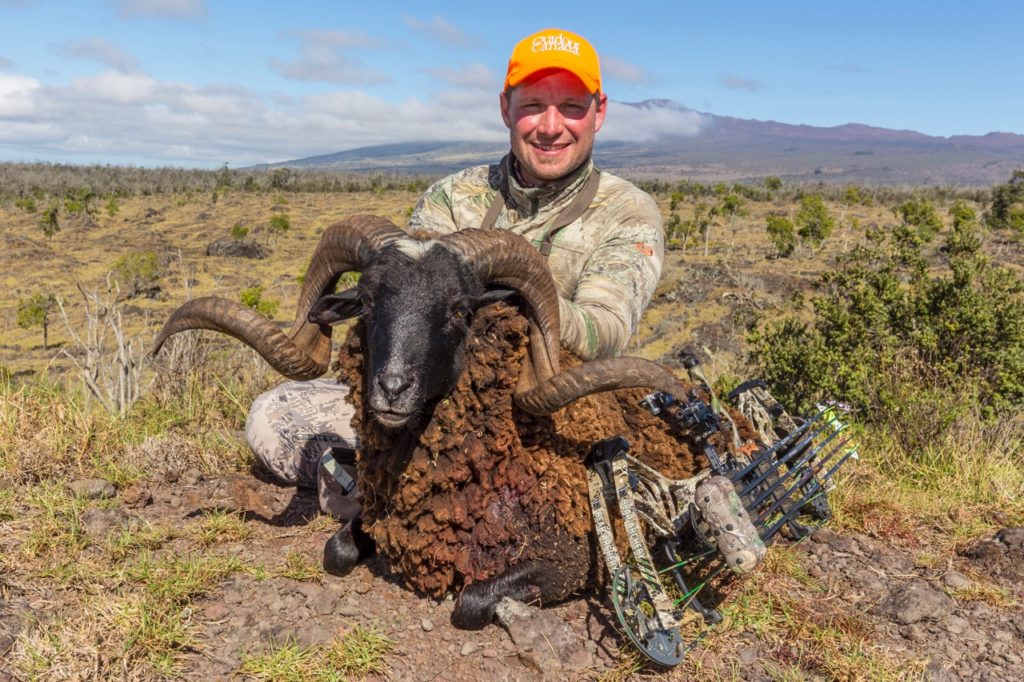 7:45 AM | Sunny | 20°C
Faford catches up to us with my damaged, blood-free arrow (below), confirming the shot was not lethal. All of sudden, the rams spook and run out of sight. This type of cat-and-mouse game while bowhunting is tough, and it seldom works out, but I trust my guides. We slowly creep over a knoll and spot the sheep again up close, but they're slowly on the move. We stalk around another little knoll to cut them off, where I'm presented with a 43-metre broadside shot. I draw back, anchor and release the arrow. A perfect shot. Ram down!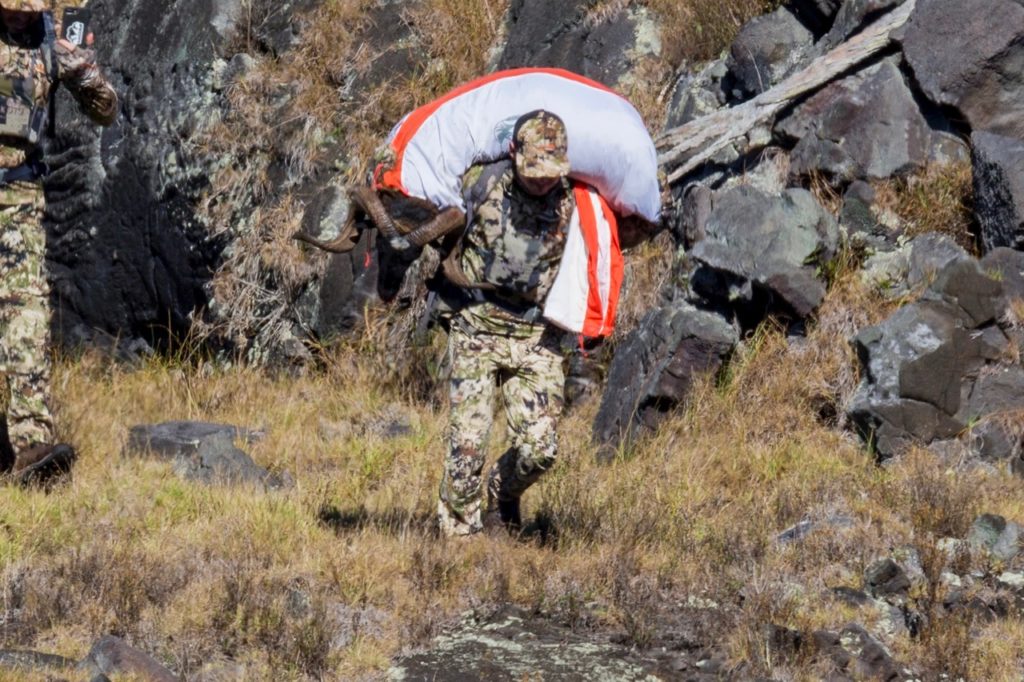 7:50 AM | Sunny | 21°C
Walking up to my first-ever black Hawaiian sheep sends a river of joy through my body. I grasp the horns with my hands as Pacheco quickly measures the beast. "Holy, I didn't think he was that big," he says. To my surprise, Faford then places the entire ram in a game bag, lifts it onto his shoulder and practically skips across the grass and lava landscape back to the side-by-side.
8 AM | Sunny | 23°C
With their combined experience of handling more than 10,000 game animals over the years, Pacheco and Faford make quick work of processing the ram while my parents and I eat lunch. Soon, the meat is on ice in a cooler, and the head has been skinned out.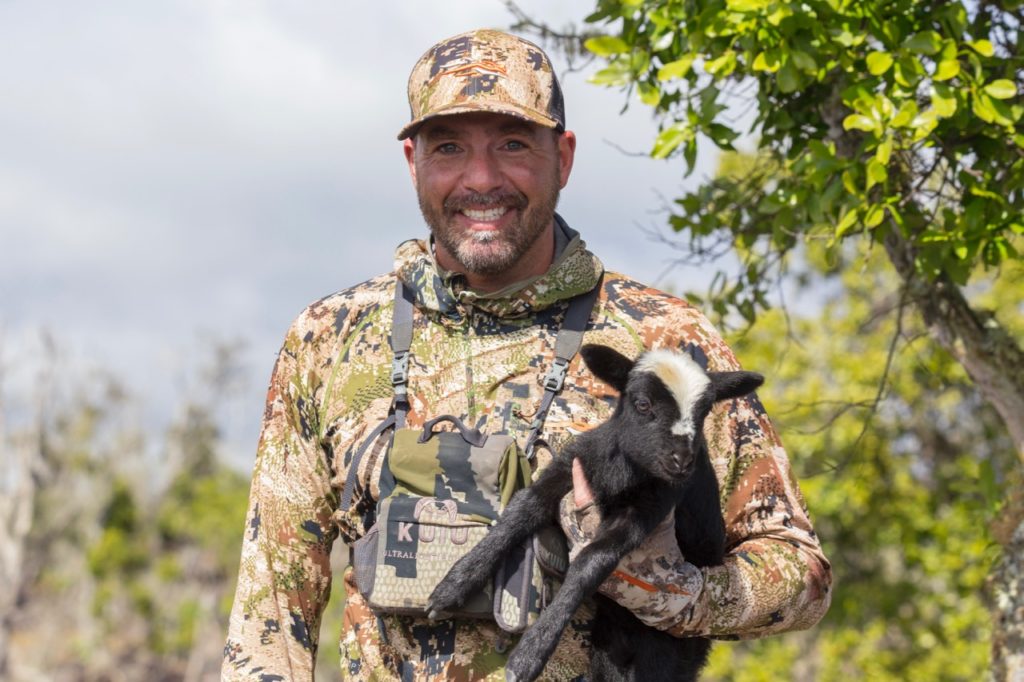 10 AM | Sunny | 26°C
Since the limits set by the outfitter allow me to also harvest four ewes, we hunt our way back to base camp. At one point, we try to head off another herd, but it takes off in a different direction. Soon, with the morning getting hotter and my main goal of taking a ram accomplished, we decide to call it a day. On our way back to the side-by-side, Pacheco hears something whining and soon finds a lamb stuck in a four-foot lava tube, rescuing it from certain death. As he holds the small creature in his arms, he looks at us, smiles and says, "I don't even need a bow." Just another day of guiding for sheep on the Big Island.
Contributor Gord Nuttall normally bowhunts for big game in his home province of Alberta.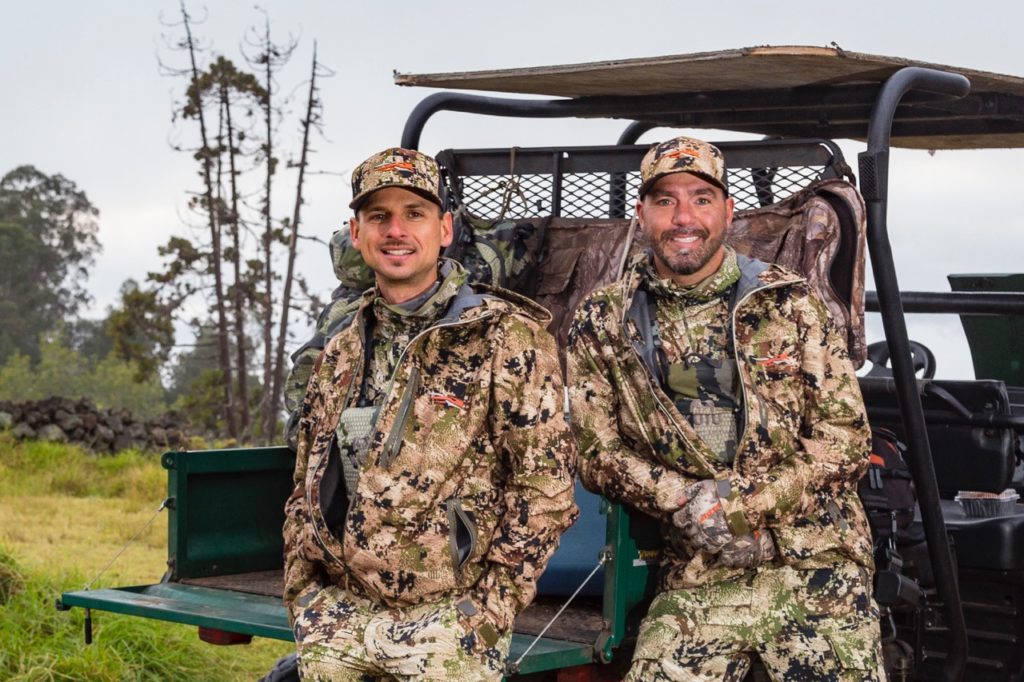 ALOHA, HUNTERS
Interested in a hunt of your own for black Hawaiian sheep? Here are some travel tips to help get you going.
FLIGHTS
Flying to Hawaii has never been easier. Multiple airlines operate all year long, with additional flights made vailable during the winter months. Many flights leave from Vancouver, but there are also direct flights from other major western Canada cities.
ACCOMMODATIONS
Since tourism is Hawaii's main industry, there are all sorts of accommodations, from world-class resorts to charming inns to spacious vacation rentals. All-inclusive accommodations are rare, so most visitors rent a condo and cook for themselves or dine out. The Hawaii Tourism Authority (www.gohawaii.com) is a good place to start looking for a place to stay.
PERMITS
All game animals in Hawaii are considered invasive, so the limits are very generous. Black Hawaiian sheep were originally brought over from New Zealand for food, and they've since become a great game animal to hunt any time of year. For US$90, you can purchase a year-long hunting licence for sheep, as well as goats, pigs, deer and small game. Just go to www.ehawaii.gov, create an account and send in your proof of hunter education. Your licence becomes your export permit, allowing you to transport 20 kilograms of meat, along with any heads free of living tissue, back to Canada.
GUIDES
One-day bowhunts are challenging, but going with an outfitter such as Hawaii Game Management swings the odds in your favour. While it's possible to plan and execute do-it-yourself ram hunts, it's doubtful you'll see as many sheep as I did during my half-day of bowhunting. Most big-game hunts on Hawaii are single-day outings, ranging in price from US$500 to US$2,000, depending on the species. You can contact Hawaii Game Management at www.guidefitter.com/hawaiigamemanagement.