Ling king
Burbot-tackling tips from a record holder
When 34-year-old ice angler Sebastien Roy felt a bite on Ontario's Lake Simcoe one day in January 2017, he thought he'd hooked the lake trout that had been chasing his bait. Instead, he caught something much more substantial—Ontario's new record burbot. Stretching the tape to 39 inches and weighing 17.85 pounds, it was only the second burbot Roy had ever caught. Talk about beginner's luck.
[easy-tweet tweet="Call 'em burbot, ling, mariah or lawyers, these freshwater cod offer great sport through the ice" user="OutdoorCanada" hashtags="icefishingFriday, winterfun"]
Not that Roy is a novice ice angler. He once guided six days a week on Simcoe for wintertime lakers and whitefish, but stopped because it was interfering with his hobby—fishing. He still occasionally guides select clients, however, and often speaks at ice-fishing expos. Since landing the record, Roy has caught dozens more burbot, honing his knowledge about the fish along the way. Follow his advice and maybe you can also take home some freshwater lobster this winter.
TIMING
Burbot, often called ling, are the only freshwater fish in Canada that spawn beneath the ice. On most lakes, they group together between late January and late February, and spawn during the full moon, Roy says, noting things are a bit different on Lake Simcoe. "They don't stack up like they would on other lakes where you can catch 50 fish a day," he says. "On Simcoe, you catch one here, you catch one there." The best time to fish for burbot is after dark, he says, although there are always exceptions: he caught his record at 1 p.m.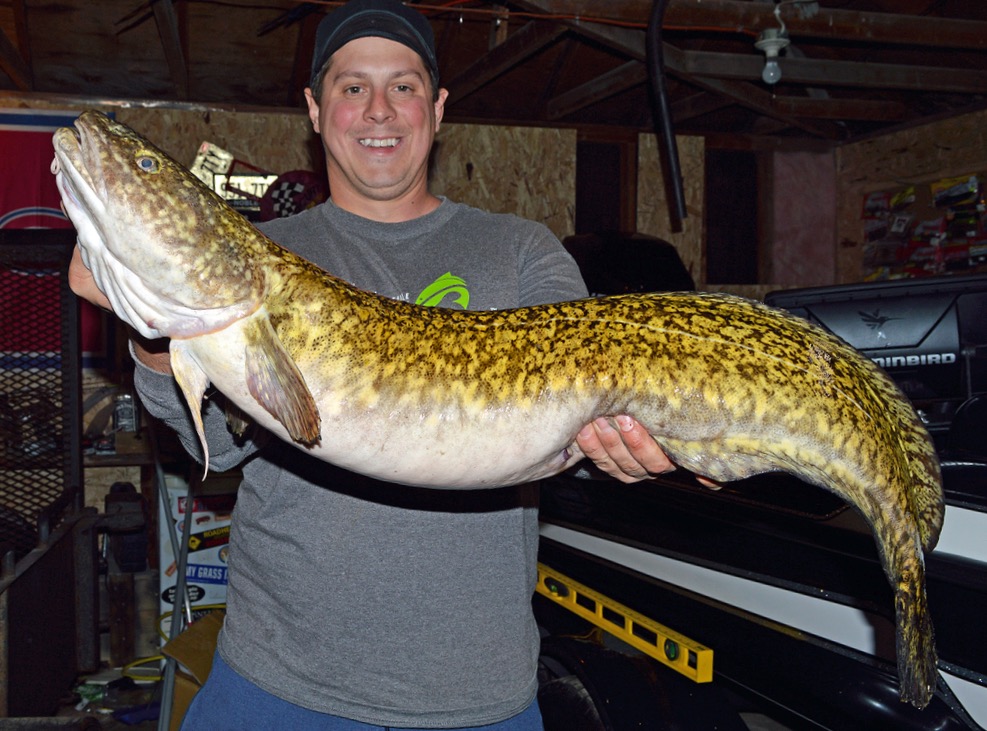 DEPTH
Burbot are a cold-water species, so they're often found in the deepest part of a lake. That can vary depending on the waterbody, however. Roy's record fish came out of 40 feet of water, for example, and since then, he's caught them in everywhere from 15 feet down to 100. He typically starts at dusk by fishing the deeper side of a shoal in 60 to 70 feet, then slowly moves shallower until he's on top of the shoal.
BAIT
On most lakes, Roy says burbot anglers use catfish bait, such as chicken liver, dead minnows or sliced-up herring, on heavy spoons (or glow-in-the-dark spoons at night). On Lake Simcoe, he's had the best luck with a bare blade bait, such as Sebile's Vibrato.
PRESENTATION
Roy first jigs a spoon to attract fish, then hits bottom with the lure to create a silt cloud; most of the hits come once he resumes jigging in the cloud. Since burbot are not very aggressive, Roy recommends slow movements and light taps on the bottom when jigging.
Watch Sebastien Roy catch his record burbot on his YouTube channel: www.youtube.com/seabassoutdoors.