Find first-ice Fish
Walleye, pike, trout and perch are easier to pattern than you think
Most anglers appear lost when they step on the ice for the first time each winter, and for good reason—their favourite lake, river, reservoir, pit or pond looks totally different than it does during the open-water season. But looks can be deceiving. While the terrestrial environment has undergone a complete metamorphosis, the watery world below remains largely unchanged at first ice.
Any transformation occurring beneath the ice, including dropping surface-water temperatures and lower light levels, is merely the final stage of changes that began unfolding months earlier. Similarly, the black crappies, pike, saugers, trout, walleye and yellow perch will be in the same location you last left them at the end of the open-water season. This is hugely important to remember when it comes to finding fish at first ice—they have gone nowhere. In fact, they're more concentrated and hungrier than ever.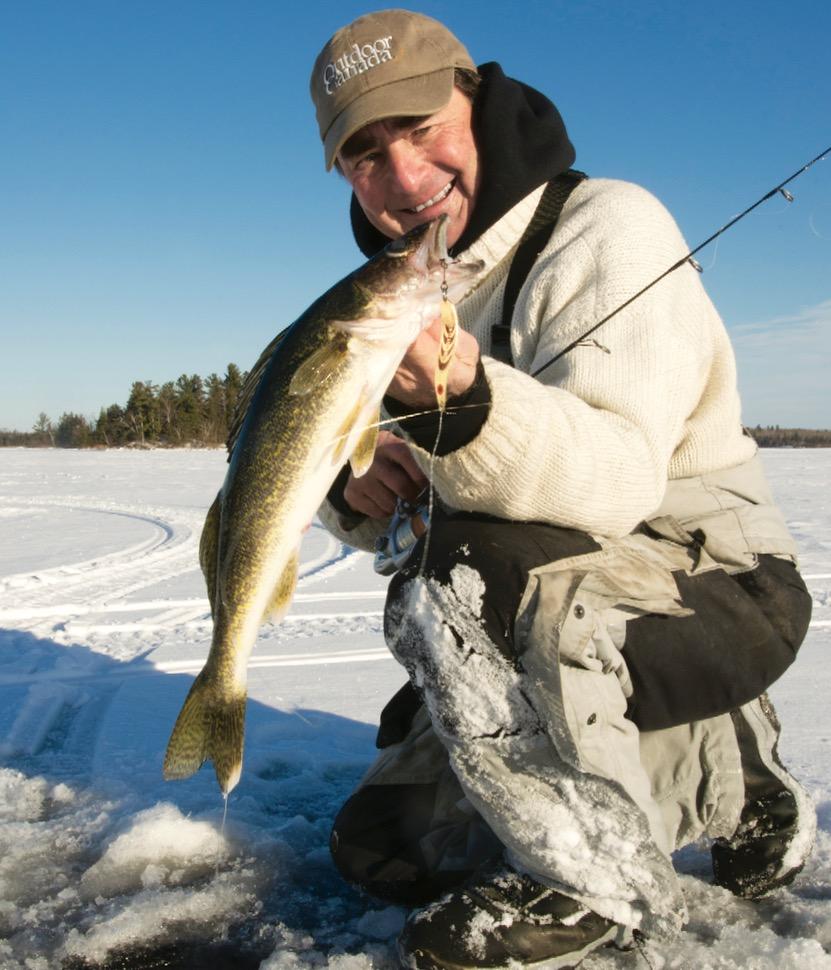 One of the most memorable episodes I ever filmed with my good friend and In-Fisherman TV host Doug Stange, for example, had us boating huge slab crappies on one of my favourite home waters in early November. The second segment of the show opened with us catching fish from the very same school at the same location, but through holes in the ice four weeks later. Talk about money in the bank.
Fishing editor Gord Pyzer hones his ice-fishing skills near Kenora, in northwestern Ontario.
Bonus Tip: Timing is Everything
Canadian winters are long and the ice fishing isn't consistent, so you need to time the hot bites. First and last ice are hard to beat times for catching black crappies, saugers, walleye and yellow perch. You'll notice in mid-winter, however, that the action typically slows down. During those February doldrums, I like targeting brookies, burbot, ciscoes, lakers, rainbows and whitefish, as these cold-water species are active under the ice. It's also no coincidence that brookies, ciscoes, lakers and whitefish all spawn in the fall, so they're still recovering and feeding up following the ordeal.
Burbot, on the other hand, lay their eggs under the ice in March and April. They're also extremely territorial, and they'll crush a bait they perceive as an intruder. Finally, at last ice, northern pike, walleye and yellow perch are on the move as they head toward their spring spawning areas, feeding ravenously to complete the egg maturation process. Time your outings with these fish movements and you can stay on the hot bite all winter.
Every Friday this winter we'll be sharing Outdoor Canada's coolest ice fishing tips for 2018. Check back regularly to learn about the latest tackle, tips and techniques for icing more walleye, perch, northern pike, lake trout, crappies and whitefish.