If you followed the Bassmaster Elite tournament on the St. Lawrence River a week ago, you already know that Kevin VanDam won the four day event in a walk-in-the-park, wire-to-wire waltz competing against the best bass anglers on the planet.
It was Kevin's 24th career B.A.S.S. triumph, pushing him close to $7 million in career winnings and it occurred, fittingly enough, in his 300th event.
I've had the pleasure of being in the boat with the Kalamazoo Kid several times now, usually while researching upcoming features and fishing columns for Outdoor Canada magazine, and I can say without any equivocation that VanDam is in a bass fishing league of his own.
I've said it many times in the past and every time I do it raises questions from readers about what makes him so special, so much better than the rest of the elite competition.
If only I—or anyone else—knew the answer to that question. Even VanDam had a tough time answering when I asked him.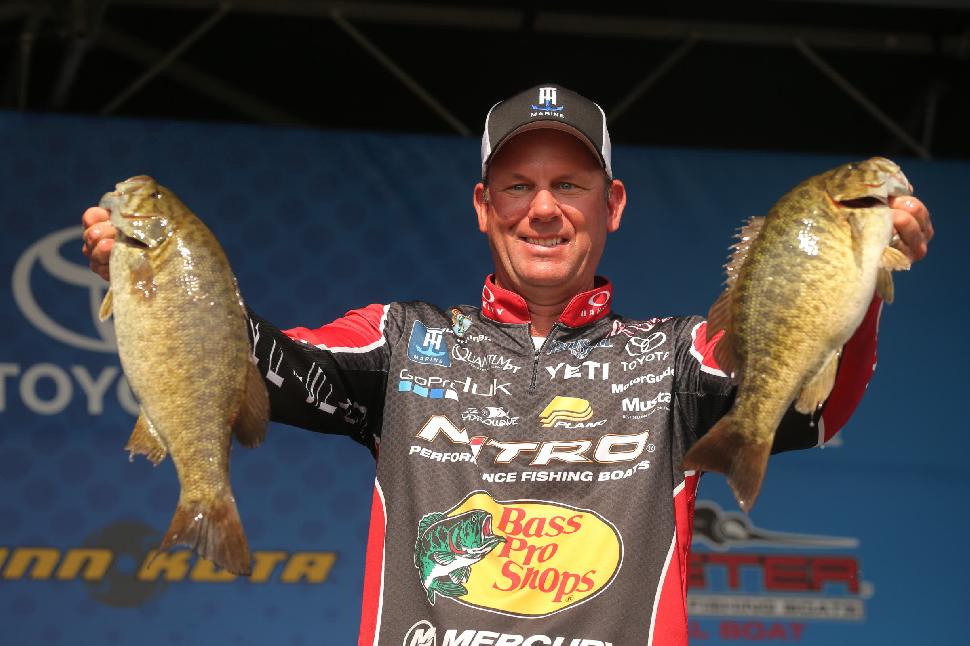 "The one thing that I would say," he told me as he prepared for the Bassmaster Classic a few years ago, "is that I love what I do and I put a lot of time and effort into it in terms of preparation. I don't get to practice fish a lot, but I spend a lot of time thinking about upcoming events. And when I am there I give it 110-percent. I get up early and stay out late and I go after it.
"In other sports you see people that are naturally talented and others who go hard and train for it. For me it is a combination of both. I've got good talent and I match it with preparation. That gives me a lot of confidence.
"I mean it is what I am doing right now after my practice period. I am sitting here, changing line and hooks, rigging baits and things like that. And the whole time I am rehashing what I did in practise, thinking about how it went. I spend a lot of time concentrating on the variables that I can control."
Funny thing: At the end of most tournaments, even fun fishing days, you hear anglers talk about the big ones that got away. But on reflection, I can't think of a single time, not one, that I've heard VanDam lament about losing a big fish. That is not a coincidence.
"A big part of this sport is mental," says the seven time Angler of the Year. "I don't make the mental mistakes I think some other people do. The one thing that I've also learned is that experience can be your best ally and sometimes it can be your worst, because the fish don't always do the same thing from place to place. So I try to keep an open mind."
It doesn't hurt any either, that VanDam possesses super natural skills.
I know I've told this story before, but I'll never forget fishing with him on Table Rock Lake in Missouri when he was targeting the gnarly tops of the tall hardwood trees that were submerged when the valley was flooded and the reservoir created.
As VanDam eased back on the gas pedal and the boat came off plane, we coasted toward the first tree top. By the time we finally settled into place, he had already dropped the electric trolling motor into the water, picked up his rod and made the most precise cast you can possibly imagine. When I say that he landed his jig within an inch of the tree trunk, from a remarkable distance away, I mean that you couldn't have wedged a piece of paper between the wood and his lure.
I've watched some mighty good pros make some mighty good casts, but watching VanDam was awe inspiring. If I had been standing on top of the tree with his lure in my hand, I could not have dropped it into the water any closer to the trunk. And then he did it three more times in machine gun succession, so that he covered all four sides of the stickup.
When he was finished, I had to push my eyes back inside their sockets.
I'll tell you another tale out of school.
When most bass anglers hear VanDam's name they automatically think about power fishing fast with jerkbaits, spinnerbaits and the like. But I once played a word association game with him and asked him to tell me the first thing that popped into his head when I mentioned a specific word.
When I said "drop shot" and "shaky head,' two finesse presentations, he chuckled and said, "Gord, you wouldn't believe the number of bass I've caught in tournaments using those techniques."
Now, care to guess how the King of Power Fishing won the Bassmaster Elite event on the St. Lawrence River last week? Not only did he rely on drop shotting the first two days, but he blew the field away on day three with a spy bait—the ultimate in slight-of-hand finesse.
Like I said, the man is in a league of his own.