Sacred hunt
Connecting indigenous youth to their heritage
Being able to follow traditional practices and pass them on to the next generation is an important goal for any First Nation community, including Peguis First Nation, located in the Interlake region of Manitoba. With that in mind, the community hosted a mentored Canada goose hunt in early April to help three local youths connect with their cultural heritage.
The event began in the early morning with Peguis elder Wayne Manningway leading a prayer and smudging ceremony. The young hunters then learned about waterfowl identification and hunting ethics, followed by volunteer Terry McKay teaching them firearm safety and how to shoot clays. Another volunteer, Dan Willoughby, then explained the finer points of calling Canada geese. Finally, a Métis conservation officer from Manitoba Sustainable Development shared details about his job and the role of COs in wildlife conservation.
The actual mentored hunt took place in the afternoon on Netley Marsh in the traditional territory of the Peguis people, first settled by Chief Peguis and his band in the late 1700s. The youths and mentors also collected garbage from the site, giving them a chance to give back to the resource and leave the land in better shape than they found it, organizers say.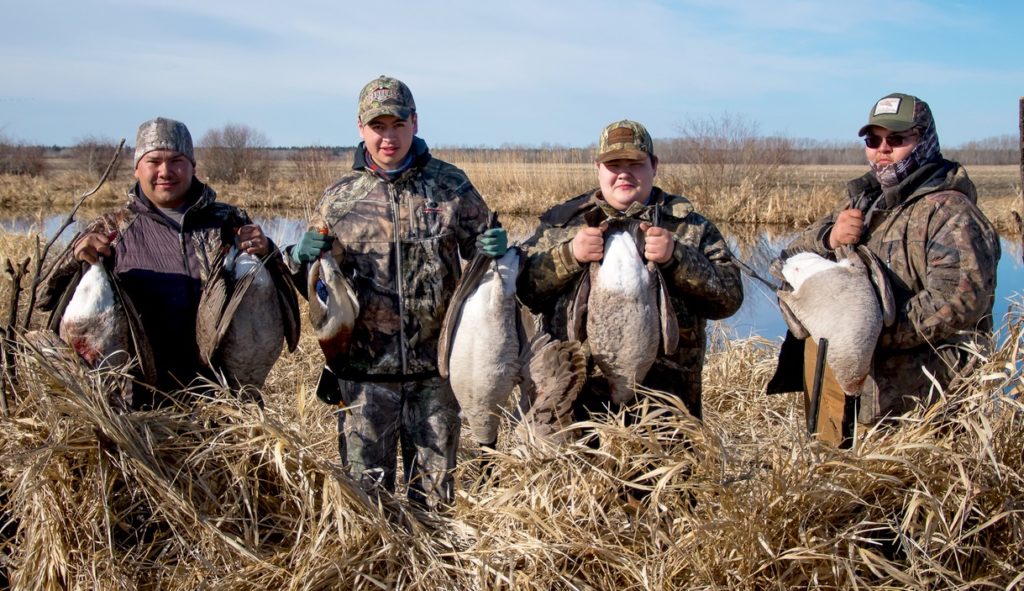 Five geese were harvested, and each youth made an offering of tobacco as a way of showing respect for the birds. The mentors then showed the young hunters how to clean and prepare the birds for the table; they ate two and distributed the rest to local elders.
Looking forward, the mentors would like to see the young hunters get further involved in helping conserve Netley Marsh. They plan to partner with the Red River Basin Commission, which is leading the effort to restore the marsh, so that the youths can contribute to the conservation work this summer—and further connect with their indigenous roots.