Moroccan Grilled Duck
Tender spice-infused duck breasts topped with pear and apple chutney
Moroccan cuisine is infused with flavours of cinnamon, cumin, ginger, paprika, pepper and more—the perfect match for accentuating the taste of wild duck breasts. And with this recipe, it doesn't matter whether you include an early- or late-season bird; once the breasts have been skinned, tenderized, dry rubbed and grilled, the results will be just as tasty. Serves 4.
Watch chef Cameron Tait prepare this dish in his home kitchen…
Not sure the best way to remove duck breasts? Watch chef Cameron Tait demonstrate his simple, foolproof method.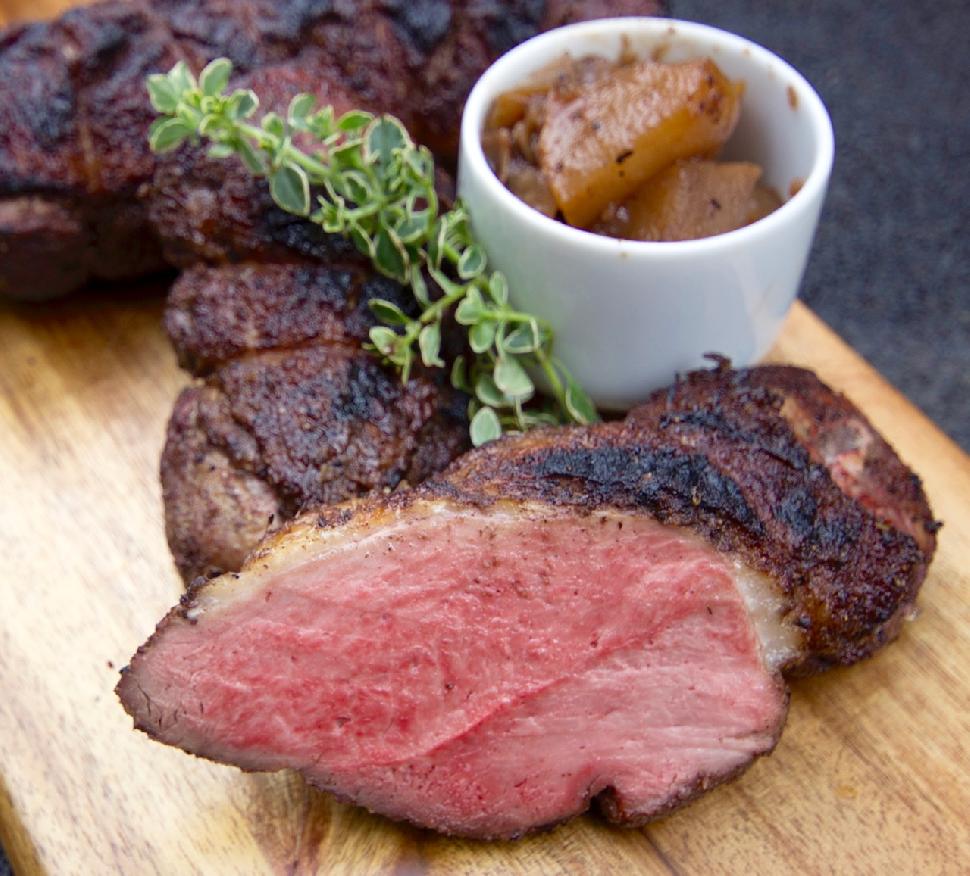 Chutney
2 pears, skin on, diced and seeds removed
2 apples, peeled, diced and seeds removed
½ cup minced shallots or onion
⅓ cup white wine vinegar
⅓ cup brown sugar
¼ cup water
1½ tsp cinnamon
1 tsp peeled and grated ginger
¼ tsp ground allspice
¼ tsp black pepper
Dry rub
2 tbsp brown sugar
1 tbsp ground cinnamon
1 tbsp ground garam masala
1 tbsp ground cumin
1 tsp kosher salt
1 tsp paprika
1 tsp chili powder
½ tsp black pepper
Mix chutney ingredients in a small sauce pan and bring to a simmer. Reduce heat to low for 1 hour, stirring occasionally; fruit should be soft.
Trim excess fat, sinew and any imperfections from breasts. Use a blade tenderizer to pierce meat repeatedly on both sides to break down the connective tissue. Truss breasts in one-inch intervals with butcher twine, shaping them into fuller round pieces.
In a bowl, combine dry-rub ingredients. Rub breasts on all sides, then chill for 4 hours. Remove from fridge and let sit for 30 minutes. Pre-heat barbecue to 550°F (medium-high), with one side turned off, if possible.
Sear breasts fat side down until nicely caramelized, then flip over and cook for 1 minute on the other side. Place breasts on upper rack, turn barbecue down to medium and close lid. Cook for approximately 15 minutes until the breasts reach an internal temperature of 130°F; use a thermometer for perfect results every time.
Remove breasts from barbecue and let rest for at least 15 minutes. Remove string, slice breasts and serve with warm chutney.
For the glass

A light-bodied red wine featuring dark cherry, strawberry and floral flavours, Maison Louis Jadot's Beaujolais-Villages complements the cinnamon and cumin spices of this North African dish. Chill for 20 minutes before serving.