Change up
Why using oddball baits can be the key to catching more fish
The year was 1996 and I'd entered the Bassmaster Top 100 on Minnesota's Lake Minnetonka. I was writing a series of bass articles and thought that by entering a top-flight competition in the non-boater division, I could tap into the minds of the world's best anglers. Of course, I was also keen to win, or at least place in the money.
To this day, I've never seen a more pressured fishery than Lake Minnetonka, which lies just south of Minneapolis—there were so many boats in the interconnecting channels that you could lean out and touch them as they cruised by. Fortunately, I had just the bait for the occasion, a mushroom-head jig and soft-plastic worm, the precursor of today's Ned rig. The fish had likely never seen anything like it, I figured. I was also probably the only angler among the field of 200 competitors wielding a spinning rod, which a couple of the pros called a "sissy stick."
Within an hour of blast-off on day one, however, I had boated a nice limit of largemouth with my oddball lure. Meanwhile, the pro I was partnered with that day struggled. He was throwing an ultra-realistic crayfish imitation with menacing claws. After I boxed another early limit on day two, my Florida-based partner that day asked what lures I was using. I showed him my weird baits and even gave him a couple, but he never tied one on.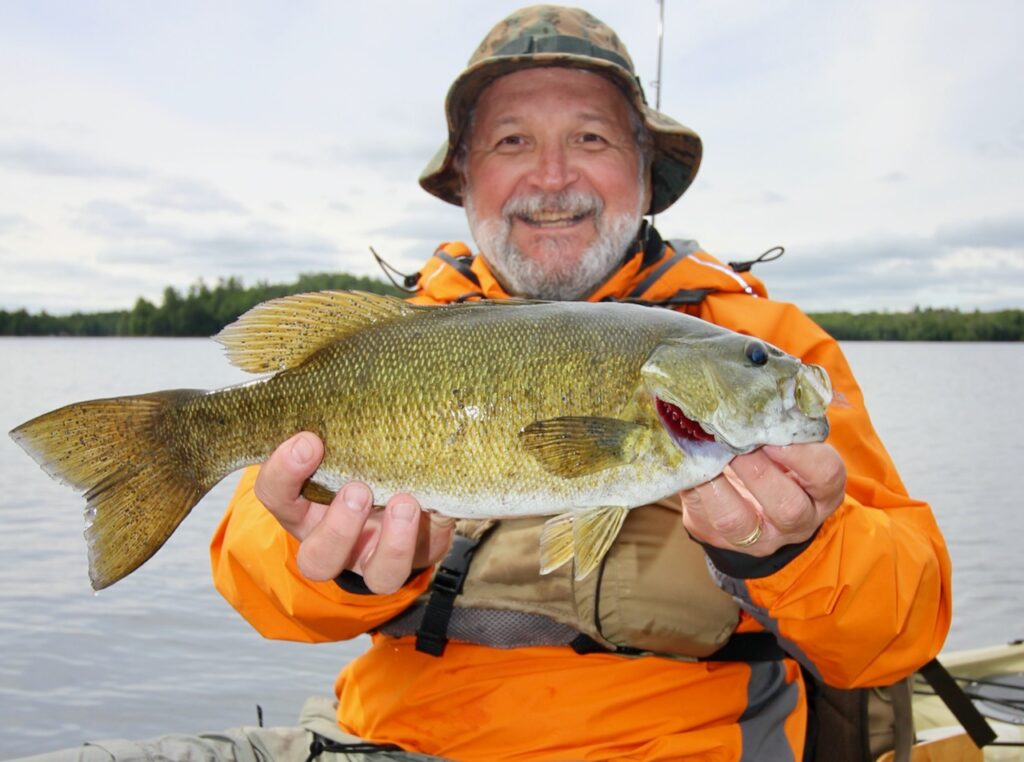 I led the event after two days, and I'm confident I would have towed home the first-place prize of a fully-rigged Ranger bass boat if it weren't for my partner on the third and final day. He was a renowned shallow-water flipper, and when I showed him what I was using, he scowled and said, "Put those things away, because if we can't catch 'em flippin' in thick cover, we ain't gonna' catch 'em."
Of course, I had to follow his lead, and we fared poorly. Not that I was surprised. I had fished with a different pro each day in the tournament, and every single one of them struggled to catch a limit. Why? They were all throwing big-clawed, soft-plastic crayfish, while I was throwing something soft, unthreatening, long, silky and juicy—at least for the first two days.
Thanks to those successful first days, in fact, I ended up finishing third and cashing a $10,000 cheque. My third-day partner placed near dead last. Such is the power of oddball baits, which may look like nothing in nature, yet contain so many positive triggers that fish can't stop eating them.
THE TRIGGER EFFECT
So, what exactly are positive triggers? They can be any exaggerated feature, such as the big beady eyes of a Booby fly, the long flowing hair of a marabou jig or the soft, squishy tail of a Ned rig, mop jig or Squirmy Wormy fly. The lack of negatives, such as threatening claws, accentuates the positives.
"Ignoring triggers is a huge mistake," says now-retired Berkley Fishing scientist Keith Jones. And he should know. Jones headed up Berkley's fishing lab at Spirit Lake, Iowa, where he invented PowerBait. In the lab, he had a massive aquarium equipped with cameras so he could watch how captive fish interacted with various baits. He found that they would carefully choose soft-plastic baits that lacked appendages, rather than those with realistic claws.
Here's another example. I was traveling in England when the Booby fly was the controversial lure of the day. Britain's brown trout are infamously fussy fish, so why they would chew on a fly with two bulbous foam eyes that look like, well, boobies? Well, they did, and so many trout swallowed the Booby so deeply, in fact, that it has since been banned from many fisheries.
"Occasionally, something comes along that makes trout go a little crazy," says Pennsylvania guide Domenick Swentosky, who runs the popular blog Troutbitten.com. "Why? Who the hell knows? But it trips some trigger in trout that makes them move further and eat more than they do for just about anything else."
As Keith Jones told me, realism is never the key. Instead, features such as gigantic eyes, boobies and even the perceived texture of an exoskeleton are far more important when it comes to putting more fish in the livewell.
To catch Gord Pyzer on the Fishn'N Canada Show's live webcast, go to www.fishncanada.com/live.