Mom's elk
Their mother may have passed away before she could join them on a second remarkable Roosevelt elk hunt, but for these four brothers, she was with them in spirit all the way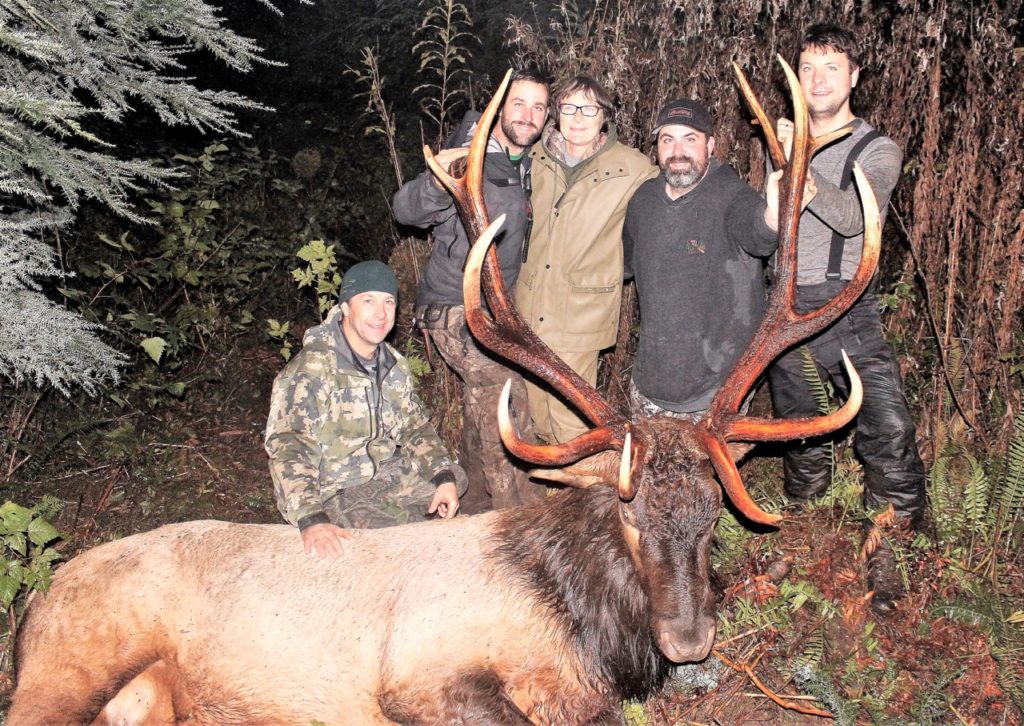 For more than 20 years, my family had been applying for a coveted tag to hunt giant Roosevelt elk in our own backyard of Vancouver Island. With the odds of getting drawn in excess of 120 to one, however, we could only ever dream of getting the opportunity—until 2017, that is. That's when my mother, Trudy Drover, actually pulled a tag. As excited as my three brothers and I were, though, it was a little bittersweet.
At the time, Mom was fighting an undiagnosed disease that was attacking her immune system. We really weren't sure if she was going to be able to hunt, or even make it out to the bush, but we stayed optimistic and started to prepare. During the lead up to the opener on October 10, we put in some serious time pounding ground, glassing, checking trail cams and making frequent trips to the rifle range.
As opening day rapidly approached, things were looking up. Mom was able to get out the odd day, and her shooting was dialled in. We had a decent hit list formed with some nice bulls we had spotted, but whether they would stick around and play nice for Mom was a whole other question.
One of those bulls was a 6×6 with really long main beams and good all-around tine lengths, but the rack was kind of thin and narrow. I started calling him "Big Six," and guessed he would gross around 340 inches. I took an iPhone video of him through my spotting scope and sent it to my three brothers, and they quickly parked Big Six due to a lack of wow factor.
We all headed out to set up camp for the hunt of a lifetime, determined to help Mom fill her tag
My older brother, Jesse, is a mass and junk guy when it comes to elk headgear. "The thing looks like a Rocky," he said, comparing it the Roosevelt's smaller Rocky Mountain kin. "Too thin." Younger brother Mike is a fan of diggers—the first two points above the antler bases—and he was open to Big Six, but I could tell by his tone that he wasn't overly impressed. As for my youngest brother, Dave, he was truly appalled at the thought. "I can't even get one sip of booze out of that thing's antlers. No crown!" he ranted, referring to his hope of having a celebratory drink from a giant Roosevelt's cradle of multiple tines.
Ultimately, it was Mom's choice, and we would follow her lead. She liked Big Six because where he was living was often drenched in sunlight, and there was always one bar of cell service so she could check in. Still, I kept looking for something better as the last couple of weeks went by before opening day.
I also kept checking in on Big Six—now demoted to "Thin Six" by my brothers—as he was one of the only bulls on our hit list that was consistently out in the open. I ended up seeing him about five or six different times, and got tons of great video of him holding down his herd and strutting his stuff. I was sure he would inevitably be Mom's bull—he had been quite easy to locate at multiple different times, and was happy in his tucked-away spot with his 10 or so cows. It was a prime location for getting a 66-year-old grandma in for a close shot.
Mom got the only thing she ever wanted—precious time spent with her four boys
Three days before the opener, we all headed out to set up camp for the hunt of a lifetime, determined to help Mom fill her tag. Even Mike, who works and lives in Australia, showed up with a boomerang in hand to surprise Mom. After wood was cut, it was time to head out and check some trail cams.
By now, Thin Six had been renamed "Tin Six," and to my absolute dismay, I got a trail cam video of him leaving his honey hole without his cows, heading down into the exceedingly thick second growth. I'd always heard the October 10 opening date was a tricky time, and now I knew why. With the prime-time September rut now long gone, most of the cows had been bred and the bulls were becoming less and less vocal. And like Tin Six, some herd bulls had totally abandoned their harems. My guess was he was off to lay low and lick his post-rut wounds. I was sure that would be the last time I'd ever see or cross paths with him.
Undaunted, we pushed on and Mom grinded hard, even when the weather didn't cooperate. After six days, she was rewarded with a beautiful 7×7 that grossed 347 2/8 inches, giving Jesse his mass, Mike his diggers, and Dave his one-ounce shot out of the crown. As for Mom, she got the only thing she ever wanted—precious time spent with her four boys.