Mom's elk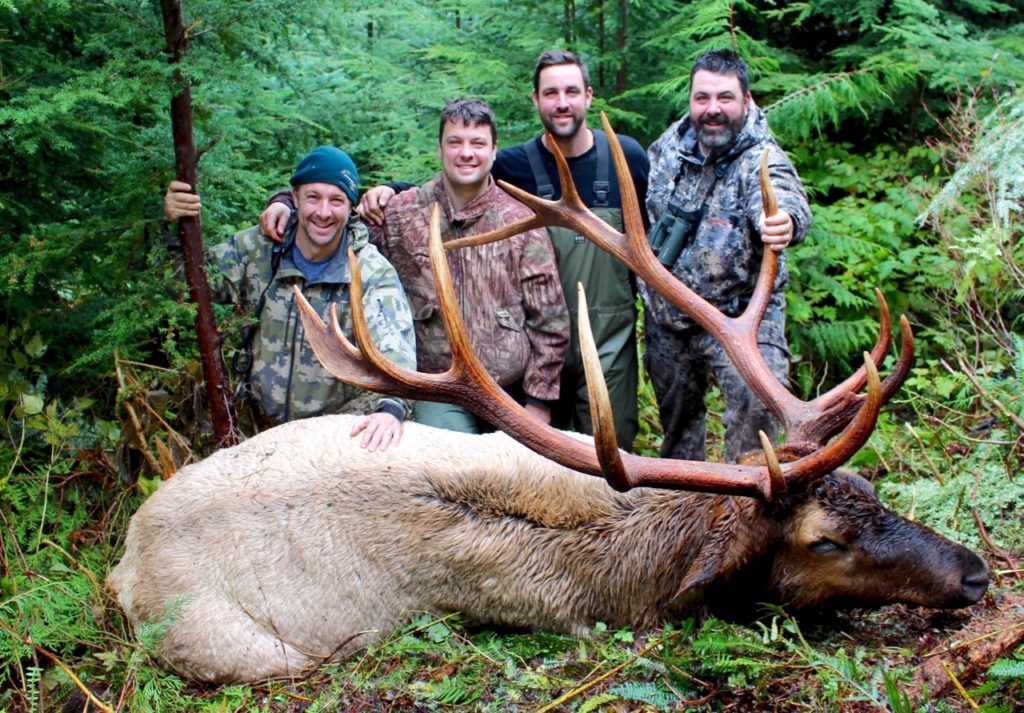 A lot had changed in our absence from the bush while we stayed with Mom for the better part of September. Tin Six had left his cows around September 20, and was headed back into the second growth again. He most likely wasn't going to be relocated, I thought, although I did get one picture of him on September 30 in a completely different location. He was still a possibility.
The evening before opening day on October 10, our good friend Brook Gerard, who had joined us for the hunt, located Alcohol Poisoning. Unfortunately, the bull was in a terrible spot—accessing him would be brutal, and getting off a shot would be exceptionally hard. We also found a bull we had never seen before. He was a really nice 6×7, and we watched him all day long, but he lacked the wow factor for my once-in-a-lifetime hunt.
On opening morning, we headed out to different vantage points to look for the bulls on our hit list. Going slow and steady, Mike and I walked up into the overgrown second-growth road that Tin Six had been frequenting, checking cameras as we went. We found absolutely nothing until the very last camera, which was set up right before the area broke out into the open.
We checked the footage and there was Tin Six, walking up the very road we had been standing on just three hours earlier. I was certain we would find him out in the opening, but no luck. Instead, he had apparently veered off the road and into the unhuntable 30-foot-high Christmas trees. We knew he was there, so we spent the rest of the day looking, but just couldn't find him.
We knew time was of the essence—at any moment, the bull could take two steps and be completely concealed again
On October 12, Mike and I decided to head back up at first light to take a quick look for Tin Six, then get on with our day searching for the other great bulls on the hit list. We couldn't spend all of our time on Tin Six, after all, especially when he was living in such thick bush. Just as we broke out of the fog and into the open, Mike spotted an elk across the canyon, standing at the edge of the overgrown Christmas trees. We knew time was of the essence—at any moment, the bull could take two steps and be completely concealed again, never to be found. Could it be Tin Six?
As I frantically set up for a shot, Mike was attaching his iPhone to his spotting scope so he could video the action. I could only see a small portion of the bull's right side, but after all our time together, it was enough for me to know he was most definitely Tin Six. I had a tag, it was open season, and there he was, partially exposed and within shooting range.
I quickly got a range and prepared for the shot. It was 515 yards, a distance I was comfortable with. Just as Mike started to video and whispered, "I'm on him," I touched one off. The bull didn't flinch. I reloaded, and right when I squeezed off the second shot, he dropped out of sight. "You got him!" Mike yelled. Emotions poured over us, and we couldn't help but think about Mom. It was as though she was right there with us.
It's not about the elk alone. It's also about the adversities you face shoulder to shoulder with your closest comrades
I left Mike on the hill and quickly ran back to camp to tell our extended family that had gathered there, stopping at different vantage points to rally Jesse and Dave, as well as Brook and another close friend, Dyson Parkin, who had also joined us. Then Jesse, Dave and I left everyone behind to meet back up with Mike and head out to finally put our hands on Tin Six. We were loaded up with everything we needed to break him down and get him back to the truck, but most importantly, we also had Mom's ashes.
To reach Tin Six, we had to bushwhack down the extremely thick re-gen, cross two small creeks and hike up the other side of the canyon. I was shocked an elk could live in such ridiculously thick bush. When we finally found him, it was a pretty special moment. As it turned out, the second shot had grazed his right antler as he went down from the first shot, which ultimately proved fatal. Like Mom's bull, he was even bigger up close. A long, dark-antlered 7×7, he had broken off his rhino point and ended up grossing 354 6/8 inches and netting 346 7/8 inches. Magnificent.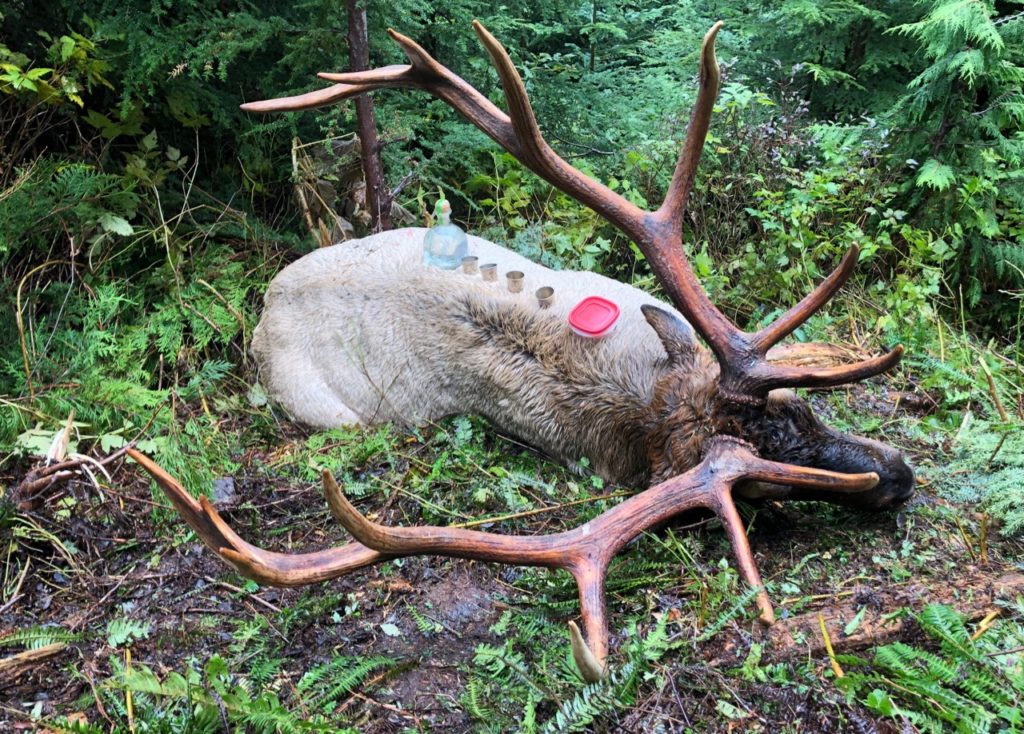 We each said our own words to Mom, and had a toast in her honour (above) . Then we spread her ashes right there beside Tin Six so that she could share in our rare and privileged opportunity to hunt yet another Vancouver Island Rosie. Afterwards, when it felt right, we called in Brook and Dyson to help pack out the beast—you really don't appreciate the size of a Roosevelt elk until you have to haul one out of a thick forest. Without all the help, I'd probably still be back there eating Tin Six one steak at a time.
In the end, what did I learn during the two elk hunts? That it's hardly about the elk alone. It's also about the adversities you face shoulder to shoulder with your closest comrades, and the unparalleled sense of accomplishment you feel. As for Mom, she used to say that being out there was the most enjoyable time in all of her entire 68 years on the planet. But it wasn't because of the elk, or the hunt.
It was about sharing precious moments with the ones you love.