The walleye, bass, perch, crappie, muskie and pike fishing has been exceptional of late and it is no great surprise.
I say that because if you've had a chance to read my fishing column in the current fall edition of Outdoor Canada magazine, you know that while the "big bait / big fish" rule applies throughout the year, it is dominant in autumn.
Indeed, as I mentioned in my column, I was fortunate in a former life with the Ontario Ministry of Natural Resources to rub shoulders with some of the brightest minds in the world of fisheries. Guys like Dr. Peter Colby who headed up the province's walleye research unit.
Peter's office was just above mine and it was always strewn with research papers and littered with scientific journals. I was blessed to visit him often, share a cup of coffee and listen to him explain such things as how a walleye will target a specific size prey item based on its own body stature. And that the size of the food that walleye prefer is typically much bigger than most anglers assume, especially in the fall of the year when the fish are bulking up big time to gain as much nourishment as possible to survive the upcoming harsh frozen water period.
I won't repeat what you can read in the column, but I will emphasize that 17- and 18-inch walleyes are already eating 5- and 6-inch baitfish. And that by the time these fish reach a bragging 29-, 30-, and 31-inches in length, they are polishing off dinners almost twice that big.
Now, tell me. When was the last time you casted or trolled an eight or nine inch lure for walleyes?
Anyway, it all came home again on Thanksgiving Saturday, when grandson Liam and I enjoyed a brilliant blue sky, sunny fall day on Lake of the Woods. We started off targeting smallmouth bass that were concentrated and binge feeding like crazy and then switched over to walleyes that were similarly biting like there was no tomorrow.
I love these kinds of days because instead of just sitting in one spot catching fish, you can experiment and do a little "on the water" research.
The smallmouth bite was perhaps the most telling, as we were nabbing fish with steady regularity casting and dragging football jigs dressed with soft-plastic crayfish imitations. In fact, the fishing was so good that you'd have been crazy to change baits.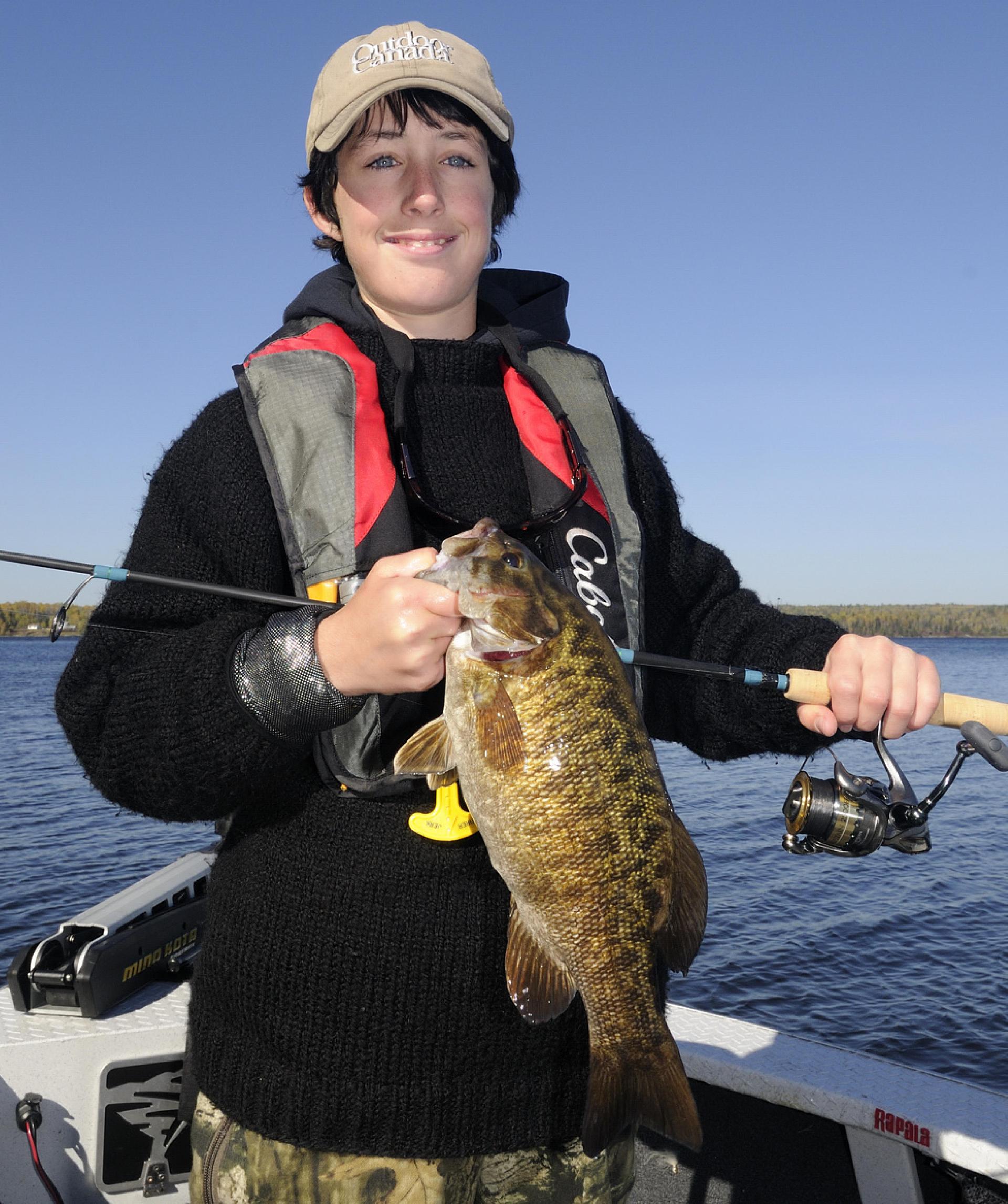 So, call me crazy, because as soon as I started casting a much bigger and bulkier five-inch Bass Magnet Shift 'R Shad pinned to a 1/2-ounce Freedom Tackle Hydra jig head the size of the bass soared considerably – at least 25 per cent, maybe even 30 per cent.
Ditto, when Liam and I stopped on the way home, as we boated up lake, to catch some walleye for dinner.
We started off drop-shotting soft-plastic Jackall Cross Tail Shads and had a hoot, catching perfect 15-, 16- and 17-inch "dinner fish." But just before we called it quits for the day, I picked up the rod that had the Shift 'R Shad/Hydra jig on, made two or three casts, and pow, wouldn't you know it, I banged the biggest 'eye of the day, which we promptly released.
And get this: while we were drop-shotting the Cross Tail Shads for walleye, we picked up a giant 14-inch jumbo yellow perch that swallowed the too-big-for-a-perch bait meant for its bigger cousins.
The same thing happened the week prior when I was fishing for crappies and marked a school of fish that were strung out over an area, half the size of a football field. Usually, you find crappies schooled up tightly in the fall, but these fish were spaced out randomly.
It was the perfect scenario for trolling a spoon, just not any spoon.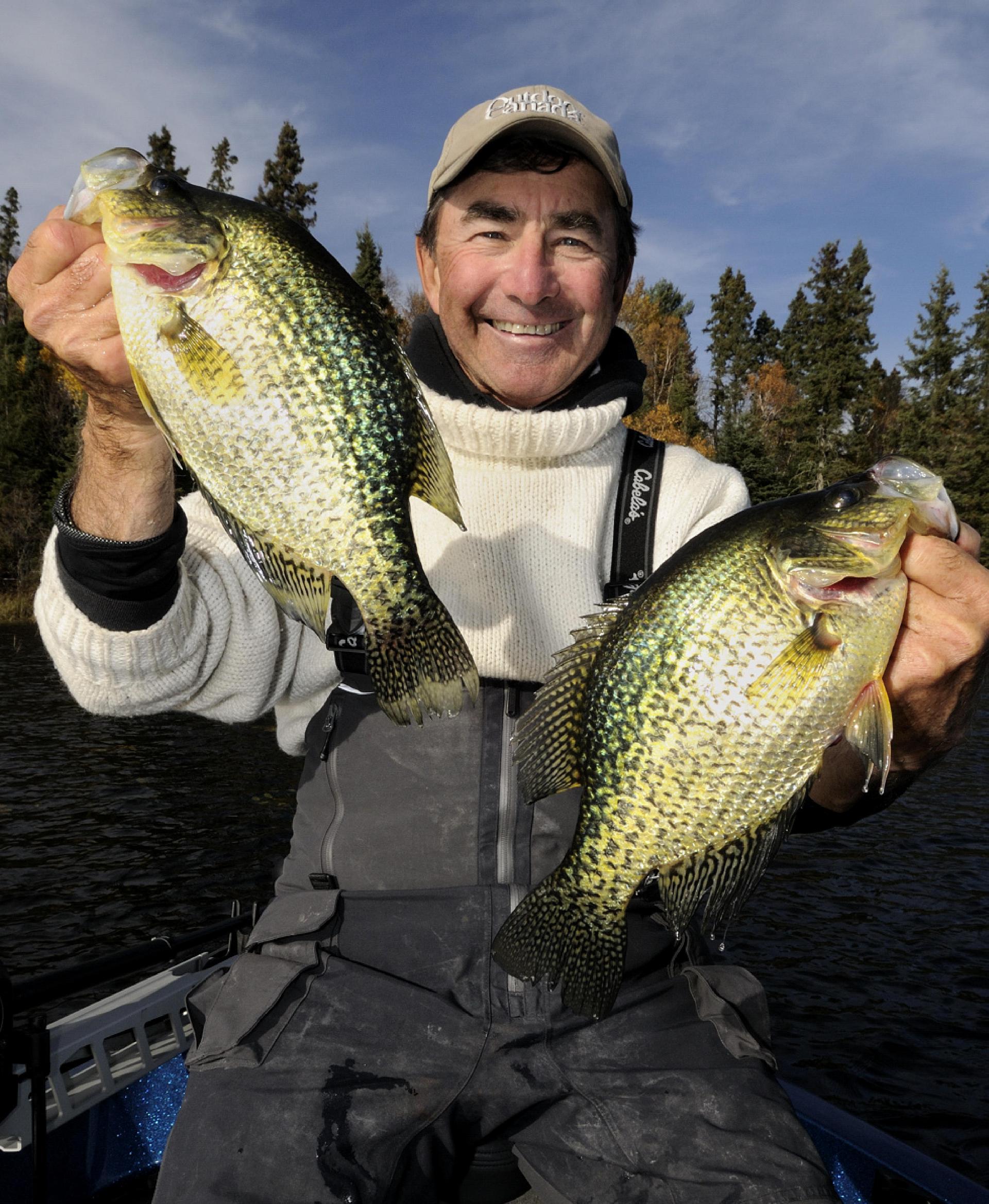 I tied a three-way swivel to the end of my line and then added about a foot-long leader to each of the open ends. On one of the dropper lines I added a 1/4-ounce cylindrical Ultra Tungsten drop shot sinker. To the other line I knotted on a gold W40 Williams Wabler spoon that measures 2 1/4-inches in length and weighs 1/4-ounce. And I didn't stop there. I dressed the tail of the spoon with a four-inch white Mister Twister grub, that I slimmed down after biting off its head.
Now, that is a pretty impressive size combination for crappies, given that most folks fish for the delectable panfish with gossamer lines tipped with miniscule 1/32- and 1/40-ounce jigs. But the slabs smoked the spoon as it wobbled past them. In fact, several times, while reeling in fish, I found myself thinking this can't be a crappie, it's fighting too hard!
But a big fall crappie it always turned out to be.  Which is what comes when you bulk up your baits in the fall.