Pulled venison
Give your deer a delicious dash of southern BBQ
With big flavour and a touch of heat, this hearty dish promises to be a surefire hit at any get-together over the cold winter months. You can use any antlered big game, but my favourites are deer, moose and elk. Serves 6
Sauce
½ medium onion, minced
2 garlic cloves, minced
1 jalapeno pepper, seeded and minced
¼ cup butter
2 cups ketchup
1 cup honey
¼ cup Worcestershire sauce
¼ cup cider vinegar
2 tbsp lime juice
4 tbsp molasses
1 tsp salt
1 tsp black pepper
1 tsp powdered mustard
½ tsp crushed red pepper
½ tsp powdered cayenne pepper
½ tsp Tabasco sauce
1 tsp cumin
½ tsp oregano
Venison
1 tbsp olive oil
4 lb venison roast
1 cup beef broth
1 tbsp minced garlic
2 bay leaves
SAUCE
In a saucepan, sauté onion, garlic and jalapeno in butter until soft, then add remaining sauce ingredients.
Bring to a boil, lower heat and simmer for 20 minutes. Set aside.
VENISON
Heat olive oil on high in a frying pan, then sear venison on all sides to lock in moisture.
Place venison in a slow cooker, add beef broth, garlic and bay leaves and cook on medium heat for 5 hours or until meat pulls apart easily.
Remove venison from slow cooker and shred with forks (see "For the pot"). Drain liquid from slow cooker and discard.
Return venison to slow cooker, add sauce and cook on low for 2 hours.
Serve on buns and top with shredded cheddar cheese. Garnish with thinly sliced red onions and sliced dill pickles, and serve with coleslaw.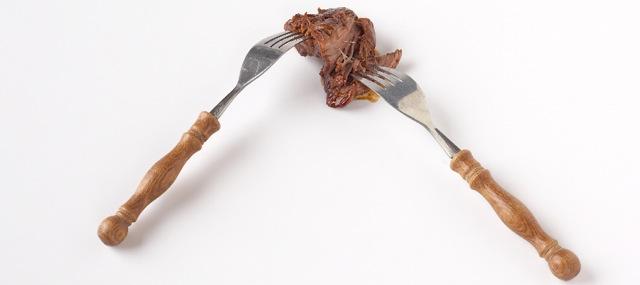 Cooking tip: The easiest technique for shredding the venison is holding the roast with one fork while pulling meat away, with the grain, using another fork. If the meat doesn't pull apart easily, it isn't cooked enough.