Recipe: Cassoulet de canard
Say au revoir to tough duck legs with this French fare
Everyone prefers to cook wild duck breasts rather than the legs—they're simply that much more tender and easier to prepare. If you have the patience, however, the sinewy duck legs can also be cooked to tender perfection. With this simple dish originating from France, the legs are seared to a golden brown then slow cooked with wine and tomatoes for an incredibly flavourful and tender result. Serves 2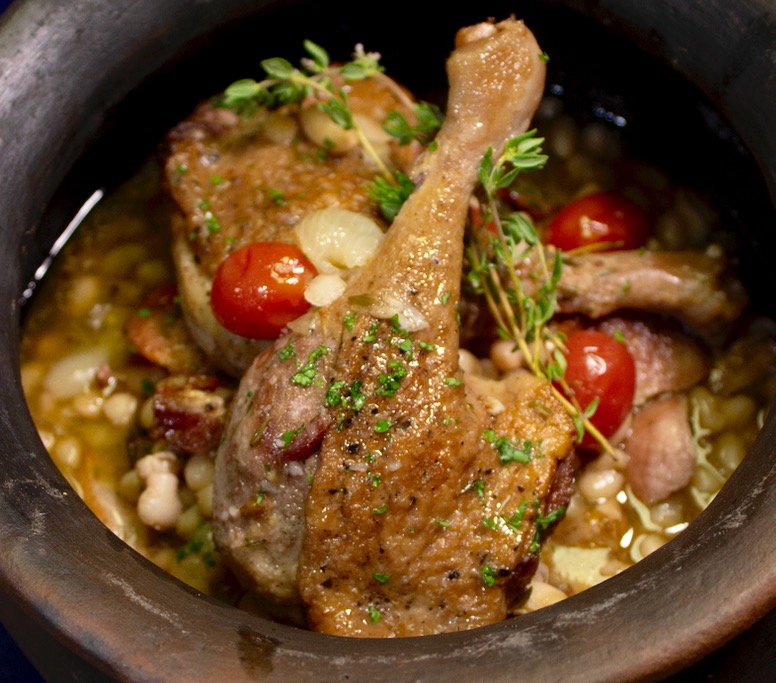 [easy-tweet tweet="Winnipeg chef (and hunter) @CameronTait92 says this never-fail slow-cooking recipe turns the toughest wild duck legs into a succulent delight" user="OutdoorCanada" hashtags="wildfood, local food, waterfowl, duckhunting"]
2 duck legs, trimmed of excess fat
Kosher salt and black pepper, to taste
1 tbsp canola oil
4 slices double-smoked bacon, one-inch dice
8 white pearl onions, peeled
4 cloves garlic, finely chopped
1 cup white wine
2 cups duck or chicken stock
8 grape tomatoes
6 sprigs thyme
2 bay leaves
2 cups cooked white navy beans
1 tbsp chopped parsley
Season both sides of duck legs with salt and pepper.
Heat canola oil to medium-high in a cast iron pan. Sear legs skin side down for approximately two minutes or until golden brown. Repeat on other side, then remove from pan and set aside.
Drain excess fat from pan, turn down heat to medium and add bacon. Cook for two minutes, then add pearl onions and garlic; cook until soft. Add remaining ingredients (except for navy beans and parsley) and bring to a simmer.
Place navy beans in a casserole pot, then add legs and top with simmering mixture from pan. Cover with a lid and cook in a 300°F oven for three hours, or until legs are tender.
Spoon resulting bean mixture into individual pasta bowls, place duck legs on top and garnish with chopped parsley.
To watch Cameron Tait prepare this dish and others, go to www.outdoorcanada.ca/food.

FOR THE GLASS
With its textured mouth feel, hint of spice and rich notes of citrus and B.C. orchard fruits, the Okanagan Valley's Sandhill Pinot Blanc pairs well with the rich, hearty flavours of this wild duck dish.