The snows of spring
They're coming! Are you ready for some of the year's biggest waterfowl hunts? Our spring snow goose primer is here to help
There's nothing like being in the field after a long winter, and this year Alberta joins Saskatchewan and Manitoba for the first time in offering a spring snow goose hunt. As with many regions of Saskatchewan and Manitoba, Alberta's spring shoot opens March 15 and runs for several months, so there will be ample opportunity for cabin-fever hunters to spend some time afield. And like Manitoba, Alberta will also offer a spring hunting season for Ross's geese.
But just because an overabundance of geese has led to these new hunting opportunities, don't think that bagging your limit is as simple as throwing out a few white decoys and lying in a blind. Whether you head afield in Alberta, Saskatchewan or Manitoba, here's what you need to know to make the most of your spring hunt.
Please note: Exact dates of the spring snow goose hunt vary among provincial jurisdictions, so be sure to check before heading afield. You can find links to the snow goose regulations for Alberta, Saskatchewan and Manitoba at www.outdoorcanada.ca/snowhunts.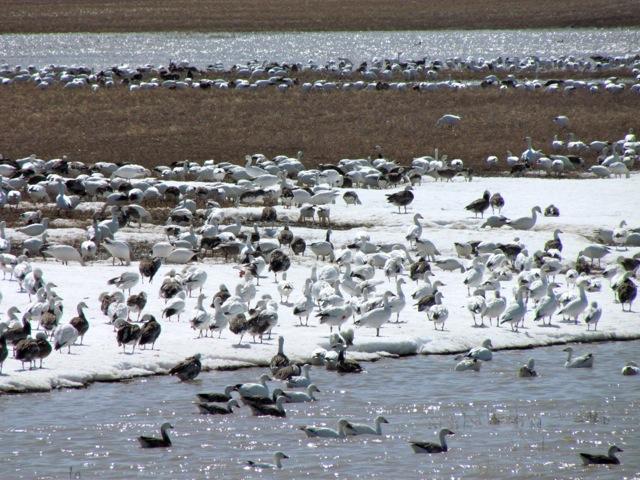 Scouting: Where & when to start looking
Manitoba and Saskatchewan have long been part of the snow goose migration route from warmer wintering areas in the south to breeding grounds in the Canadian north. As the population increased, however, the migration route likewise expanded into Alberta (see "Prairie pit stop" below).
Snow geese breed from late May to mid-August, but they spend more than half the year migrating to and from their wintering areas. Depending on the weather, hunters usually start seeing the first giant waves of geese during the first week of April through to mid-May.
The largest numbers of snows are typically harvested throughout the central and southern portions of Manitoba and Saskatchewan. Alberta hunters will see the biggest flocks in the southern and eastern portion of the province along the Saskatchewan border. In recent years, there have also been reports of large numbers of birds as far west as Pincher Creek.
Snow geese feed on a variety of agricultural crops, but hunters should focus their spring scouting on uncut crops left standing from the previous fall. If there's still snow on the ground, look for high spots in the fields. The snow usually melts from these areas first, allowing hungry geese to feed easier without having to push their heads through the crusted snow.
Best is an exposed food source in an agricultural field with large, open water nearby. Snow geese will use these areas throughout the spring migration, as well as during the fall migration. If you're fortunate to find such a location in the early spring, consider leaving your decoys set up for several days, if not the entire season. There will always be new geese passing through and willing to land in your spread. As always, be sure to seek landowner permission before setting up.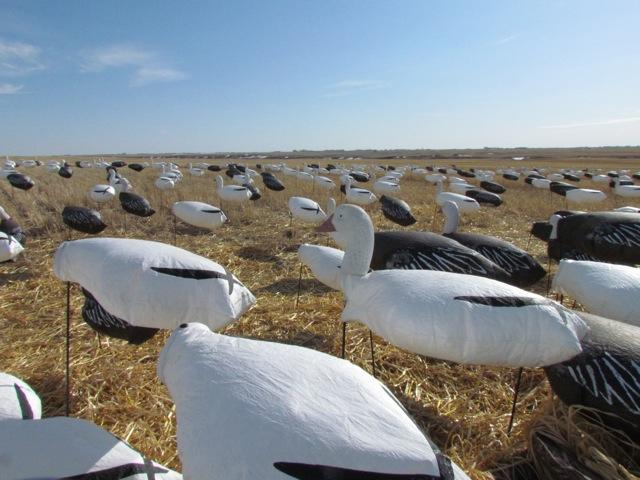 Set-up: Decoy spreads & laydown blinds
I never set up in a feeding field while geese are still in the area, and instead wait until they're roosting. Or, I'll wait until they continue along their migration route, and before another flight arrives. Otherwise, any geese in the vicinity will only move to a different location. And keep in mind that some neighbouring U.S. states also have a spring hunt, so many of the birds will already be gun shy.
It's rare that snow geese will decoy into a small spread—the smallest set-up I've ever used included a mix of 600 full-bodied decoys and sock decoys. The reason: snow geese travel in large flocks, and they feel safe landing among large numbers of other grounded geese. That means hunters can expect to set up a mixed bag of 600 to 1,200 dekes to consistently lure in snows.
One of the challenges when setting up this many decoys is that the ground is typically still frozen in early spring, and that can damage the metal peg legs on your sock decoys. You can remedy this by first boring a hole with a small steel rod. Along with preventing damage to the decoy legs, it will also save you set-up time—and sore hands.
Like any other waterfowl, snow geese prefer to land facing into the wind, so position your blinds according to wind direction, tight behind a large amount of decoys. And put the time and effort into blending your blinds among the decoys and into the surrounding area using natural vegetation. If the blinds don't blend in, no amount of calling and decoys will bring in the geese.
I like to leave a large opening behind the blinds, with just a few scattered decoys, followed by the bulk of my decoys. To incoming geese, this looks like a large spread of birds, complete with an opening for them to land in. The set-up also directs the geese to fly directly over your blinds en route to the large opening.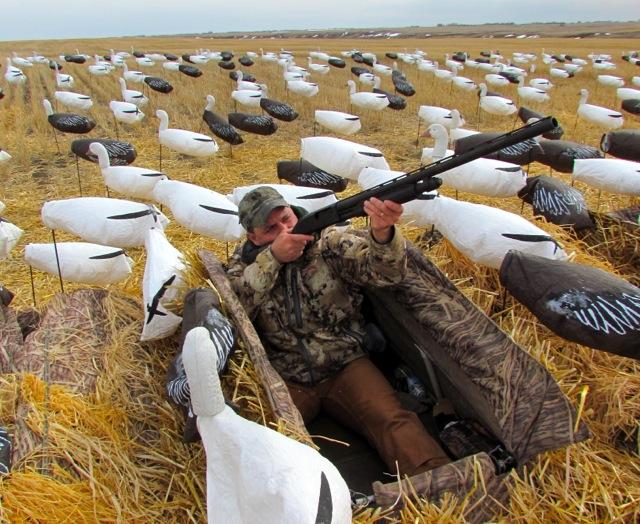 Gear: Bedrolls, apparel, electronic calls & guns
Aside from the basic waterfowl hunting gear—decoys, blinds and so on—there are several other items I also always take into the chilly spring fields. While using a laydown blind may be the best way to hunt snow geese, lying on the frozen or cold ground for long periods of time is not pleasant. To put a barrier between you and the ground, as well as provide a little cushion, bring thin and inexpensive camping bedrolls to line the floor of your blind.
Even with this barrier, however, spring goose hunters will often still feel the cold—especially if the hunter gets heated up while setting out the hundreds of decoys in the wee hours of the morning. Layering your clothing, starting with undergarments that wick moisture away from your skin, will help you stay warm in between flocks. Just avoid bulky clothing that can interfere with shouldering your shotgun. Warm socks, boots, gloves and head gear are also must-haves.
The use of electronic calls is allowed during the spring snow goose season in Manitoba, Saskatchewan and Alberta, as well as Nunavut—in my opinion, they're key to a successful hunt. You should also have a few mouth calls on hand for close-range birds, and to add a few different sounds to your spread.
While a variety of loads will work for spring snow geese, most guides and hunters prefer three-inch #2 shot. Snow geese are not as big-bodied as Canadas, so three-inch shells are more than enough. And when you get into multiple flocks with plenty of shooting opportunities, you'll appreciate the lighter recoil.
Talking goose guns is always a hot debate, but the truth is, all a hunter needs is a 12-gauge that will cycle box after box of shells, and continue to operate smoothly in cold, muddy or dusty conditions. There's nothing worse than a jammed gun while hundreds of snow geese swirl above your blind.
Airdrie, Alberta's Wes David is a lifelong hunter and angler.
Prairie pit stop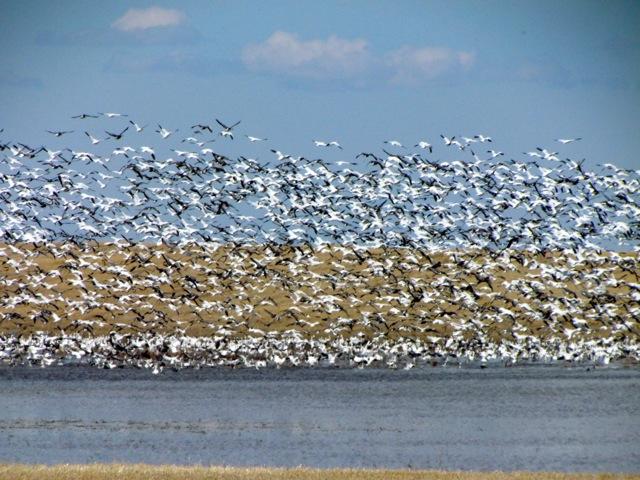 During the spring migration from the Gulf of Mexico area to their Arctic breeding grounds, many large flocks of snow geese fly along a narrow corridor stretching roughly 5,000 kilometres. The geese come in two colours: white and blue/grey (hence the name blue goose). The white goose is more abundant, but when blues are mixed into a flock, which is common, they stick out like sore thumbs. Both can be legally hunted during the spring season in Alberta, Saskatchewan and Manitoba.
The migration route takes the geese over some of North America's richest agricultural land, with the farm fields of the Prairie provinces serving as their first stop as they cross into western Canada from North Dakota and Montana. Millions of snow geese, as well as Ross's geese, will stop in Alberta, Saskatchewan and Manitoba to rest and replenish their bodies with much-needed nutrients before pushing farther north.