If my days were numbered and I was granted one last wish for dinner, it would be Chef Kristy Isaak's planked salmon accompanied by her Okanagan stone fruit salad.
Kristy is the executive chef at Queen Charlotte Lodge in Haida Gwaii. I sampled her masterpiece this past August when I was up there fishing. Her salad and planked salmon were the gastronomical highlights for me one evening at a spectacular seafood buffet. It was so good I managed to fill my plate seven times.
It was so delicious that as soon as I returned home I called Kristy and asked if she would mind sharing her secret with Outdoor Canada readers. She graciously agreed, and when I prepared it at home, I was amazed at how easy it is to put together. It confirmed, once again, that the very best recipes are often the ones that rely on fresh, locally-sourced ingredients.
So if you want to impress your family and friends—or simply want to take pleasure in some spectacular eating—feast your taste buds on Kristy's tour de force. Of course, it goes best with fresh salmon you've caught while fishing up at the lodge, but in a pinch it works well with good quality store-bought salmon too.
Queen Charlotte Lodge Cedar Planked Salmon
1 side Chinook salmon pin bones removed skin left on (4- to 5-pounds or larger)
2 tbsp kosher salt
1 cup maple syrup
1 tbsp fresh thyme chopped
1 tbsp fresh cracked black pepper
1 tsp additional kosher salt
Keep the salmon side whole, or cut it into portion-size chunks, leaving the skin on.
Rub the salmon with 2 tbs kosher salt on flesh and skin side.
Place salmon in a large zip lock bag or Pyrex glass baking dish and coat the salmon with maple syrup making sure it coats the flesh and skin side.
Sprinkle with thyme and cracked pepper and seal bag or cover the Pyrex dish with plastic wrap. Refrigerate for at least 4 hours and up to 24 hours.
Soak an untreated 3/4-inch thick cedar plank in cool water for at least 2 hours, but if possible, overnight is better.
Preheat barbecue to hottest setting and remove salmon from marinade.
Place salmon skin side down on the soaked cedar plank and sprinkle with the remainder of the kosher salt. Place plank directly on the grill and close the barbecue lid.
Cook until the salmon flesh is firm and the boards begin to char and catch fire around the edges. (A water gun or squirt bottle helps to control any flare ups.)
Carefully remove the plank and serve.
Okanagan Stone Fruit Salad 
Blueberry Maple Viniagrette
1 cup fresh or frozen blueberries
1/4 cup sherry vinegar
1/4 cup dark maple syrup
Combine the berries, vinegar and maple syrup in a pot and bring to a boil over medium heat until reduced by 1/2 (15-20 minutes). Cool the blueberry mixture and then transfer it to a tall sided bowl. Using a hand-held emersion blender (or pour the blueberry mixture into a food processor and process it the same way) slowly add the following ingredients while continuing to blend.
1 cup vegetable oil
Pinch of salt and pepper
1 tbsp maple syrup (optional if the blueberries are a bit tart)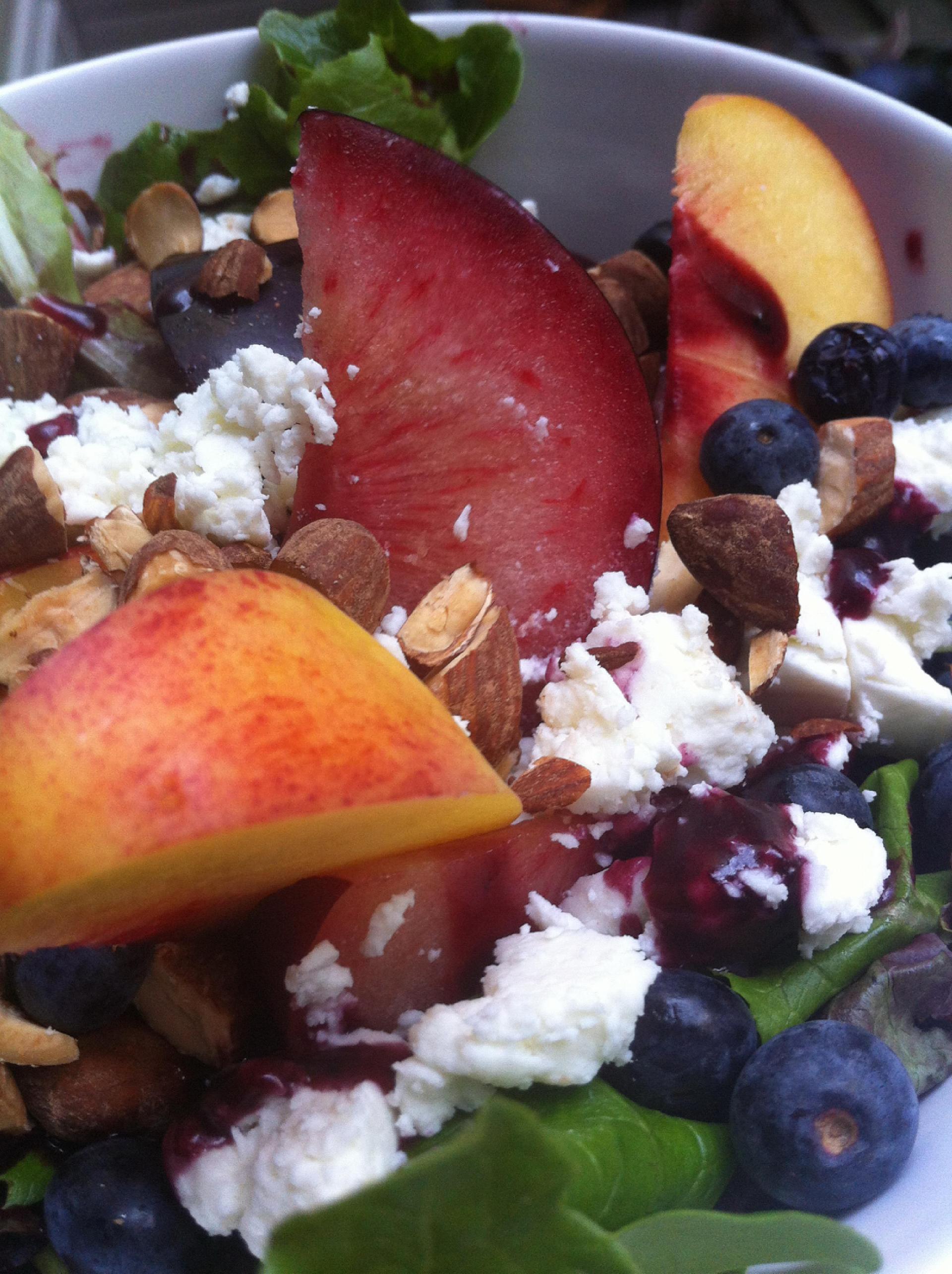 Salad
Combine any of the following when the fruit is in season:
Baby field greens
Peaches, pitted and sliced
Nectarines, pitted and sliced
Black plums pitted and sliced
Fresh blueberries
Fresh figs cut in half
Dress the salad lightly with blueberry maple vinaigrette, toss, place in bowls and garnish with crumbled Capriny soft goat cheese and roasted salted almonds chopped coarsely.