Thai Crappie
Fresh baked fillets with a tasty macadamia crust
Thai food can be simple to prepare, yet dynamic in flavour—as long as the key sweet, salty, sour and bitter ingredients are included. With this savoury Thai fish dish, you can adjust the ingredient amounts to suit your tolerance for spicy heat, but don't completely omit anything—unless you want the final result to taste flat and uninteresting. Serves 4.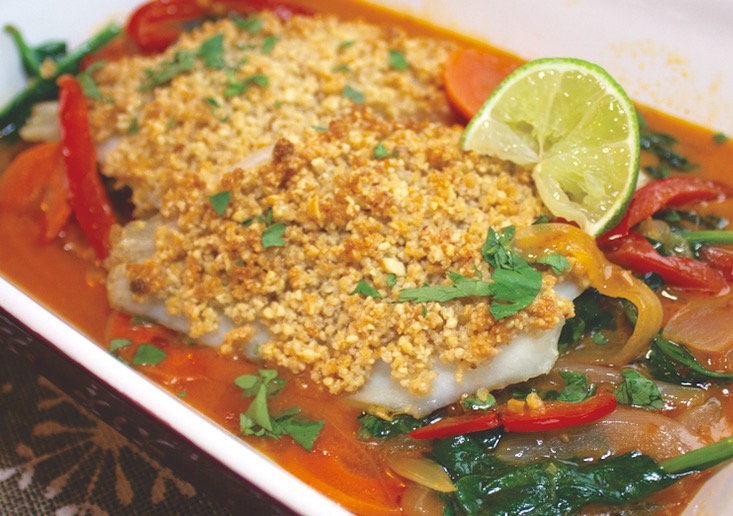 [easy-tweet tweet="Winnipeg chef and hunter @CameronTait92 shares his simple, flavourful recipe for baked crappie fillets with a crunchy Thai crust" user="OutdoorCanada" hashtags="Wildfood, localfood, fishing, icefishing"]
2 tbsp coconut oil
½ yellow onion, thinly sliced
5 garlic cloves, finely chopped
½ inch fresh ginger, finely chopped
1 fresh or dried red chili
1 red pepper, thinly sliced
1 carrot, thinly sliced
300 ml coconut milk
2 tbsp red curry paste
1 tsp white sugar
Juice of half a lime
2 tbsp soya sauce
½ cup macadamia nuts
½ cup bread crumbs
1 tbsp canola oil
4 large or 8 small crappie fillets
Salt and pepper, to taste
1 packed cup fresh spinach
Handful chopped cilantro
4 lime wedges
Heat a heavy saucepan to medium-high and add coconut oil and onion. Once onion is transparent, add garlic, ginger, chili, red pepper and carrot; cook until carrot is tender.
Lower heat to medium and add coconut milk, curry paste, sugar, lime juice and soya sauce. Bring sauce to a simmer for 5 minutes, then set aside.
Place nuts, bread crumbs and oil in a small food processor and blend until small chunks form.
Preheat oven to 400°F. Place fillets on a parchment-lined baking tray, season with salt and pepper, and top with the nut and crumb mixture. Bake for 10 minutes, or until the fish flakes. As the fish bakes, bring the sauce back to a simmer and add spinach.
Ladle sauce onto a serving plate or individual bowls, place baked fish on top and garnish with chopped cilantro and lime wedges.
To watch Cameron Tait prepare this dish and others, go to www.outdoorcanada.ca/food.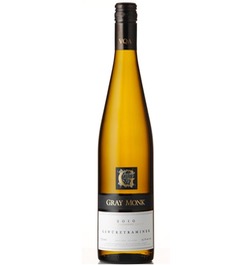 FOR THE GLASS
Pairing well with Thai food, this medium-dry Gewürztraminer from Gray Monk Estate Winery in B.C.'s Okanagan Valley features an exotic aroma of tropical fruit, apple and tangerine.