Recipe: Venison Burgers
Winnipeg chef reveals his secret for a succulent wild-game burger
The colder weather may be upon us, but don't stow away that barbecue just yet—especially if you're looking for a tasty new way to serve the ground venison from your fall deer hunt. With the addition of pork fat to balance the lean game meat, these grilled burgers are made all the more delicious thanks to a topping of smoked white cheddar and freshly made sour cherry relish. Serves 5.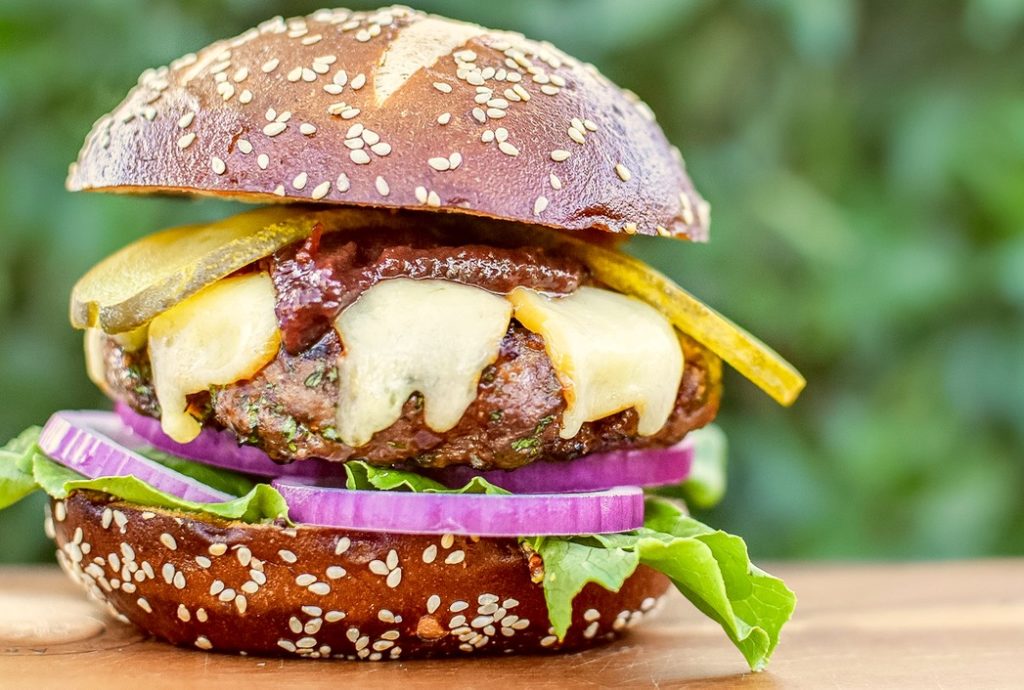 [easy-tweet tweet="Winnipeg chef and hunter @CameronTait92 is too modest to say it, but this may be the ultimate wild-game burger—and a good reason to fire up the BBQ, even in winter!" user="OutdoorCanada" hashtags="wildfood, local food, venison, deerhunting"]
RELISH
1 tomato, diced
½ cup red sour cherries (from jar)
½ cup sour cherry juice
2 cloves garlic, chopped
¼ cup balsamic vinegar
2 tsp paprika
2 tsp white sugar
Salt and pepper, to taste
BURGERS
3 cups ground venison
1 cup ground pork
½ cup ketchup
1 tbsp worcestershire sauce
1 whole egg
2/3 cup breadcrumbs
1 tsp dried chipotle pepper
¼ cup chopped parsley
Kosher salt and pepper, to taste
PLUS
Canola oil (for brushing patties)
5 slices smoked white cheddar
5 pretzel buns
Add all relish ingredients to a small pot, bring to a simmer and reduce heat to medium low. Cook until 90 per cent of the liquid has evaporated, then remove from heat and let cool. Purée mixture in a small food processor and chill.
Place all burger ingredients in a mixing bowl and blend until just combined. Divide mixture into five balls of equal size, then flatten into one-inch patties. Brush patties on both sides with oil and place in a refrigerator for two hours.
Heat barbecue on high and place patties on the hottest section (do not close the lid or the vension will quickly overcook). Flip patties after five minutes and continue grilling until they reach an internal temperature of 135°F (check using a digital instant-read food thermometer). Place one cheese slice on each patty, spoon on relish and continue grilling until patties reach an internal temperature of 165°F, then remove.
Slice buns in half, spread on butter and grill until light golden brown. Spread grainy mustard on bottoms, place patties on top and garnish with green leaf lettuce and slices of red onion and dill pickle.
To watch Cameron Tait prepare this dish and others, go to www.outdoorcanada.ca/food.

FOR THE GLASS
With its bouquet of red cherry, red currant and hints of oak and spice, this 2017 Pinot Noir from B.C.'s Gray Monk Estate Winery pairs exceptionally well with the combination of venison, smoked white cheddar and sour cherry relish.