Good to go
Savage's 110 Storm promises a custom fit, right out of the box
Savage rifles have been with us our entire lives. As a young hunter, I fledged my impressionable wings on the Model 99. It was also often the rifle of choice for many a fellow deer hunter as we trekked through the hinterland and river coulees of Saskatchewan. Over time, the 99 accounted for a goodly number of bucks, enshrining itself in our memories.
Despite Savage's success, it has not rested on its historic laurels. Instead, the gunmaker has continued to evolve, setting new industry standards for innovative designs while establishing a reputation for value and quality. The AccuTrigger is one such design, as is the new AccuFit stock, my main reason for this review of the new 110 Storm in Savage's revamped Model 110 line.
While adjustable stocks have been around for some time, particularly in the world of target rifles, the AccuFit offers an all-new concept. It features five interchangeable comb heights, and once you've chosen the right height for the optimum scope sight picture, you don't need to make further adjustments or stock alterations. It can be as permanent as you see fit.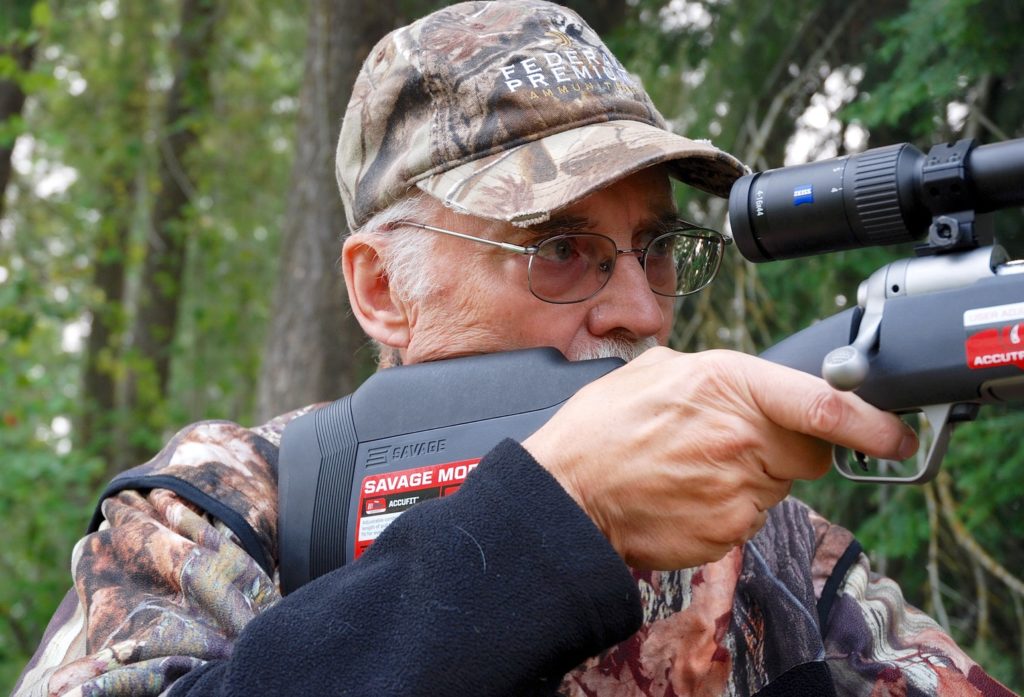 As for the synthetic AccuStock, it utilizes a full-length aluminum bedding chassis that runs from the rear action screw to just short of the fore-end tip. That generates rigidity and stability, helping to enhance accuracy. The 110 Storm also offers improved ergonomics, which I found aesthetically pleasing. Along with a soft over-mould on the fore-end and pistol grip, the rifle also sports a shock-absorbent recoil pad.
Moving on, the action and button-rifled barrel are both stainless steel, and the bolt body is jeweled, a bit of cosmetic flair that adds to the rifle's overall appeal. The bolt features dual locking lugs, and the bolt head free-floats, allowing it to self-centre during lock-up for improved accuracy. The 110 Storm comes with a detachable, easy-to-load box magazine that snaps into place with a solid click, letting you know it is secure. The rifle also comes drilled and tapped for scope mounts.
[easy-tweet tweet="@OutdoorCanada's expert firearms reviewer says Savage's new 110 Storm (in 6.5 Creedmore) offers a custom fit, right out of the box" user="OutdoorCanada"]
TEST RESULTS
Overdue! That's my comment on the attention finally being paid to comb height. For years, gunmakers have treated it with little regard. In particular, European stocks frequently had a massive drop at comb, making cheek weld all but impossible for spot-on reticle alignments. Those stocks were designed for iron sights, and remained unchanged despite the advent of scopes. Well, no longer.
With the 110 Storm, you can achieve a customized fit by selecting one of the five included comb heights, ranging from 1.2 to two inches. You need to remove the butt pad and try each comb height individually until you find the right one for you (it took me three tries to get the ideal cheek weld for the Zeiss Conquest V4 scope I was using). Once you've settled on the comb height, just tighten down the butt pad with the correct length-of-pull spacer and you have a custom-fit rifle right out of the box. It's simple, but ingenious.
On the range, both the test rifle and scope functioned flawlessly. I was particularly impressed with the V4's optics and the 110's AccuTrigger, which was so precise the pull weight did not deviate from three pounds 10 ounces across several individual measurements.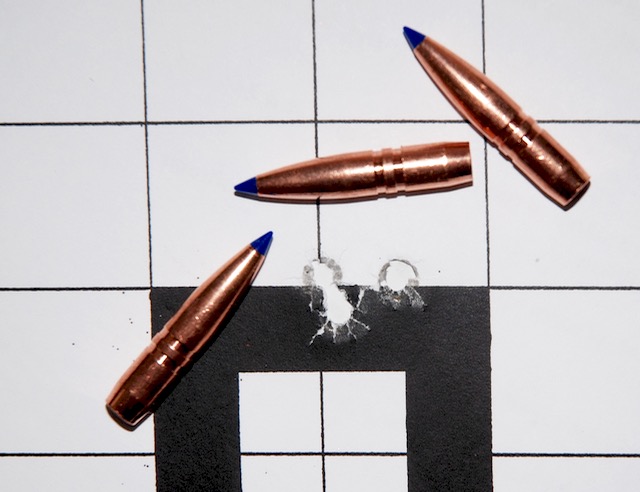 For the test, I included a cross-section of factory ammo and four handloads that had shot well in one of my 6.5 Creedmoor's. The 110 offered superior performance with some loads, while others were not as accurate as I'd expected. The rifle seemed to prefer the lighter, 120- to 129-grain bullet weights. My handloads collectively averaged 0.707-inch groups, while the factory ammo was a tad less precise, averaging 1.10 inches.
Barnes 127-grain LRX and IMR 4451 powder handloads, with their superb sub-0.5-inch groups, would be ideal for all deer-sized game, even when you need to stretch the barrel. If you're not into reloading, consider Hornady's 120-grain GMX Superformance, Federal Premium's 120-grain Trophy Copper or Federal's 140-grain Fusion. All provided excellent accuracy with groups that either touched or bettered the 0.5-inch mark.
When it comes to hunting rifles, a custom fit and affordability seldom gather at the same watering hole, but with the 110 Storm, they do.

THE SPECS
Calibre: 6.5 Creedmoor
Overall length: 42.375″
Barrel length: 22″
Weight: 7.4 lb
Twist rate: 1 in 8″
Magazine capacity: 4
Length of pull: variable with shim kit
Drop at comb: variable with comb kit