Deer downer
An adjustable cheek piece gives Sako's 85 Finnlight II extra appeal
This review has a rather unusual beginning, dating back a couple of years to when I planned to review the iconic Finnish-made Sako 85 Finnlight. For a test rifle, Sako sent me a Finnlight chambered in 6.5×55 Swedish Mauser, an excellent choice for an easy-to-carry deer rifle. Unfortunately, it didn't arrive with sufficient time to test it that fall, so I planned to get at it in the spring. That was, until I got my hands on the new Sako 85 Finnlight II and decided to review it instead. It just had that much pizzazz.
Most of the II's enhancements lie in the stock, the most conspicuous being the adjustable cheek piece that can be raised or lowered with the push of a button. That provides the hunter with a perfect cheek weld for quicker target acquisition and precise eye-to-reticle alignment, from shot to shot. It's certainly a definable improvement over a conventional stock.
Constructed with aerospace-grade resin transfer moulding, which is said to be stronger than steel, the fibreglass stock as a whole is durable, tough and lightweight. All chamberings of the Finnlight II have carbon-fibre bedding to provide maximum accuracy and stability in all weather conditions and temperature changes. They also have enhanced gripping surfaces on the pistol grip, fore-end and cheek piece for a comfortable, secure grip whatever the weather. Rounding out the rugged all-weather features, the barrel and action have a Cerakote finish.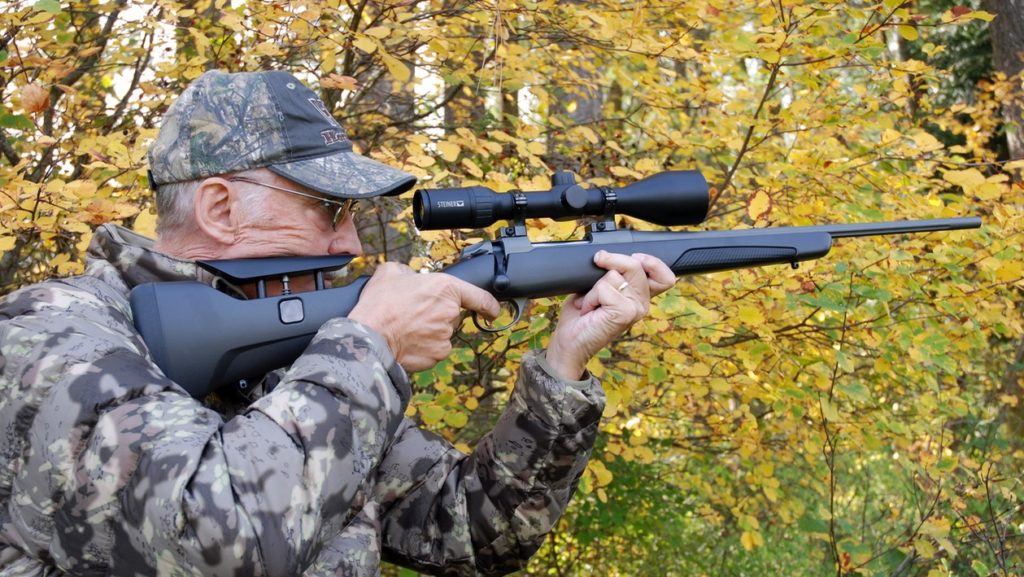 Mechanically, the II is equally impressive. The generic ultra-smooth Sako action comes in six different sizes to match each calibre, and offers a controlled cartridge feed to eliminate double-feed cartridge jams. Made of stainless steel, the staggered, two-row detachable magazine can be loaded independently or through the ejection port; it also incorporates a latch that prevents the accidental release of the magazine.
As for the trigger, it's fully adjustable from two to four pounds, and the pull weight adjustment screw is readily accessible from inside the magazine port. A two-way safety locks both the trigger and bolt handle, while the unique bolt release button allows the hunter to load or remove cartridges from the chamber while the safety is engaged. Finally, the barrel is drilled, honed, cold-hammer forged and individually inspected by eye.
[easy-tweet tweet="@OutdoorCanada's expert firearms reviewer says the 85 Finnlight II from @SakoCanada is a fine deer and elk gun" user="OutdoorCanada" hashtags="hunting, deerhunting,huntingguns"]
TEST RESULTS
The one feature that really sets the II apart from its predecessor is the adjustable cheek piece. During my test, it provided perfect eye-to-reticle alignment, despite the use of medium-high rings and a 56mm objective lens on the Steiner scope. That shows you can use practically any height of scope mount, then adjust the comb height to fit your sight line. On the downside, I could not remove the bolt when the cheek piece was elevated. That meant I had to lower the cheek piece every time I cleaned the rifle, then reset it to my desired height.
Moving on to the action and trigger, both were ultra smooth, with a minimal trigger-pull weight deviation of less than 1.5 ounces among four digitally measured pull weights. The rifle as a whole balanced well, despite an overall weight of eight pounds five ounces (including the scope, rings and bases). And with its short barrel, the II promises quick handling in tight spots.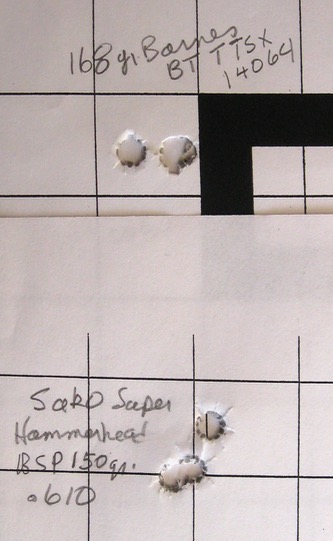 When assessing the overall accuracy, the rifle averaged groups of 0.929 inches with my handloads and 1.05 inches with 16 varieties of factory ammunition (above). That's quite respectable accuracy, with my handloaded Barnes 168-grain Tipped TSX BT topping the lot at 0.48 inches. Not far behind were several factory loads, including Sako's 150-grain Super Hammerhead Bonded Soft Point at 0.61 inches, Browning's 168-grain BXC Controlled Expansion at 0.69 inches, and Barnes' 150-grain Tipped TSX BT at 0.66 inches. They would all make great choices for any deer hunt. As for larger game such as elk, I would go with Hornady's 178-grain ELD-X Precision Hunter, which grouped at 0.745 inches.

THE SPECS
Calibre: .308 Winchester
Overall length: 40.5″
Barrel length: 20.4″
Weight: 5 lb 12 oz
Rate of twist: 1 in 11″
Magazine capacity: 5 + 1
Length of pull: 14″
Drop at comb: Adjustable