Gone pro
The latest addition to Browning's X-Bolt line is the best yet
Unless you've spent the last decade or two living in a world devoid of campfire discussions about hunting guns, you'll know that rifles are getting lighter, tougher and more accurate. And with this metamorphosis comes the reality that synthetic stocks, stainless steel and new metallic finishes are gradually ushering wood, steel and bluing into the afterlife.
Perhaps best exemplifying this evolution is Browning X-Bolt Pro, which takes factory-production hunting rifles to a new level. The Pro is essentially a semi-custom manufactured rifle—it may fall short of a completely custom-built rifle, but its high-end construction and specialized finishing touches unquestionably elevate it to the top of the X-Bolt line.
Looking at the features, let's start with the stock, which is constructed of a compressed noise-dampening foam core completely wrapped with a carbon-fibre weave. This second-generation weave makes for an even lighter and more rigid stock than conventional strips of carbon fibre. The result is a lightweight, easy-to-carry rifle with an all but unbendable stock. Also new is the stock's Cerakote finish, a departure from the norm for added protection.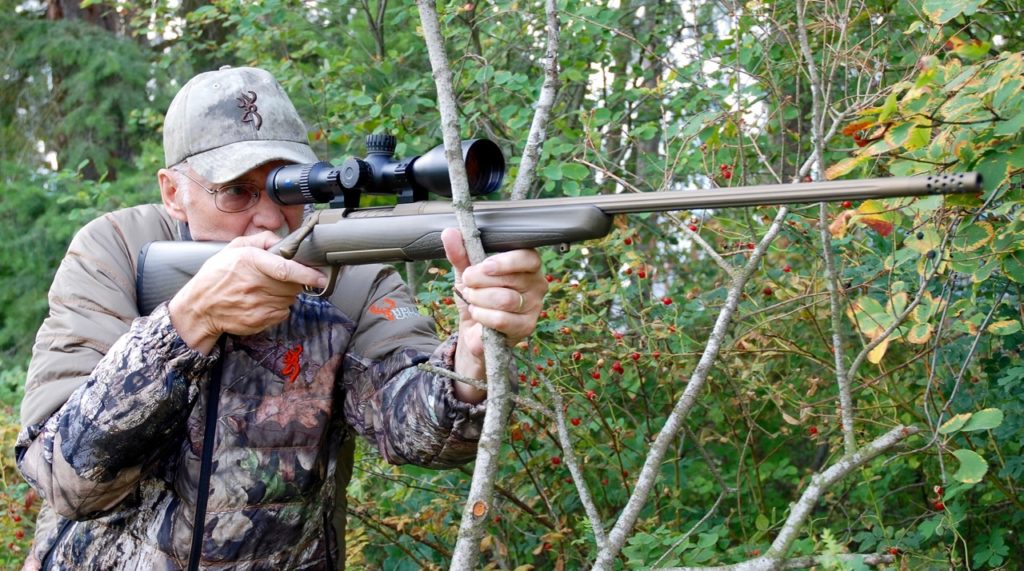 The barrel and action also offer a number of elevated touches. First, the fluted lightweight sporter barrel has been proprietary lapped, which improves accuracy, eliminates the need for a time-consuming break-in and reduces fouling. It's a nice feature when it comes to long sessions on the range or when cleaning the rifle. Then there's the spiral fluted bolt and enlarged fluted bolt knob, which provide some cosmetic flare while further reducing the overall weight.
The Pro also sports the many features that come standard with the X-Bolt line, starting with the burnt-bronze Cerakote finish on the stainless steel barrel and action. Along with providing all the attributes of Cerakote, the finish also complements the stock's hues for improved concealment. The free-floated barrel offers a threaded muzzle break and thread protector, while the chamber is hand reamed for precision accuracy. Along with the bolt offering a quick 60-degree lift, other notable features include the Feather Trigger, X-Lock Scope Mounting System, rotary magazine, tang safety, bolt unlock button and Inflex II recoil pad, which deflects energy down and away from the shooter's cheek.
[easy-tweet tweet="@OutdoorCanada's expert firearms reviewer says the latest addition to Browning's X-Bolt line is the best yet" user="OutdoorCanada"]
TEST RESULTS
This rifle is an eye-catcher, as well as a functional standout. During my test of a .30-06 Pro, the Feather Trigger pull weight deviated less than one ounce, while the Zeiss Conquest V6 scope was a snap to mount with the use of the X-Lock integral ring and base.
In a comparative assessment of the Pro's accuracy (below), I reviewed my test results of the X-Bolt Hell's Canyon Speed, also in .30-06, from a couple of years back. Both of these .06s are shooters—I'd be splitting hairs to choose a winner. While the Speed provided an overall average of 0.812-inch groupings for my handloads and 0.934 for factory ammo, the Pro averaged 0.905 inches for my handloads and 0.863 for factory ammo. That's a testament to the quality of factory ammo these days, as they bettered my handloads in overall average group sizes.
For hunting loads for large game such as moose or elk, I would give the nod to either Hornady's 178-grain ELD-X or Browning's 185-grain BXC Controlled Expansion Terminal Tip. And for deer, I would look no further than Hornady's 150-grain American Whitetail. All three loads were responsible for groups of less than 0.5 inches, the tightest of my test. Not far behind were Federal's 150-grain Fusion and my handloaded 165-grain Hornady SST, with groups hovering at just a tad more than 0.5 inches. They would also make great deer loads.
So, how does the Pro stack up? When taking into account its additional features, such as the carbon fibre stock, lapped barrel, hand-reamed chamber, fluted bolt and bolt knob, precision component fit and coordinated Cerakote finish on the barrel and stock, it certainly tops the X-Bolt line—especially with the addition of the Zeiss Conquest V6 scope.

THE SPECS
Calibre: .30-06 Springfield
Overall length: 42¾"
Barrel length: 22″
Weight: 6 lb 5 oz
Rate of twist: 1 in 10″
Magazine capacity: 4 rounds
Length of pull: 13 5/8″
Drop at comb: 11/16″
Drop at heel: ½"