Big shooter
The Marlin 1895SBL promises excellent accuracy for a big-bore lever
The Wild West of yore has always fascinated me, particularly when it pertains to the rifles of that era and the role they played in opening up the West. Some of this history is glamorized in tales and movies, but for the most part, those old rifles were tools of survival. They offered protection, while also putting meat in the larder of many a homesteader and trapper. Among those rifles was the Marlin Model 1895, which was designed to handle large, big-bore black-powder cartridges such as the .45-70, which was the most powerful black-powder cartridge of its time.
Using a .458-inch-diameter lead bullet, the .45-70 became one of the most popular big-game hunting cartridges of that era. With its killing prowess, it was a favourite of the hunters who all but decimated the vast herds of plains bison that once roamed the West's vast grasslands. It was so popular that many manufacturers, such as Marlin, Remington, Sharps, Winchester and Springfield, chambered rifles for it.
All this brings me to the focus of this review, the Marlin 1895SBL rifle chambered in that splendid old big-bore cartridge. Introduced in 2009, it is a slightly revamped version of the Model 1895GS in .45-70, which was introduced in 2001 and had all of its major parts manufactured out of stainless steel. The newer 1895SBL sports a Wild West-style big loop lever, side ejection and a polished stainless steel receiver, barrel, trigger guard plate, full-length tubular magazine and loading gate.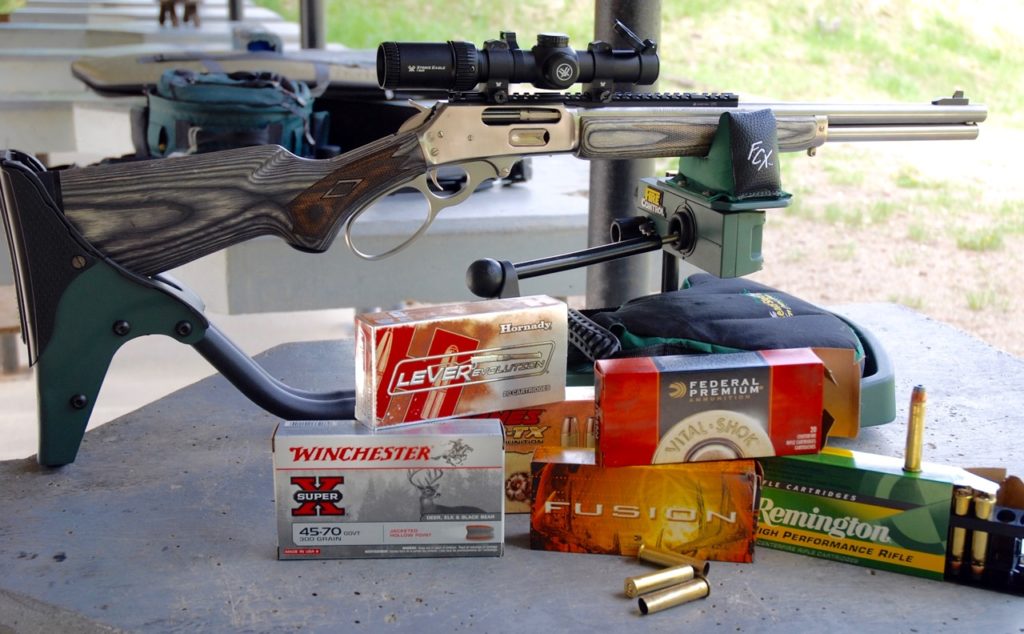 It also features a hammer block safety, cut-checkering, deluxe Pachmayr Decelerator recoil pad, nickel-plated swivel studs and a black/grey laminated hardwood pistol grip stock with a fluted comb. The 18½-inch barrel has deep-cut Ballard-type rifling (six grooves), while the receiver has an XS lever rail with a ghost ring rear sight; the front sight is an XS post. The 11¼-inch lever rail is slotted with standard Weaver crosscuts to provide a quickly detachable scope mount, with considerable flexibility in scope positioning for optimal eye relief.
Finally, the 1895SBL comes with a couple of valued safety features, including a trigger block to prevent the trigger from being pulled until the lever is fully closed. The rifle also has a traditional half-cock safety position.
[easy-tweet tweet="@OutdoorCanada's expert firearms reviewer says the Marlin 1895SBL promises excellent accuracy for a big-bore lever" user="OutdoorCanada"]
TEST RESULTS
I will not belabour the performance of either the rifle or the Vortex Strike Eagle 1-8x24mm scope it was paired with, as neither revealed any flaws. I do have some notable observations, however, starting with the rifle's safety system. I was impressed, having tested the gun dry (no ammo) to get a feel for the full range of protective features. I then checked its trigger pull weight, which remained very consistent with four readings between four pounds 10.5 ounces and four pounds 12.1 ounces. And finally, for close-range, fast-action shots, I truly appreciated the scope's 1x magnification and halo reticle. Together, the rifle and scope topped out at eight pounds eight ounces—pretty reasonable for a big bore.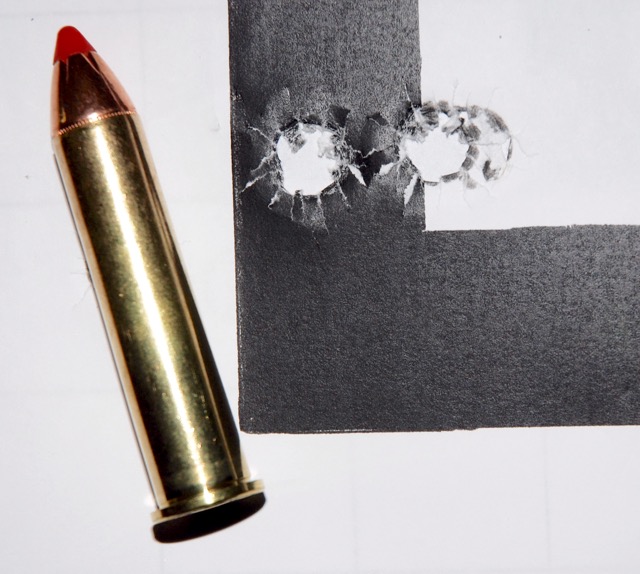 As for ammunition, I included six brands of factory ammo from 250 to 325 grains, which, as it turned out, happened to be everything I could lay my hands on. While I had expected the rifle to group somewhere between 1½ and 2½ inches, I was pleasantly surprised with a couple of groupings of less than one inch, with the remainder between 1 1/8 and 1 7/8 inches. For a big-bore lever, that is quite remarkable accuracy (above).
The two standouts were Hornady's LEVERevolution 325-grain FXT and 250-grain MonoFlex (pictured below) offerings. Both shot under an inch, with velocities topping 2,000 fps. That is super deer and black bear medicine or, with the heavier bullet, moose and elk at moderate ranges. When taking a collective look at all of my targets, I was pleased to discover that 22 out of 25 shots, including a sighter, grouped into a 2½-inch square. When you take into account variances in manufacturing, and bullet weight and design, that is simply super-fine accuracy for a big-bore lever.

THE SPECS
Calibre: .45-70 Gov't.
Tubular magazine capacity: 6
Overall length: 37″
Barrel length: 18½"
Length of pull: 13 3/8″
Drop at heel: 1¾"
Drop at comb: 1¼"
Rate of twist: 1-20″
Weight: 8 lb
B.C.'s Mark Hoffman is Outdoor Canada's hunting firearms reviewer.