Recipe: Ringneck Ragout
Field-fresh pheasant simmered with mushroom, vegetables and fruit
This is my absolute go-to recipe for ring-necked pheasant and wild mushrooms, and you can cook it at home in your kitchen or right out in the field on your tailgate after your hunt. Along with the delicious combination of wild mushrooms, apple, shallots, garlic, mustard and cream, one of the best features of this dish is that you can substitute the pheasant with a multitude of wild birds, including grouse, duck and Hungarian partridge. Serves 4.
[easy-tweet tweet="Recipe: This wild-game ragout from chef @CameronTait92 has field-fresh pheasant simmered with wild mushrooms, vegetables and fruit" user="OutdoorCanada" hashtags="wildfood,hunting,recipes"]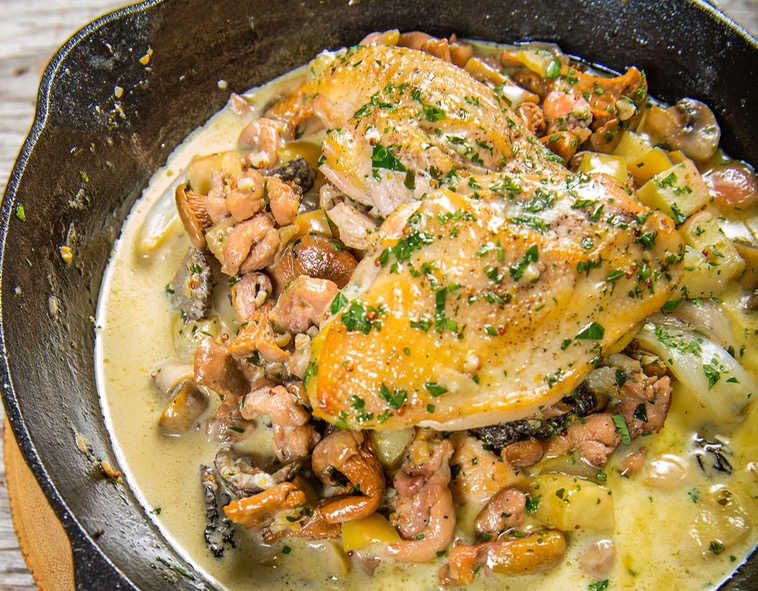 2 boneless pheasant breasts
2 boneless pheasant thighs, cut into thin strips
Kosher salt, to taste
Pepper, to taste
2 tbsp canola oil
¼ cup salted butter
8 morel mushrooms, halved
1 cup chanterelle mushrooms, halved
2 cups quartered button mushrooms
1 red apple, large dice
2 shallots, halved
3 cloves garlic, finely chopped
1 tsp grainy mustard
1 oz. brandy (or cognac)
1 cup pheasant stock
½ cup heavy cream
1 tbsp finely chopped parsley
After boning out the breasts and thighs, make a stock from the carcass.
Season breasts and thigh strips with salt and pepper. Heat cast iron pan on medium-high, add oil and sear both sides of breasts until light brown; set aside breasts and drain excess fat.
Add butter to pan and sauté thigh strips and mushrooms until soft. Add apple, shallots, garlic, mustard, cognac and stock, then simmer for 10 minutes.
Add cream, parsley and breasts; cook on medium-low until breasts reach an internal temperature of 138°F. Slice breasts in half and serve.
A hunter, angler and Certified Chef du Cuisine, Winnipeg's Cameron Tait is Outdoor Canada's Table Fare game recipe contributor. His dishes are photographed by 100 Acre Woods Photography.
To watch Cameron Tait prepare this dish and others, go to www.outdoorcanada.ca/food.
For the glass
A perfect pairing for this rich pheasant and mushroom dish is Sandhill Hidden Terrace Pinot Gris from B.C.'s Okanagan Valley. With its aromas of melon, red apple and peach, this medium-bodied wine is best served lightly chilled at roughly 60°F.