Big fish
Grit pays for the first Great Salmon Hunt winner
It would be a major understatement to suggest Philip Payne, the winner of Lake Ontario's inaugural Great Salmon Hunt, is your average angler. After all, the 37-year-old fishes roughly 100 days a year, and to compete in the five-week derby, he used up a week of vacation time and trailered his boat up from his home in Windsor, Ontario. Understatement indeed, but there's more.
Every day during the competition's fourth week, Payne and fishing buddy Brendan Boyd trolled out of various marinas along the Great Lake's north shore, from Port Credit to Newcastle. "We literally fished from sun-up to sundown," he says. "Then we put in a good three hours of night fishing to see if bigger fish were biting at night. I just slept in the back of the truck. I went all out on it."
Their hard work paid off when Payne reeled in a 32.4-pound chinook, earning him the big fish of the week honours and, eventually, the prize for the derby's biggest fish overall. That included $7,100 in cash and a custom replica mount of the salmon from Advanced Taxidermy.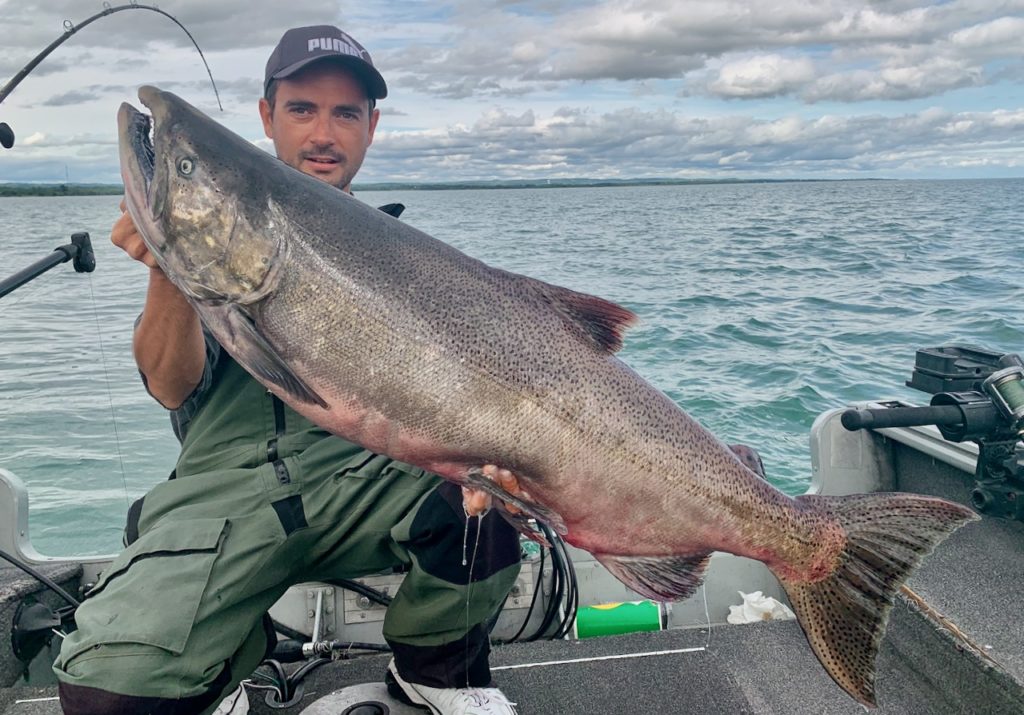 It was calm on the day he caught the winning fish, Payne says, which was a welcome change from the rough conditions they'd been battling earlier in the week. The catch was unusual, he says, because the salmon hit as he was letting out his Dipsy Diver. "I hit the free spool and I heard it clicking out, but then change intervals," he says. "It was kind of click, click, pause, click, click, pause, and that's not normal. Usually, it's consistent." So, he closed the bail and lifted the rod out of the holder. "As soon as I did that, I started feeling the headshakes."
And it's that kind of close observation, based on years of experience, that wins tournaments. The Great Salmon Hunt, which filled the void left by the cancellation of the 23-year-old Great Ontario Salmon Derby, is set to return in 2021, with organizer Andy Pallotta saying it's going to be even longer, bigger and better.
Learn more about the new derby at www.thegreatsalmonhunt.com.