WALLEYE WORLD
SWF and partners collect almost 19 million walleye eggs to bolster fish stocking
The Saskatchewan Wildlife Federation hosted another successful walleye spawning camp from May 5 to 13 on Buffalo Pound Lake, approximately 40 kilometres north of Moose Jaw. Over the course of eight days, staff from the SWF, the Saskatchewan Ministry of Environment and the Saskatchewan Fish Hatchery collected close to 19 million eggs to bolster fish-stocking efforts in the province.
Other partners involved in the camp included the Water Security Agency, Fisheries and Oceans Canada and the University of Regina. "Pretty well every organization in the province that deals with fish is involved," says the SWF's director of fisheries, James Villeneuve.
This year's camp started a bit later than usual owing to spring's late arrival. "Typically, we will begin deploying our trap nets as soon as the ice comes off in the spring," Villeneuve says. "It's timed with the spawning of the fish."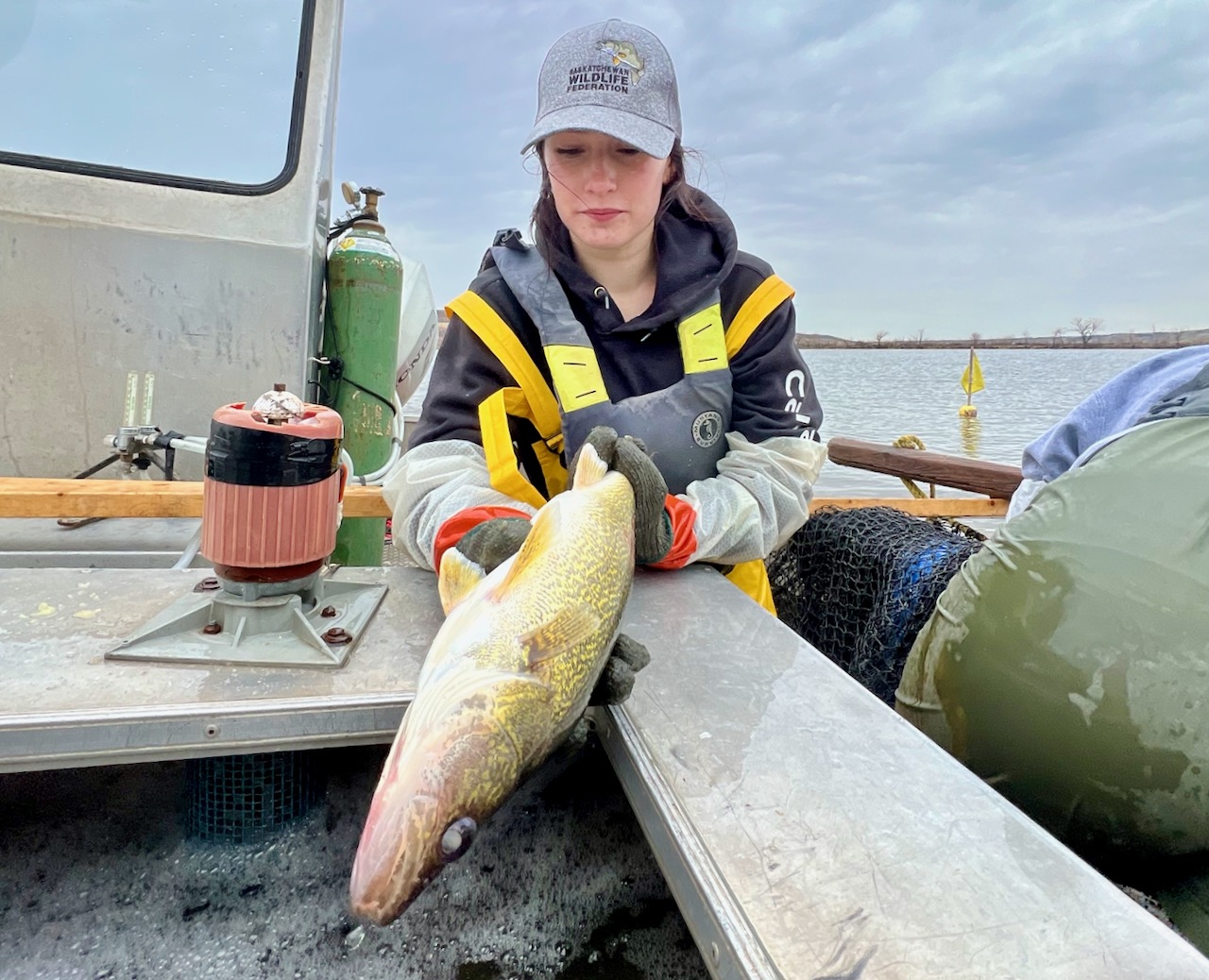 To gather the eggs, fish are first collected each morning from non-lethal trap nets. "For the walleye, we keep any of the ripe females, which are ready to have their eggs extracted," Villeneuve says. They also keep the males and any green females, which are egg-bearing females not yet ready to spawn. All the fish are placed in an oxygenated tank, then counted, sorted and placed in retaining pens.
Once the eggs are extracted from the females, they're mixed with milt from the males and the fish are released back into the lake; the resulting fertilized eggs then go through a disinfectant and water-hardening process to remove any contaminants before they're sent to the Saskatchewan Fish Hatchery near Fort Qu'Appelle. Villeneuve says that because the eggs are reared in the hatchery, they have a better success rate than they would in the wild, with roughly 50 per cent producing fry.
After they've hatched, the fry are released into between 20 and 30 waterbodies in the province. While these lakes and reservoirs do not have natural spawning habitat, they are perfectly capable of sustaining a walleye population. Says Villeneuve: "So, by producing the eggs, we're able to stock waterbodies that provide a great fishery for the public."
Learn more about the SWF's programs and positions at www.swf.sk.ca.