GOOSE GETTER
Browning's Maxus II is a fine fit for hardcore waterfowlers
Introduced in 2021, Browning's Maxus II maintains many of the elemental features of its predecessor, the now-discontinued Maxus Hunter. At the same time, however, this new autoloader is quite a different shotgun, designed for those who hunt ducks or geese in the foulest of weather and in environs most of us prefer to avoid.
As for the features the enhanced Maxus II shares with the original, foremost is the same tried-and-true Power Drive Gas System, which Browning touts as "the best gas piston design ever." It sports oversized gas ports to vent gases faster when shooting heavy loads, while the piston's 20 per cent longer travel stroke improves reliability with lighter loads.
With the original Maxus, the recoil reduction technology was more encompassing than just the action—the Inflex Technology recoil pad, back-boring and the shotgun's natural balance also contributed to the 18 per cent less felt recoil and 44 per cent less muzzle jump than other autoloaders. And while the Maxus II has reduced the felt recoil even more, I was glad to see Browning didn't mess with the action.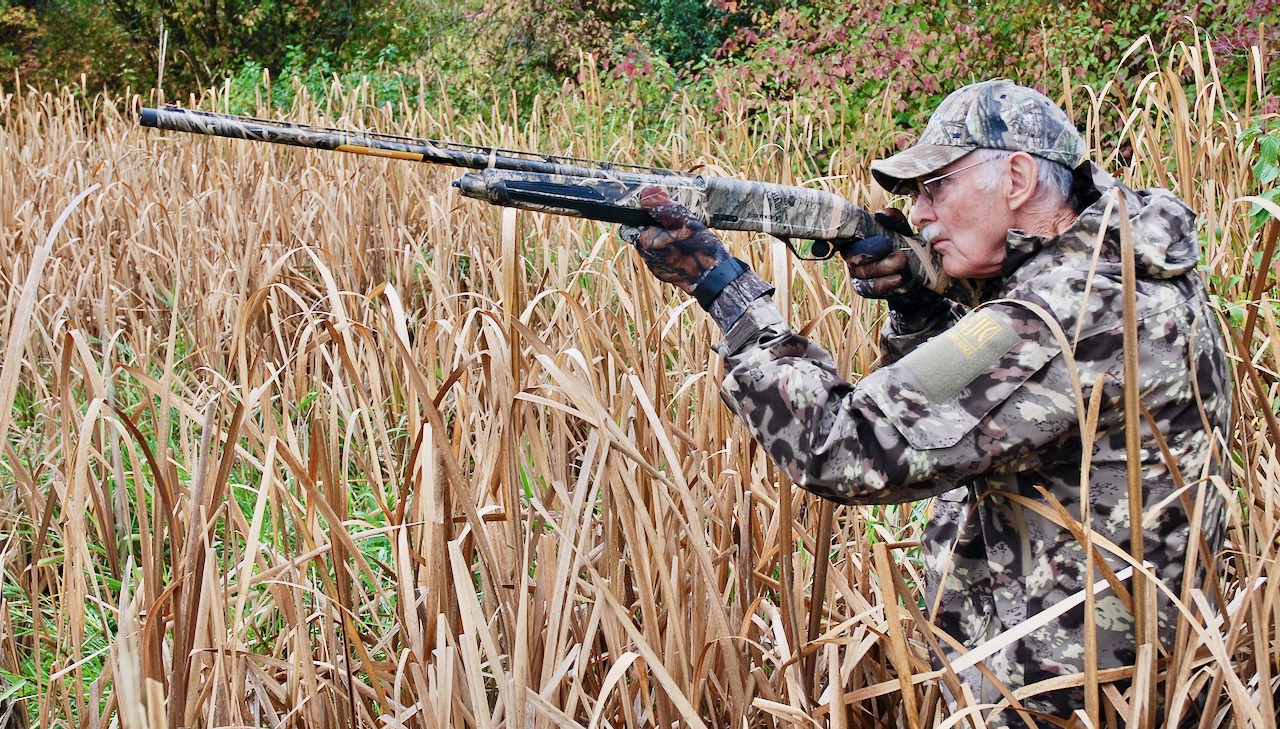 The new Maxus also continues to incorporate the Lightning Trigger, which Browning claims is the "finest fire control system ever offered in an autoloading shotgun." It also kept the Speed Load Plus feature, which directly chambers the first shell loaded in the magazine. And finally, the Maxus II still offers an adjustable stock for fine-tuning the length of pull, drop and cast.
So, what are the upgrades? Most of them enhance the shotgun's user-friendliness, starting with three improvements that I found handy when wearing gloves: an oversized bolt release, oversized bolt handle and ramped trigger guard for easier loading.
The more predominant changes, however, are to the composite stock. While it still has a camo hydrographic dipped finish, the Dura-Touch finish has been replaced with rubber over-moldings in key areas, including the forearm and pistol grip. Browning also added a SoftFlex Cheek Pad and a 1½-inch-thick Inflex Recoil Pad, which help take additional sting out of felt recoil, as noted earlier. As well, the redesigned stock is now sleeker for a quicker swing and speedier target acquisition.
TEST RESULTS
My test Maxus II in Mossy Oak Shadow Grass Habitat tipped the scale at seven pounds four ounces—a weight that, when combined with a slight forward muzzle balance, provided for an easy and smooth swing. The sleeker profile also offered a quicker-handling gun than some of the other waterfowl autoloaders I've used, making it ideal in a blind.
All and all, the gun was easier to use than the original Maxus, particularly in tough conditions. I particularly liked the rubber over-moulded additions to the forearm and pistol grip. There's no question they provided a firm grip, adding to the II's overall handleability on those nasty days when you might otherwise stay at home in front of the fireplace than sit in a goose blind.
On the trap range, the Maxus II proved to be utterly deadly, powdering most of 50 clays. It ate and spat out Winchester 1 1/8-ounce AA target loads without a glitch, affirming its advertised ability to handle light target loads.
I also patterned four premium waterfowl loads from Browning, Federal, Remington and Winchester (above). At 40 yards, I assessed both the pattern density and distribution of 1¼ ounce #2 steel shot, a load I consider about ideal for most goose-hunting situations. With 20 hits in a 10-inch circle, Winchester's Blind Side provided the best overall pellet density and distribution. Both Browning's Wicked Blend and Federal Premium's Black Cloud were only a tad less effective, with 17 and 16 hits, respectively.
In practical terms, you don't need 20 hits to bring down any goose that flies. The more pellets you can put on target the better, however, as it takes a great wing shot to deliver a central pattern hit on each and every shot—and unfortunately, most of us do not fall into that category.
In the final analysis, the new Maxus II waterfowl models are a definite improvement over their original Maxus predecessors.
THE SPECS
Gauge: 12
Chamber: 3½"
Barrel length: 28″
Overall length: 49¼"
Weight: 7 lbs 2 oz
Length of pull: 14 7/16″
Drop at comb: 1¾"
Drop at heel: 2″
Magazine capacity: 4 x 2¾"