Guns & ammo: your source for firearms info
Gauging a 40-year-old Marlin 12-gauge, an Aussie .22 and a box of mystery Canuck ammo
Whether you have a question about antique guns, modern firearms, ammunition or reloading, expert Dave Anderson is here with the answer. Please send your detailed questions and applicable, high-resolution photos to editorial@outdoorcanada.ca.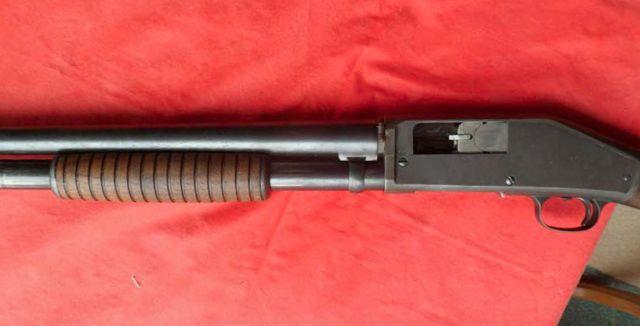 Could you tell me any information about my Marlin 12-gauge pump shotgun (above)? I've had it for 40-plus years, but it hasn't been used for the last 25. The bluing is wearing thin. Is it worth having a gunsmith refinish the metal parts?What would the value be in its current shape? And can it be used with modern 12-gauge ammunition?
Kevin Axt
Puslinch, Ontario
The Marlin 43 hammerless shotgun was made from 1923 to 1930. It was similar to the earlier Marlin 28, made from 1913 to 1922, but with a more utilitarian finish on the wood and metal. In 1998, Marlin issued a service bulletin recommending many of its early slide-action shotguns, including this model, should no longer be fired. It stated that " many of these guns are 70 to 100 years old and system failures can and do happen."
At this time, there's not a great deal of collector interest in older Marlin slide-action shotguns. I'd estimate the value of your gun to be around $150. I prefer not to refinish vintage firearms, as I would rather see them with the marks and wear earned over a lifetime of use. And I don't see any value gained by having it refinished. It's better to keep it as a memento of a bygone era.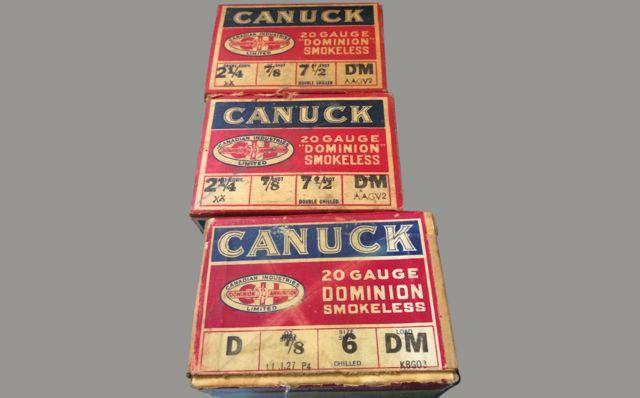 We were clearing out family stuff that's been in storage for a long time and came across a suitcase with old ammunition (above). I'm just wondering if it might be worth anything, and where we could go to have it appraised or sold?
Tracey and Doug Hall
Victoria, B.C.
When I first looked at the photo, I thought for a moment I was looking at my own ammo storage shelf. I think I have most of those boxes. Any of the more recent ammunition, especially shotshells with plastic cases, would be valued about the same as any other ammo being resold—that is, less than retail. The Imperial 20-gauge slugs and the Dominion .303 British would be of collector interest especially if they are all unfired cartridges. I've seen similar boxes with asking prices of $25 to $50.
Most intriguing are your boxes of Canuck 20-gauge. If these are complete with the original 25 unfired paper-case shells in each box, they could sell for $100 a box, or even higher. If the Canuck 12-gauge shells are also paper-cased, they'd also be considered collectibles. Even empty boxes are worth $10 to $20. Probably your best bet to sell them would be at a gun show. Nice find!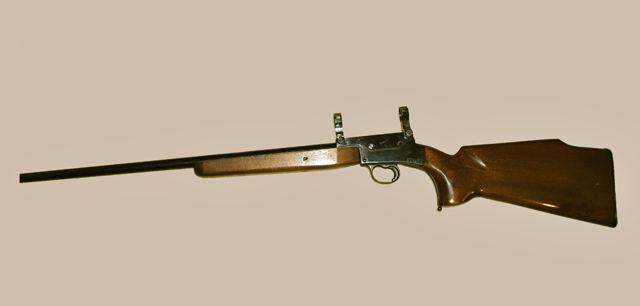 I would like some information about a lever-action rifle with a scope mount and rings that I recently inherited. Engraved on the right side of the receiver is "FALTH of Australia RS," along with a kangaroo on the barrel close to the receiver. Slightly further up the barrel is the engraving "Sportco 22 RH/1." And the scope mount plate is engraved with "A usinel." The barrel length is 23½ inches; I am not sure what the calibre is. I would appreciate any information concerning the rifle and its value.
Peter D. Papp
Toronto, Ontario
Sporting Arms Company (Sportco) was established in Adelaide, Australia, in 1947 and remained in operation until the mid-1980s. The kangaroo marking is a Sportco trademark. Just as a point of interest, Sportco was founded by Jack Warne, who later emigrated to the U.S. and founded Kimber of Oregon.
This rifle appears to have been built on a Martini-Cadet action. These actions were made in England by BSA, with large numbers later exported to Australia. Sportco fitted barrels in various calibres such as the .22 rimfire and the .218 Bee and .22 Hornet centrefire cartridges. Based on the information you provided, though, I can't say what cartridge your rifle is chambered to accept.
Sportco firearms are considered to be well made, safe and serviceable sporting guns. There's not much collector interest at this time, so its value would be as a practical hunting/sporting gun. I can't provide much guidance on value, but I've seen similar rifles being sold on the Internet for between $200 and $400.
Collector's corner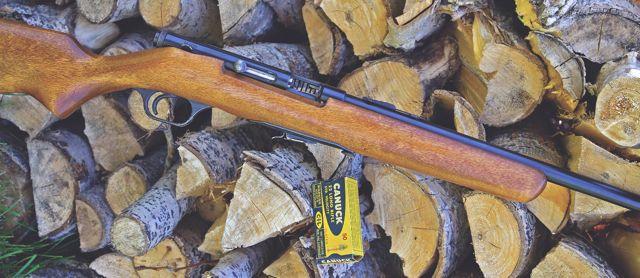 Back in the 1960s, many towns in Western Canada had a Macleods hardware store, which used the trade name "Hiawatha" on its sporting goods. I can remember Hiawatha bicycles, snowmobiles and, of course, shotguns and .22 rifles. This semi-automatic .22 was made by the J. Stevens Co. of Chicopee Falls, Massachusetts. Under the Stevens name, it was the model 85, using a five-shot box magazine; the similar model 87 had a tubular magazine. This particular rifle was made for Macleods and marked "Hiawatha Model 850."
There is no serial number. Prior to 1968, there was no legal requirement for firearms made in the U.S. to carry a serial number, and many inexpensive .22 rifles and shotguns were not numbered. The letter "K" stamped on the barrel indicates it was made in 1959. Of interest are the eight slots cut into the left side of the receiver, and one on the right. I believe their purpose was to reduce powder fouling in the receiver.
The basic 85/87 models were introduced in 1938 with production ending in the early 1980s. A great many rifles were made, often under different names for various chain stores, such as Macleods. They are not fancy firearms, but they're well made with quality materials. Like many other .22 semi-auto rifles of the 1950s and '60s, however, they were run over by a steamroller called the Ruger 10/22.
The value of this rifle is primarily as a shooter, probably around $150 or so. I like it as a memento of when I was a kid, looking longingly at the guns for sale at our local Macleods.