Guns & ammo: your source for firearms info
Checking out a 19th century sporting rifle, a Perrins & Son shotgun, box of Meteor 12-gauge shells and a collectible Lee-Enfield
Whether you have a question about antique guns, modern firearms, ammunition or reloading, expert Dave Anderson is here with the answer. Please send your detailed questions and applicable, high-resolution photos toeditorial@outdoorcanada.ca.
I have three boxes of old Meteor 12-gauge shells (above). They are paper shells, and the boxes are in good shape, as you can tell by the picture. I was going to take them to a gun show to see if there was any interest in them, but I'd like to know what they're worth first.
Alan Olfert
Luseland, Saskatchewan
Those boxes do look to be in very good condition. I assume they're all full boxes. If I were putting them out at a gun show, I'd price them at $100 a box to see what kind of interest there was. Obviously, there won't be as many potential buyers at a smaller gun show than at one of the big-city shows, but at least you'd find out if there was real interest. If the boxes are all as nice as this one, I wouldn't take less than $80 a box. Even empty boxes can easily bring $10 to $15, as they make nice decorative items for trophy or book rooms alongside wildlife prints, outdoor books and trophy mounts.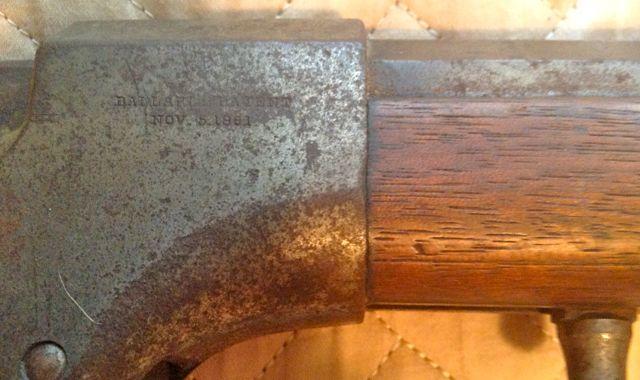 I was wondering what type of rifle this is (above). I think it dates back to November 1861. I was also wondering what calibre of cartridge it shoots, and its use.
Alexandre Lemaire
Ottawa, Ontario
Your rifle appears to be a Ballard sporting rifle. It was designed by Charles H. Ballard (1822–1901). He received a patent for his single-shot design on November 5, 1861. He sold his patent to Warren Williams, a partner in the Ball and Williams Co. of Worcester, Massachusetts, who put the design into production. The first rifles were made for sporting use, but with the outbreak of the U.S. Civil War, both rifles and carbines were made for the military. Approximately 1,500 carbines were made for the U.S. War Department, while the state of Kentucky ordered 15,000 rifles for its Home Guard. Not all of those rifles had been built by the time the war ended, however, at which time the highest serial number was around 15600.
After the war, Williams retired and the company continued as R. Ball & Company for a about a year, once again making sporting rifles. Serial numbers remained in sequence and reached approximately 18000. From the serial number on your rifle, it seems it was most likely produced during this time frame. As for calibre, your rifle appears to be marked for the .44 rimfire cartridge. The rifle was also made in .32, .38 and .46 rimfire.
Later, the company was reorganized as Merrimack Arms & Mfg., then as Brown Mfg. In 1873, patent rights were acquired by a Mr. Daly, who arranged for Ballard rifles to be manufactured by John M. Marlin. It was under Marlin that the Ballard rifle—made in a wide range of models—gained fame as a superbly accurate target rifle for its era. This was the first rifle manufactured by Marlin. It remained in production until 1891, when sales of single-shot rifles gave way to the popularity of repeating rifles.
The Ballard is an excellent design and considered strong for its era. Of course, the receivers were made of relatively soft iron, so even if ammunition were available, I'd strongly advise against shooting it. Your rifle is certainly collectible despite its rather rough condition. I've seen similar rifles in no better condition with asking prices in the $900 to $1,100 range. Models in top condition, as well as fancier target models, can easily go for $6,000 to $8,000.

I'd like to know the value of this double-barrelled 12-gauge (above), with "Perrins & Son" stamped in several places. An Internet search indicates it was made around 1900, and that there were some three generations of Perrins gunsmiths in London, England. The gun has 30-inch barrels and a great deal of engraving.
It also has considerable rust, but I've made no attempt to restore it, leaving that to a collector. I've never intended to shoot it, but the hammers and triggers are working and have not been dry-fired. I have no info on the previous owner, other than that the gun was kept as a wall-hanging at a coastal B.C. estate.
I've seen similar guns for sale at times in Britain, but not in North America. I thought I'd send this to you, as you may be better equipped to find more information about the gun, as well as its value. I enjoy your write-ups on guns.
Guy Berndtsson
Calgary, Alberta
You've done a good job of researching already. I've handled and photographed a friend's Perrins & Son single-shot shotgun, which was marked and engraved very much like yours. From what I've been able to find out, John Perrins was born in 1796 and went into business as a gunmaker in 1831 in Worcester, England.
There's speculation he was related to William Perrins, who was a partner in the Lea & Perrins company, famous for making Worcestershire sauce. I don't know if that is true, but it would be neat to shoot a grouse with a Perrins shotgun, then serve it with Perrins sauce!
John Perrins' son, John Jr., became a partner around 1855. John Sr. died in 1862 at the age of 66, while John Jr. died of tuberculosis in 1866 at the age of 42. Another son, Henry Perrins, continued to produce shotguns while retaining the company name of Perrins & Son. The last known Perrins & Son firearm was made in 1896.
I can't say with certainty when your shotgun was made, but since it has external hammers, it was probably around 1880, give or take 10 years. Perrins & Son firearms are considered well-made, high-quality guns, though not as famous or prestigious as firearms from Purdey or Holland & Holland. That said, interest and demand among U.K. shooters seem to be increasing—I saw one gun in "immaculate" condition going for £725 ($1,450). However, I've seen little collector interest in Canada, and I really have no basis for estimating its value here. All I can suggest is to try selling it through a gun auction or to look into the possibility of exporting it to a U.K. dealer. You're right to keep it as is, and not shoot it.
Collector's corner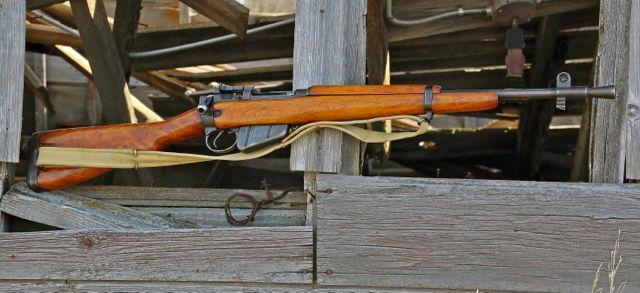 During the Second World War, the British military requested development of a lighter, more compact rifle than the standard Lee-Enfield No. 4 Mk. 1. It was originally intended for use by airborne troops and officers, a role roughly comparable to that of the U.S. M1 carbine. The result was the No. 5 Mk. 1 carbine, which had an overall length of 39½ inches and weighed seven pounds one ounce unloaded. There were lightening cuts on the receiver, bolt and barrel, and it sported a shorter forearm and upper hand guard, a flash suppressor and a rubber butt pad. Otherwise, the receiver was similar in design and operation to the No. 4 rifle and chambered for the .303 British service cartridge.
Production started in March 1944 and ended in December 1947, with a total of 252,368 guns made. The No. 5 came along too late in the war to see extensive action, though it certainly did see use. Later, it saw service in the Malayan Emergency, where it acquired the unofficial nickname "Jungle Carbine."
Though liked for its compact size and light weight, the No. 5 was sometimes criticized for its greater recoil and for not holding zero. In the 1950s and '60s, when practically every aspiring young hunter in Canada owned a Lee-Enfield, the No. 5 carbines were especially admired. I can recall them selling for around $30 at a time when No. 1 and No. 4 Lee-Enfields cost roughly $18.
The No. 5 pictured here was made by the Royal Ordnance Factory in Fazakerley, England, in April 1946. The metal finish remains very good, with little wear, no rust or pitting and an excellent, near-perfect bore. The wood appears to have been refinished at some point. Complete with a non-original R.F.1 bayonet, this carbine recently sold in Canada for $800.