Guns & ammo: your source for firearms info
Good new for the owners of a Marlin 1893, a 19th-century Woodward 12-gauge and an Upper Canada Navy Colt revolver
Whether you have a question about antique guns, modern firearms, ammunition or reloading, expert Dave Anderson is here with the answer. Please send your detailed questions and applicable, high-resolution photos to editorial@outdoorcanada.ca.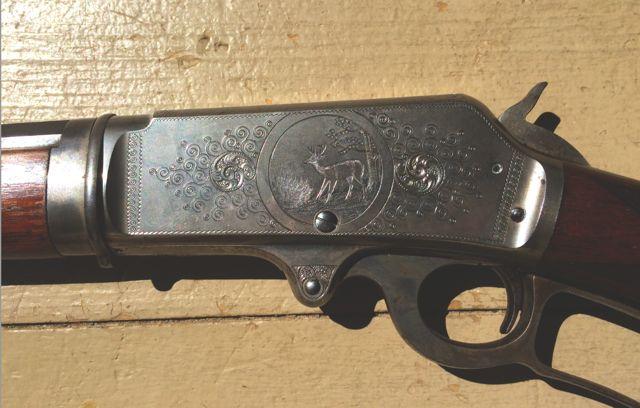 I own a .38-55-calibre Marlin 1893 (serial #294953) with a silver receiver engraved on both sides, including the image of a buck on the left side (above). Could you please provide a value for this gun, along with any suggestions on where I might sell it?
Dave Gallagher
Toronto, Ontario
Your Marlin 1893 was made in 1904 and is certainly a collectible firearm. It falls into the range of Marlin serial numbers for which factory records may be available by contacting the Cody Firearms Museum (www.centerofthewest.org/explore/firearms). The last I heard, the fee for research and an accompanying factory letter was US$60, which would be money well spent for a potentially valuable collectible such as yours.
Marlin did offer factory engraving during the time period in which your rifle was made, and the records may help establish if it was indeed factory engraved. Factory engraving generally adds considerable value, while non-factory engraving may not; it may even lessen the value, depending on who did it and the quality of the workmanship.
A standard 1893 with 95 per cent of its original finish can bring in US$3,500 to US$4,000, while a rifle in 80 per cent condition can fetch US$2,000 to US$2,500, according to S.P. Fjestad's current *Blue Book of Gun Values*. Factory-engraved 1893s in near-new condition have purchased for more than US$8,000 at American auctions.
If I were selling this rifle, I'd consign it to a well-publicized firearms auction. The only such auction house I'm aware of is Red Deer, Alberta's Bud Haynes Auctioneers & Co. (www.wardsauctions.com). I have collector friends who have found them to be completely professional and reputable. If anyone knows of an auction site in Eastern Canada providing a similar service, I'd be pleased to learn about it.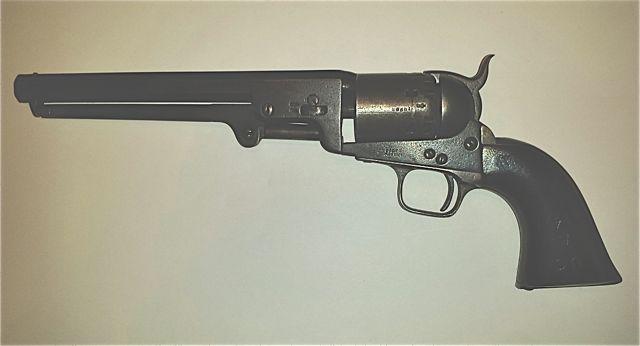 I was wondering if you could give me some advice on the value of my .36-calibre Model 1851 Upper Canada Navy Colt (above). It's marked "UC A 14."
Randy Manarey
Breton, Alberta
Around 1855, with its military involved in the Crimean War, Britain advised its colonies they would have to take a larger role in their own national defence. With that, Canada formed several volunteer militia troops, each made up of approximately 50 members. The men were armed with Colt 1851 Navy revolvers, purchased from the Colt factory in London, England. In all, 556 sidearms were issued to Upper Canada troops, and 255 to Lower Canada militia. The revolvers were marked accordingly on the left grip panel with either a UC or LC, then a letter code for the troop to which they were provided, and a rack number for the individual revolver.
Of the 556 Colts marked UC, fewer than 200 are known to still exist. Since this was the first Canadian military sidearm, predating Confederation, it is of considerable historical interest. Indeed, any original Colt Navy is a valuable collectible, and those issued to Canadian militia are of particular interest to Canadian collectors.
The first thing any serious collector would do is establish beyond a reasonable doubt that it's a genuine original. In the mid-1970s, an Ontario company named Albion Arms commissioned reproductions from Uberti of Italy. They were made to be as historically accurate as possible, right down to the serial numbers, but with no intention to fool anyone—they can be easily identified by their Italian proof marks. From what I can see, however, your revolver appears to be original. The grip markings are upside down, which is the correct position for UC-marked examples. And there's what appears to be a British proof mark on the cylinder. I can't see the top of the barrel, but it should be marked "Address Col. Colt London." The reproductions just had the word "London."
With so few surviving examples, even fewer of which come up for sale, there's really no market value as such for this gun. It would have to be sold at a well-publicized firearms auction to know for sure. I did an online search and found a couple of examples selling at auction for between $8,000 and $11,000. They date back several years, and they're the only references I can find. This is the most interesting firearm I've come across in a long time—I hope it finds a good home with a Canadian collector or museum.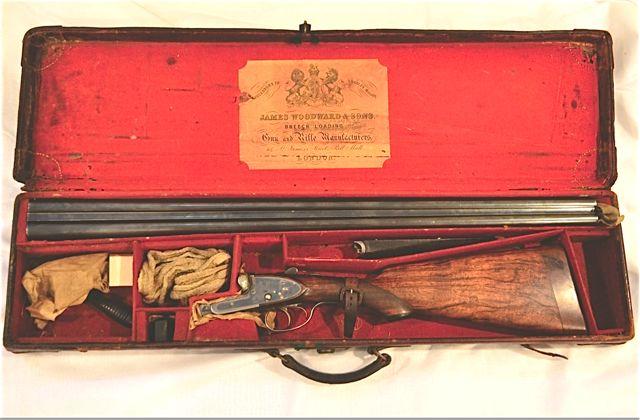 I'm contacting you in the hope you can provide an evaluation of my James Woodward 12-gauge shotgun (above). Made in 1898, it was given to my grandfather as a token of great friendship, then willed to me upon his passing in 1950. It has been in my possession ever since. I shot my very first duck with it in December 1956, when I was 14. I have obtained a letter from David Maynard of James Purdey & Sons Ltd. confirming the gun's date of manufacture (Purdey acquired Woodward in January 1949).
Michael Hutchins
Thornhill, Ontario
That's a beautiful shotgun you have. The Woodward name isn't quite as well known as the likes of Purdey or Holland & Holland, but Woodward shotguns are in the same premier class. Firearms such as this are in demand by collectors, owing to their workmanship and scarcity, and simply because they're practical sporting arms for those lucky enough to own them. Such shotguns don't often come on the market, and the number of collectors/shooters who can afford them is limited.
I can only provide some generalizations about your gun's value. According to S.P. Fjestad's current *Blue Book of Gun Values*, similar guns with 90 per cent original finish sell for around US$20,000. On the Internet, I've seen values ranging from US$8,000 to US$65,000 for recent production models.
Buyers of high-end shotguns tend to have strong preferences in terms of features. My preferences for English-made shotguns, for example, include straight stocks, double triggers and auto ejectors (though this is academic, as I can't afford one in any event). I note that your shotgun has 2½-inch chambers, which must make it difficult to find appropriate ammunition, reducing its value as a shooting gun. I strongly recommend not using 2¾-inch cartridges, or steel shot, in this shotgun.
As with a valuable painting, one can only suggest a price range, as it takes a well-publicized auction to decide the actual value at any given time. Considering the small market for such shotguns in Canada, I'd say $8,000 to $15,000 is a reasonable range, reflecting a discount for the 2½-inch chambers. It also reflects the fact I'm green with envy.
Collector's corner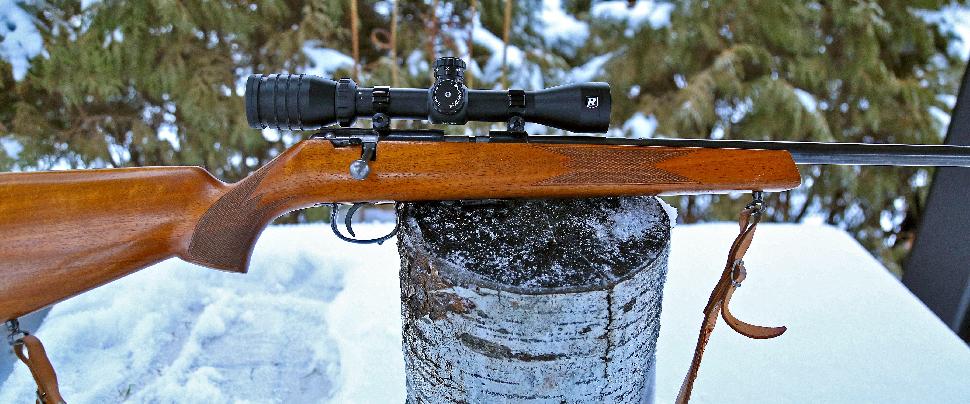 In the early 1960s, a marketing agreement was reached among Anschütz of then West Germany, Savage Arms in the U.S. and our own Canadian Industries Limited (CIL), which was a large manufacturer of rifle and shotgun ammunition at the time. Under the agreement, which lasted from 1963 to about 1981, Savage sold several Anschütz models in the U.S., while Anschütz marketed some Savage models in Europe. Additionally, several guns made by both Anschütz and Savage were given CIL model numbers and marketed in Canada. The .22 rifle shown here was the CIL model 310; it was made by Anschütz on its model 64 action. The 64 is a step down from the premier-grade Anschütz 54 action, but it's still a very fine design.
The CIL 310 rifles were stocked with a good grade of walnut in the popular style of the day, complete with a flat-bottomed forearm and Monte Carlo butt stock with cheekpiece. The checkering was done by hand, and it's of quite good quality. This particular rifle was purchased new in 1965 for $52, which was a lot of money at the time. Today, a similar Anschütz .22 rifle on the 64 action would sell in Canada for $1,250 to $1,300.
Since the 310s were considered top-quality rifles, they were generally well cared for and can often be found in very good condition. Considering the state of this gun, with some blue wear but no rust or pitting, I'd cheerfully pay $750 to $800. And if I really wanted it, I might go up to $1,000—but maybe not as cheerfully!