Guns & ammo: your source for firearms info
Learn the secrets behind a 1930s Cooey .22, a Winchester Comanche carbine and a surprisingly valuable Tolley 12-gauge
Whether you have a question about antique guns, modern firearms, ammunition or reloading, expert Dave Anderson is here with the answer. Please send your detailed questions and applicable, high-resolution photos to editorial@outdoorcanada.ca.

I have a Winchester Model 94 Comanche 1894 in .30-30. It's in the original case, and it's never been fired (above). The serial number is CC9459. I was wondering if the rifle is of any value to collectors. I've had it for quite a number of years, and I'm now looking at reducing my firearms collection. I appreciate your time and assistance.
Chris Raven
Abbotsford, B.C.
The Winchester Comanche carbine commemoratives were made in Canada in 1975. The total production was 11,511 units, with the serial numbers running from CC1 to CC11511. Your rifle is in the condition collectors want such firearms: unfired, in its original box and with all the papers. It looks as though the box has been taped a bit, which might make a potential buyer bargain slightly harder. On U.S. auction sites, I see similar rifles with asking prices of $1,100 or so, but whether they get that amount is another matter. Values in Canada tend to be lower, since there are far fewer collectors. I've seen similar commemoratives advertised in Canada for around $950, which, in my opinion, is about what yours would be worth.

I've inherited my uncle's Cooey Ace 1 .22 rifle (above). It was sitting in a closet for more than 20 years and was covered in rust. My father-in-law was kind enough to restore it as best as he could. Though the barrel is pitted on the outside, it still fires. It has a lot of sentimental value to me, so I'll never sell it. It was the first firearm I ever fired, and this past weekend, my kids had their first firearms experience with it. One day they will inherit it. Do you know the history of this gun, and when it may have been made?
I know it was made and sold in Canada by H. W. Cooey Machine and Arms in Cobourg, Ontario; the company was sold to Olin/Winchester in 1961. The gun has no other markings other than "ACE 1 .22 CAL." I'm sure a lot of Canadians have one of these in their collection, and you may have had questions about them before. I know it's not worth a lot on the open market, but as I mentioned before, the sentimental value is much more than any dollar value for the gun.
Brian Leggett
Kingston, Ontario
Several minor variations of this model were produced by Cooey before the Second World War. Beginning around the mid-1920s, there was the Ace, Ace 1, Ace 2, Ace 3, Ace Repeater and Ace Special. The references I have indicate the Ace 1 was produced from 1929 to 1934. Cooey also made this model for the T. Eaton Co. under the trade name "Eatonia," and I've seen what appears to be the same rifle marked "Rabbit." A very similar model called the Cooey 39 was introduced just before the Second World War, and continued in production after the war.
Like so many Cooey firearms, the Ace rifles were moderately priced and not very fancy, but they were reliable, durable and well made with good steel. They were quite often seen on farms, and as a boy's first rifle. Back in the late 1950s, a couple of my 10-year-old friends had similar rifles. How I envied them! I considered my parents as overprotective, as I didn't get my own .22—Dad's old Savage pump—until I was 12. There's no significant collector interest, but for a lot of Canadian kids now in their retirement years, these Cooeys have a lot of sentimental value.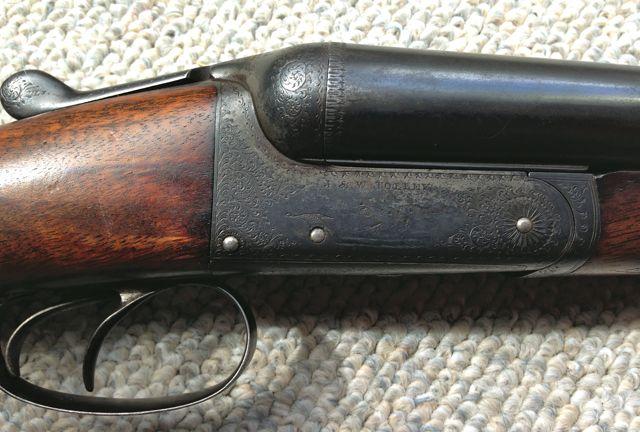 A few years ago, I inherited this J&W Tolley 12-gauge double-barreled side-by-side shotgun (above). Overall, the gun is in very good condition, despite some wearing of the detailed etching. I know very little about this shotgun or its value, and was hoping you could provide some insight.
Nick Luezinger
Langley, B.C.
You have a very nice shotgun there, both as a collectible and as a hunting gun. James Tolley was born in 1832 and started a gunmaking business with his brother, William, at St. Mary's Row, Birmingham, England, around 1858. Their first shotguns had external hammers. Beginning around 1880, they transitioned to making guns with internal hammers, as did most other gunmakers of the era. In 1883, they opened a shop in London, then another shop in New York in about 1894. However, actual production continued at Birmingham. James died in 1916. I don't know when William died, but in 1919, the firm of Holloway & Naughton bought the Tolley company. Production continued under the J&W Tolley brand until 1955.
Some early Tolley guns from before 1870 were made for export and considered fairly utilitarian. However, the quality quickly improved and by the time hammerless guns were being made, Tolley was considered a prestigious brand on par with the better English guns of the era. I can't really say with any certainty when yours was made.
Tolley guns don't have the recognition and status of names such as Purdey or Holland & Holland. But as those brands have become priced out of the reach of all but the wealthy, demand for high-quality but lesser known names has increased. As a result, Tolley guns have become quite collectible, and many are still in use in the field. Values seem to vary widely, but I see hammerless Tolley doubles priced from US$2,000 to nearly US$6,000 for cased guns in excellent condition. If you plan to shoot yours, I suggest you have it inspected by a gunsmith to make sure it's in sound condition, and never use anything but lead shot. At any rate, it's a fine gun and one you can display and use with pride.
Collector's corner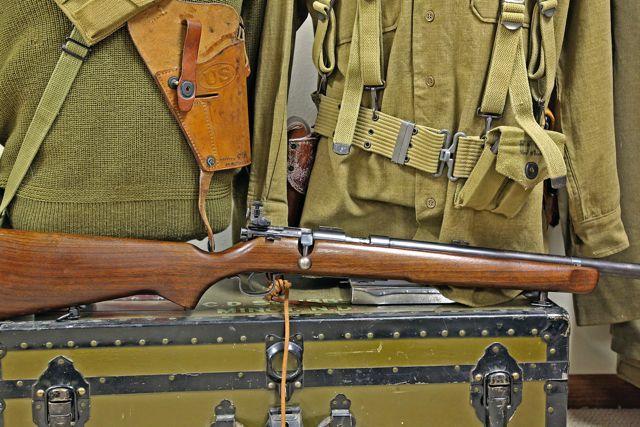 The Stevens 416 was a good-quality, heavy-barrelled .22 LR target rifle, made for small-bore competition. It went into production around 1937. With the outbreak of the Second World War, the U.S. military purchased many .22 target rifles to be used for basic firearms training. Among these were 10,388 Stevens 416 rifles, marked "US Property" on the left side of the receiver.
After the war, the 416 was available for a time for civilian purchase. The exact number of rifles made for civilian sale isn't known, but it's far fewer than those used by the military. Nonetheless, US Property-marked rifles, such as this one, are more in demand, owing to the large number of military collectors. In the U.S., these rifles go for US$400 to US$600, depending on condition. The value to a Canadian collector would be more in the order of $350 to $500. These are very well made, accurate rifles, generally with very good triggers, and they're still enjoyable to shoot.