The Lake Simcoe Muskellunge Restoration Program is reporting its best season yet in 2011, releasing nearly 2,000 fingerlings into the lake.
The program is a partnership between the Ministry of Natural Resources, Muskies Canada Inc., and Fleming College's Frost Campus in Lindsay, Ontario, along with many other partners. Its goal is restoring a self sustaining population of muskellunge to Lake Simcoe with stocking and habitat enhancements.
Since the program began in 2005, over 5,000 muskies have been stocked into the lake. Last year, 1,960 healthy fall fingerlings were released at various locations across Lake Simcoe. This is especially good news, since the 2010 stocking was cancelled after discovery of a viral infection in multiple muskie families at the hatchery.
Muskie stocking is more about fish quality than numbers stocked. The fish released from this program are exceptional, averaging eight to 11 inches, a size known to provide excellent returns and long term survival. These fish are intended to restore a self sustaining population of muskie in Lake Simcoe, not a put-grow-and-take fishery, so stocking will not continue indefinitely.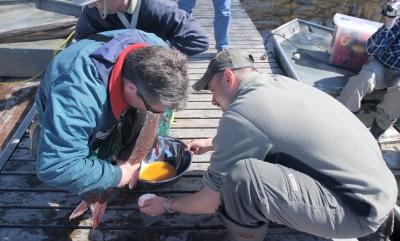 During the current restoration period there is a year-round closed muskie season on Lake Simcoe. The MNR and Muskies Canada urge anglers to release incidental muskie catches immediately and carefully, and report these catches to the local MNR office. Catch data is extremely helpful for biologists tracking the population.
Muskie were once quite common in Lake Simcoe, but by the early 1900s the population had crashed due to a number of factors, including overexploitation by the commercial fishery. In 2000, a study determined that restoring the native muskellunge to Lake Simcoe was a feasible fisheries management goal.