Paddle Palace
The Canadian Canoe Museum is moving to the water's edge
The world's largest collection of canoes will soon have a new waterside home. Peterborough, Ontario's Canadian Canoe Museum is building a new facility on picturesque Little Lake in the city centre, having outgrown its current inland location in a busy commercial area. Construction is scheduled to begin this fall, with the new museum slated to open in the summer of 2023. A previously proposed site near the Peterborough Lift Lock was abandoned in early 2020 due to contaminated soil.
The core of the facility will be the 37,000-square-foot Exhibition Galleries and Collection Centre, which will place much of the museum's entire collection of 600-plus paddled watercraft on public display for the first time. At a virtual public meeting this past spring, curator Jeremy Ward said visitors will also be able to watch museum staff build and restore canoes. "When you walk into this place, authentic experience—not contrived—is really front and foremost," he said.
Bill Lett of Peterborough's Lett Architects Inc., which is overseeing construction of the new facility, added that the design was inspired by the canoe collection itself, and the museum's values. "This building speaks about craft, construction and user experience," he said during the virtual meeting. The museum has been at its current 1960s-era factory location since it first opened in 1997. Total costs for the expansive new facility have been pegged at $35 to $40 million.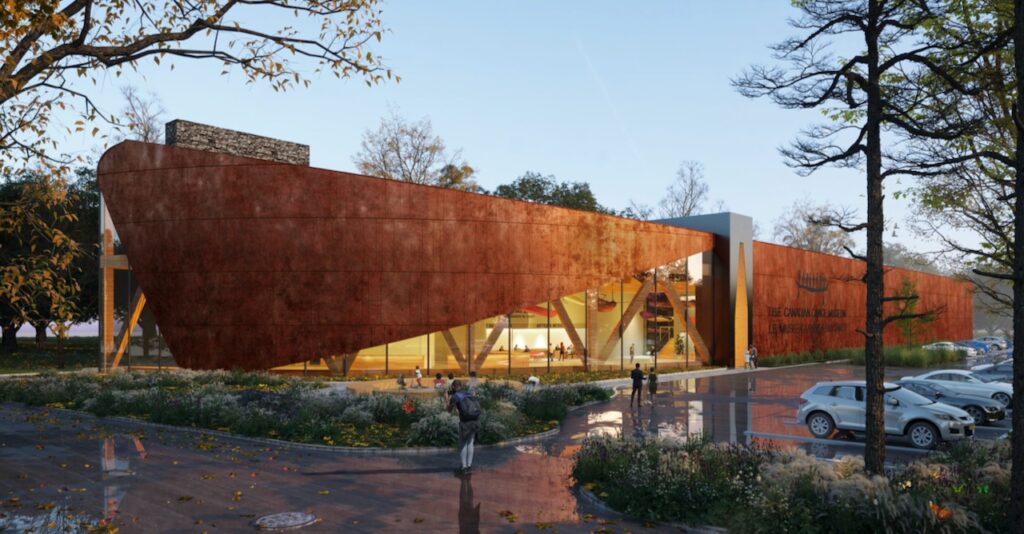 Along with preserving, restoring and interpreting its watercraft collection, the Canadian Canoe Museum also encourages hands-on learning to foster outdoor skills and traditions for generations to come. In addressing the virtual public meeting, the museum's executive director, Carolyn Hyslop, said the new lakeside location will further broaden such experiential offerings. Said Hyslop: "We needed to make sure we were on the water so that we can offer more canoeing and kayaking programs."
To learn more about the museum, please visit www.canoemuseum.ca.