The Namibian Mcnab (Part 2)
After shooting a springbok, Outdoor Canada hunting editor Ken Bailey tries to topple a brace of birds and land a fish... later that same day
In Part 1, OC hunting editor Ken Bailey harvested a springbok, to compete the first third of his African hunting challenge. But after shooting the ram at 7:22 AM, the clock is ticking…
Sandgrouse are as closely related to pigeons as they are to grouse, resembling a cross between the two. They have a head much like a pigeon's, and they fly like a pigeon, but their cryptic plumage reminds one instantly of a grouse. They water each morning with the precision of a German train schedule, so Stephan, Pedri and I bounced across the veld to a water hole where we'd already enjoyed success a couple of mornings earlier.
Sandgrouse aren't the only game birds to visit that water hole, and we hadn't been there long when a small flight of doves spirited in. I swung on the lead bird and it tumbled onto the sand, but missed with my second shot as the remaining birds clawed skyward. Then all went quiet, with the silence making the passing minutes agonizingly painful.
Finally, another small flock of doves cascaded down and I cleanly picked a bird from the bunch. We had our brace, as per Macnab rules, but we'd decided earlier that sandgrouse would be our bird of choice as they're much more revered in the wingshooting world. Still, if all else failed, the doves would serve as a legitimate back-up.
"Sandgrouse," Stephan whispered, "10 o'clock." And sure enough, a dozen of them were headed our way. With my first shot, I cleanly dropped a bird but came up empty with the second barrel. Not to worry, I thought, as more were sure to arrive. But as with the springbok, our prey wasn't following the script, and the minutes ticked away with only the occasional flight of doves dropping in.
Eventually the telltale call of sandgrouse met our ears and we turned to the eastern sky, watching eight small specks grow as they closed in. I'm not sure if I was anxious, nervous or feeling the pressure, but I fired both barrels with not a feather to show for it. Stephan, in his eminently positive manner, brushed it off, while Pedri muttered some good-natured jibe about my shooting prowess. I just squeezed the smoothbore a little tighter.
When another flight swung through with equally fruitless results, the pressure continued to mount. A fourth flock followed soon after and I can't say whether I picked an individual bird or just swung on the flock. Whatever the case, at the report a sandgrouse folded, and before it had even hit the ground I hollered "Let's go fishing, boys!"
After photographing the springbok and the birds (below), we raced back to the lodge where Stephan and Pedri had earlier loaded another truck with fishing gear and grub. By 9:30 a.m. we were back on the road, ahead of schedule.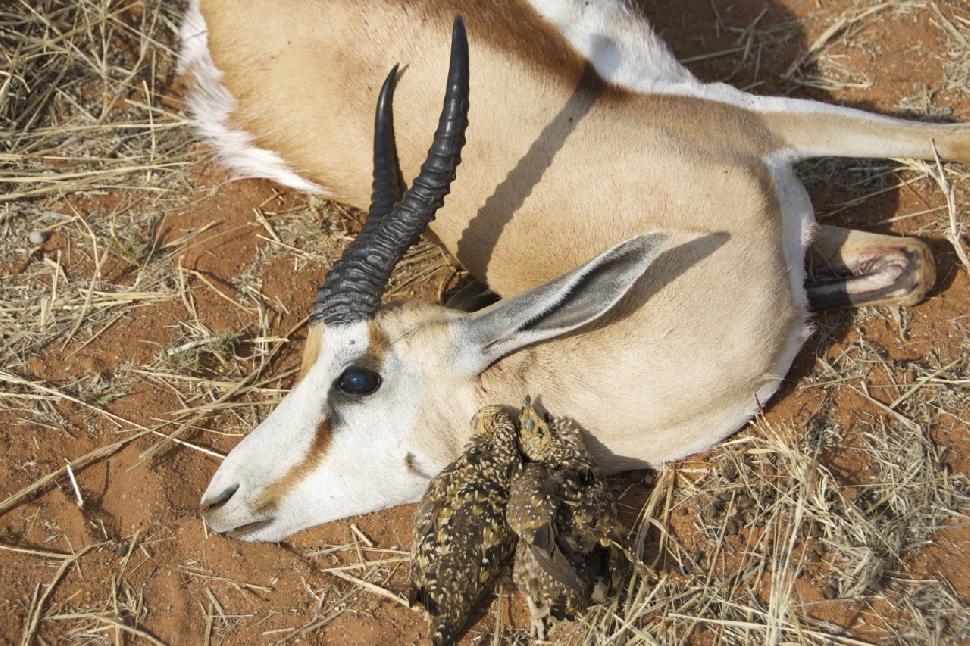 Our destination was Namibia's largest reservoir, the 25-square-kilometre Hardap Dam, on the aptly named Fish River in the Hardap Game Reserve. It was a two-and-a-half hour drive, most of it gravel, to the park gate, where we secured fishing licences from the attendant. We then drove partway around the reservoir and pulled down to the water's edge.
We wouldn't be seeking fish as refined as the Atlantic salmon of Buchan's Scottish estates, however. Hardap Dam is populated with what I'd best describe as rough fish—an assortment of catfish, carp, yellowfish, barbels and other similar Namibian species endemic to warm, freshwater lakes and rivers.
And our presentation wouldn't be anything nearly as snooty as a gently cast dry fly. Instead, we mushed corn together with a fetid meal attractant and squished the resulting glop onto a small hook suspended below a lead weight. Then all you had to do was heave the works out as far as possible—hoping the bait didn't fly off in the process—then place the rod into a holder and park your butt on the shoreline to wait.
We'd only been there about 20 minutes when Pedri's line twitched. He grabbed the pole, set the hook and reeled in a largemouth yellowfish weighing a couple of pounds. It would have been easy enough for Pedri to hand me his rod, let me reel in the fish and proclaim our Macnab a success. But true to the spirit of our adventure, we'd all agreed that it would only count if I landed a fish on a line that I'd baited and cast. So on we fished.
Fortunately, the wait wasn't long before my rod tip also nodded. The boys cheered as I set the hook and carefully reeled another yellowfish in to shore. As I dragged it up on the beach there were high-fives all around—we'd met the challenge and had our Macnab! Pedri cracked open some cold ones while Stephan texted the news his friends.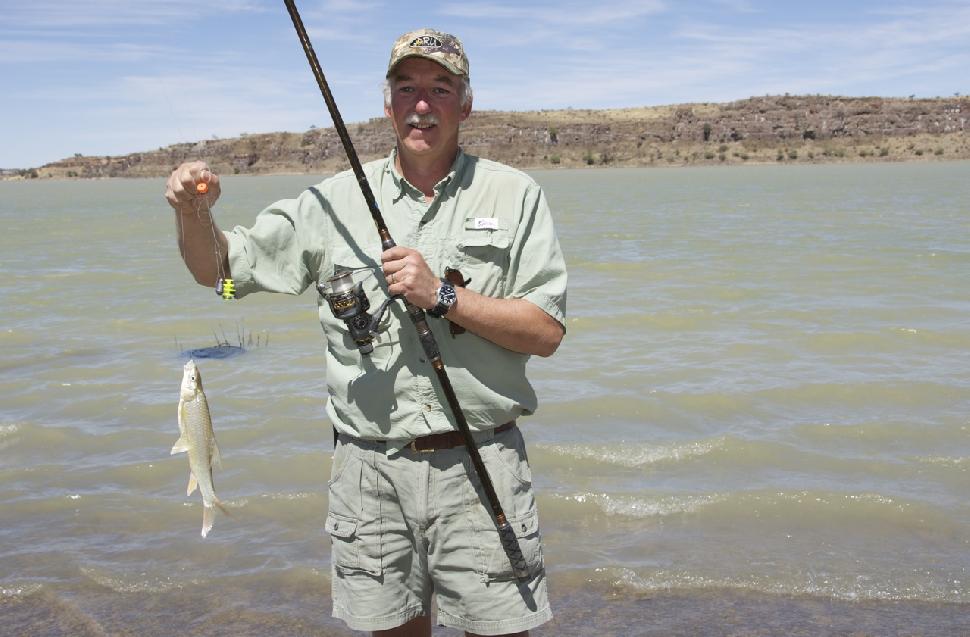 The author completes his one-day Namibian Mcnab challenge with a largemouth yellowfish from Hardap Dam.

Stephan and Pedri suggested that ours may have been the first-ever Macnab recorded in Namibia. I suspect it's probably been accomplished in the country's extreme north along the famed Caprivi Strip, where the Zambezi River offers plenty of opportunity for the revered tiger fish. But our Macnab may well have been the first in the heart of Namibia.
In any case, I was proud to have accepted the challenge—and succeed. Some might say we were crazy to do it in Namibia. I believe it would have been crazy not to try. And I can't help but think that John Buchan, nearly a century after creating the very idea of the Macnab challenge, is smiling from beyond the grave, knowing it lives on.
And in faraway Namibia at that.
To read why Bailey undertook the Mcnab challenge, and how he harvested his springbok, see Part 1.
Adventure planning: If you go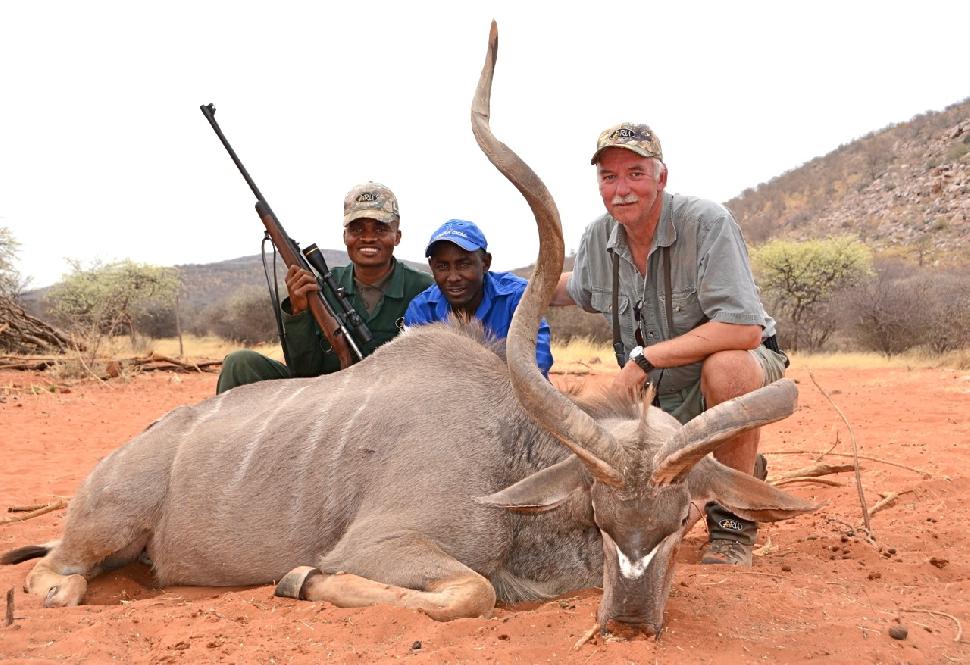 Interested in learning more about my excellent outfitter in Namibia, Aru Game Lodges? Send an email to info@arugamelodge.com or visit www.arugamelodge.com. To explore even further about hunting in Africa, you can meet a wide variety of outfitters at the African Hunting Gazette's upcoming African Hunting Expo in Calgary (January 31 to February 1). For complete details, go to www.africanhuntingexpo.com.