Trolling for spring trout
This stealthy, surprising tactic will land you a lot more lakers
Oh, my lord, what a fun day I spent last Saturday at the Cabela's main office store in Winnipeg presenting fishing seminars. The turnout under early summer-like conditions was phenomenal and the questions at the end of the presentations were outstanding.
Matter of fact, this is how I keep a pulse on what is uppermost in a lot of anglers' minds. And with spring and open water just around the corner, I shouldn't have been surprised with the number of questions related to early-season lake trout fishing.
One gentleman in particular wanted to know the top two or three things I keep paramount in mind when I finally get the Kingfisher back into the water and start fishing for lakers early in the season.
I explained that the initial thing I've always found to be interesting is that lake trout never seem to be in a hurry to get to shore after the ice leaves. For certain, that is where they're headed, but I find they lollygag along the way and take their time moving shallow.
I have no scientific way of knowing whether this is true or not, but I've long suspected that having spent the past several months in dark, coal mine-like conditions under the ice and snow, it takes a while for their eyes to adjust to the super bright conditions of early spring, when the shallow water is typically at its crystal clearest.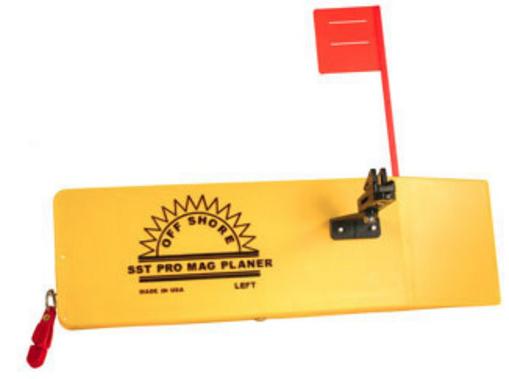 The second piece of advice that I offered was once the trout start flooding the shoreline shallows, the biggest mistake I see many anglers make is trolling in the waist- to neck-deep depths and thus, spooking the trout with their boats.
A far superior option is to keep your boat out, away from shore, over much deeper water and use an Off Shore in-line planer board to take your lure into the shallows. Not only do planer boards allow you to sneak up on the trout without letting them know you're present, but if you have a buddy or two fishing with you, you can let out varying amounts of line and cover a huge swath of water between the boat and shore.
I've always found, as well, that when you're trolling with planer boards, putting your rod into a holder if you have one, results in many more trout. I think it is because you can see the fish strike, watch how your board flip back and not overreact.
It is also super important when you're trolling trout lures behind planer boards to make sure the hooks are razor sharp and always keep your line tight, especially when you take your rod out the holder to fight the fish.
Ditto, when the board finally approaches the end of your rod and it is time to take it off your line. Don't be in a rush or hurry the process and keep the line tight.
Finally, I've watched many anglers pop the motor into neutral when the board starts getting close, create a little slack and lose the trout. I've always found it to be much better to keep the boat motoring slowly ahead.